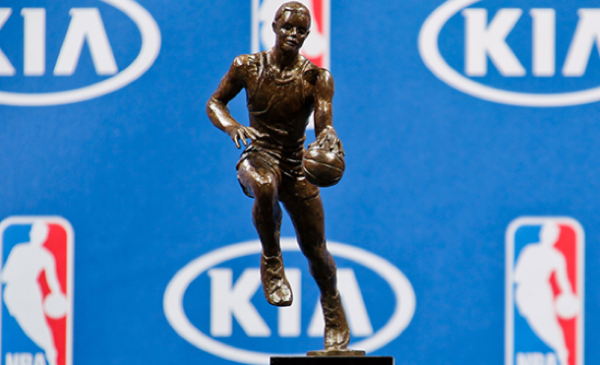 Russell Westbrook is doing things we haven't seen happen in 55 years. Yet, somehow, it's still a two-horse race for NBA MVP.  James Harden of the Houston Rockets also has a claim on the award.
This conversation comes up almost every year in the NBA, but I think it's time to figure out what defines the NBA MVP.
Defining The Criteria For an NBA MVP
Is it the best player?
History says sort of, not really.
The NBA is the top basketball league in the world, so the MVP will go to the best in the world at some point. However, the best player in the world right now is LeBron James and he hasn't been in the MVP conversation for years.
Some of that probably has to do with the teams he's been on, but I'll get to that later.
If it isn't the best player in the world, then is it the player having the best season? Usually, but sometimes not.
Take last year for example, when Stephen Curry hit over 400 threes and helped lead his team to a 73-9 regular season record. Those are two records that may never be broken. Ever.
Everyone knew Steph was wet before last season and the Golden State Warriors were the defending champs, but last year he showed that there was substance to the hype. Curry ended up being the first unanimous MVP, and rightfully so.
However, flashback to the 2005-06 season, when Kobe had one the most dominant individual seasons ever – highlighted by the 81-point game against Toronto. That year he averaged 35.4 pts, 5.3 reb and 4.5 ast and took a Lakers team, who had Chris Mihm and Kwame Brown as its starting bigs, to the playoffs.
That season's MVP was Steve Nash.
Now, Steve Nash is an all-time great and if you took Nash off those Phoenix Suns team, with the run-and-gun system Mike D'Antoni had in place, then they were a bubble team at best.
Nash also averaged over 18 points, 10 assists and shot a 40-50-90 that year. So, the award was well deserved. However, if we're talking about the best season, Kobe gets it.
Right now, Westbrook is in both camps. Keep in mind, when Oscar Robertson averaged his triple-double, he didn't win MVP; Bill Russell did.
Is it most valuable to their team?
If the answer is yes, then give Westbrook the MVP trophy right now, because without him the Thunder would suck. Yes, they have some decent bigs and a good player in Victor Oladipo. But nobody on that team can create or demands the same respect that Westbrook does, so you see the team struggle whenever he isn't on the floor.
That said, James Harden is important to the Rockets too. He's the face of the franchise, his style of play fits really well with the system D'Antoni likes to use and he's just a great offensive talent. However, Houston has enough pieces that they could still be a bubble team without Harden. Unlike the Thunder, who  – without Westbrook – would probably be on par with teams like Brooklyn, Philadelphia or Sacramento.
Is it most valuable on a winning team?
This one actually makes some sense, because stats mean nothing unless you're winning. So I think this is where the problem is coming from.
Here's the problem though: sometimes, a better player plays on a worse team.
Both players teams are above .500 and in the playoff picture, so that's a draw. The Rockets are third in the west and the Thunder are sixth, so Harden would have the edge there. But given that they're both winning teams and Westbrook is clearly more valuable to his, then, personally, you have to give it to him.
Also, if the playoffs started today, we'd be seeing these two teams play each other, which would be insane.
The league and fans would love it – because it's the two MVP candidates going at it – but it would also be an all-you-can-eat buffet for Westbrook, because he'd eat up Harden because Harden can't – and at times seems to just not want to – play defense.
Which leads me to my next criteria.
Comparing the players
There comes a point where you just have to compare the players and then make the call on who has the edge.
As mentioned, Harden is an elite offensive talent, definitely one of the best scorers the game has seen. However, he lacks defense. A lot.
Now, going back to Steve Nash, he was slow and quicker guys could get by him. But he still threw his body on the line for charges, did the small things and was tough as nails.
I just don't see that from Harden. Not only that, but there just seems to be no interest in that part of the game at all for him. Not to say he doesn't go for rebounds or steals, but overall the defensive side of his game is almost non-existent.
Whereas with Westbrook, he at least tries to stay in front of his man. Part of that is Westbrook's athleticism, of course, but clearly there's a desire to give an effort on defense that you don't see from Harden.
The other thing with Westbrook is that he's likely going to break the regular season triple-double record. He tied the Big O last night and Oklahoma City has five games left on their schedule. So when you compare the two, it should become clear.
Westbrook is having one of the greatest statistical seasons ever, he's on a winning team and he's a better overall player compared to James Harden. End of debate.
This should also help with future MVP conversations. If we define the MVP as the better overall player, on a winning team – regardless of where they sit in the playoff picture – and who is having the better season, then MVP is a much easier debate and we avoid foolishness of not giving it to someone who clearly deserves the award.