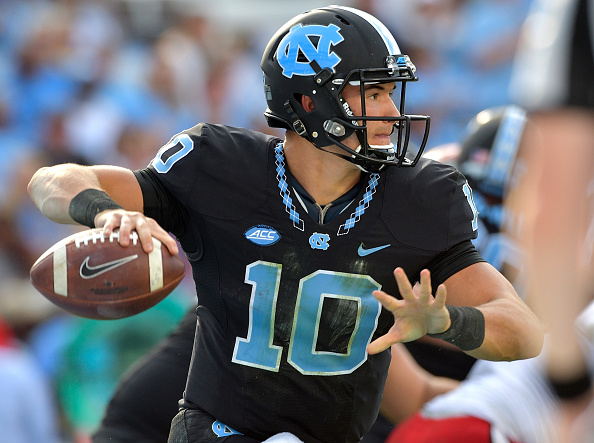 There are multiple teams looking for a future franchise quarterback in this years NFL Draft. The Jets, Bears, 49er's, and Browns are some teams just to name a few. With a while to go until the Combine, Senior Bowl, and lastly the Draft, here are the top quarterback prospects.
Top Quarterback Prospects in 2017 NFL Draft
Dobbs completed 63 percent of his passes during the 2016 season. He threw for 27 touchdowns and ran for 10, accuracy issues resulted in him throwing 12 interceptions. The thing that makes Dobbs an intriguing option is his running ability. He has some outstanding vision down the field, and sees openings very well. He has the physical talent, however he still needs to develop as a passer.
Russell has an outstanding arm and a lot of athleticism. Todd McShay has said that this kid has some serious "elite arm strength." He threw for 5,461 yards in his career, the seventh highest in school history, and the third most touchdowns in school history with 60. His senior season he threw for 2,126 yards with 20 touch downs and eight interceptions. He also ran for 506 yards with eight more touchdowns.
Chad Kelly is a head-case. His ego and off the field issues led to his departure at Clemson, which led to him attending Ole Miss. As a quarterback, Kelly is a gun-slinger style of player. He has the arm strength to make nay throw, however his decision making and accuracy are an issue at times. He also appears to get rattled under pressure, physical and mental. In 2016, Kelly threw for 2,758 yards with 19 touchdowns and 8 interceptions, while completing 63% of his passes.
The kid fromm Miami has a decent physical skill set. He has a strong arm, very good pocket presence, and can make throws into tight windows. In 2016, Kaaya completed 62% of his passes while throwing for 3,532 yards with 27 touchdowns and 7 interceptions. Kaaya takes a lot of sacks as he lacks mobility. However, he does have some serious pocket-passing talent.
Evans was named the starter for the Hookies this past season, and after one year decided to enter the draft. In his only year as the starter, his junior year, Evans threw for 3,552 yards with 29 touchdowns and eight interceptions, while competing 64% of his passes. He also ran for 12 touchdowns. Evans is inexperienced, so he will have to develop for the NFL. Evans however, does possess some serious arm strength and speed.
Webb took over the Cal offense for Jared Goff, so he may have the same developmental issues as Goff. Webb has some arm strength and can stretch out a defense vertically. He leads receivers, which is good for catching the ball on the run. Tends to panic when the pocket collapses. He flashes some good field vision and has some good pocket presence. Last season he threw for 4,295 yards with 37 touchdowns and 12 interceptions while completing 62% of his passes.
Mahomes has a good arm and can be a pocket passer. However, he has also shown the ability and athleticism to tuck the ball and run for some extra yards as he ran for 845 yards and 22 touchdowns in three season at Texas Tech. He completed 66% of his passes while throwing for 5,052 yards with 41 touchdowns and 10 interceptions in 2016. Mahomes definitely has some upside ability but will need to develop as an NFL quarterback.
The junior out of North Carolina is one of the top quarterbacks in this years draft. Trubisky is a big throw guy, he has shown the ability to make throw with high velocity. He has shown some great accuracy, hitting his receivers all over the field. The UNC product has the ability to tuck the ball and run to pick up the extra yards. He has shown some great pocket awareness. In 2016 Trubisky completed 69% of his passes for 3,748 yards with 30 touchdowns and six interceptions.
Watson's gutsy performance in this years National Championship game against the University of Alabama was very impressive. Watson is a gritty quarterback, he has shown some great resiliency and toughness. He has some serious arm strength and great pocket awareness. Deshaun also possess the ability to scramble and pick up some extra yards. He has shown that he can be a leader and preform in big moments. He will however need to learn how to work from under center which may be an issue for him. In 2016, he threw for 4,593 yard with 41 touchdowns and 17 interceptions. He ran for 629 yards and nine touchdowns.
Despite the atrocious record last season at Notre Dame, Kizer is still the top quarterback in this draft. DK was thrown into the starting role when Malik Zaire got hurt early in the 2014 season. He finished that season throwing for 2,884 yards with 21 touchdowns and 10 interceptions, and losing to Ohio State in the Rose Bowl. He also ran for 520 yards and 10 touchdowns. This past season Kizer kept the starting job, and threw for 2,925 yards with 26 touchdowns and nine interceptions while completing 59% of his passees and running for seven touchdowns. Kier has some serious arm strength, he has shown tat he can make some beautifully accurate and placed throws while under pressure. He has the mobility to make plays with his feet. Kier has the most upside and potential at the quarterback position in this years draft.
Main Photo: