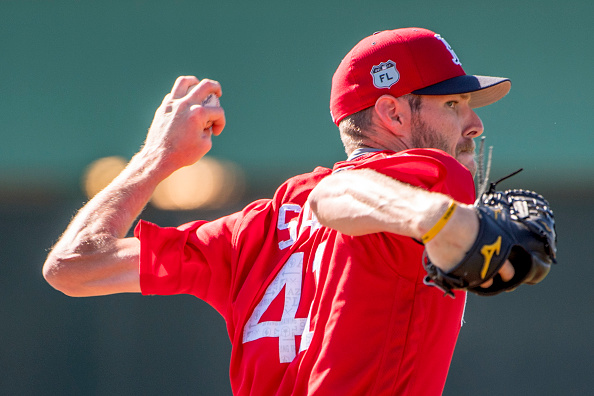 The American League Cy Young award is very unpredictable. Anyone can sneak in and win this award, just look at last year's winner Rick Porcello. Here are some candidates for the 2017 American League Cy Young award.
American League Cy Young Candidates
5 Marcus Stroman, TOR
Stroman showed promise in 2014 and 2015, but took some steps back in 2016. Making his debut in 2014, he posted an 11-6 record with a 3.65 ERA. He tore his ACL in 2015, but posted a 1.67 ERA in four starts in a brief comeback. Then in 2016, Stroman took a major step back. In his first full big league season, he posted an ERA of 4.37. However, he did show some signs of improvement as after the All-Star break he posted a 3.68 ERA. At 25, I think this is the year Stroman puts it all together and becomes the ace in Toronto.
4 Justin Verlander, DET
This is just so I don't make Kate Upton mad. Verlander came very close to falling off the map as an ace after two subpar seasons. He showed some signs of a return to his normal self late in 2015, then carried that over to 2016. The veteran finished 2nd in AL Cy Young voting last season, much to the avail of his fiancé Kate Upton. He posted a record of 16-9 with a 3.04 ERA and struck out a league leading 254 batters in 227 innings. Verlander showed he still has it last season, now it's time for the 12-year veteran to show the league how it's done.
3 Yu Darvish, TEX
Darvish missed all of the 2015 season due to Tommy John surgery. He was able to come back and make 17 starts in 2016. In 2013 he finished 2nd in voting for the Cy Young award. He posted a record of 13-9 with a 2.83 ERA and struck out 277 batters in 209 innings. This past season he had some success in his return to the mound. He posted a 7-5 record with a 3.41 ERA and struck out 182 batters in 100 innings.  If Darvish could return to his form of old days, he could certainly run away with this award. 
2 Corey Kluber, CLE
Kluber broke himself onto the scene three years ago when he won the AL Cy Young. The next two seasons he finished 9th and 3rd in voting. After struggling in 2015, a 9-16 record, Kluber bounced back with a solid 2016. He posted a record of 18-9 with a 3.14 ERA and 227 strikeouts in 215 innings. Blubber will play a big role in trying to win the Indians back-to-back AL Pennants.
1 Chris Sale, BOS
Sale has been one of the most dominant pitchers in the league the past couple of seasons. He finally got himself out of Chicago and onto a winning ball club in Boston. The past five seasons he has finished in the top-6 in AL Cy Young voting, and he has won a total of 70 games. The past four years he has 200+ strikeouts. Last season he had a record of 17-10 with a 3.34 ERA, and struck out 233 batters in 226 innings. Sale will fill himself in as the ace of a very strong Red Sox rotation. 
Main image credit: