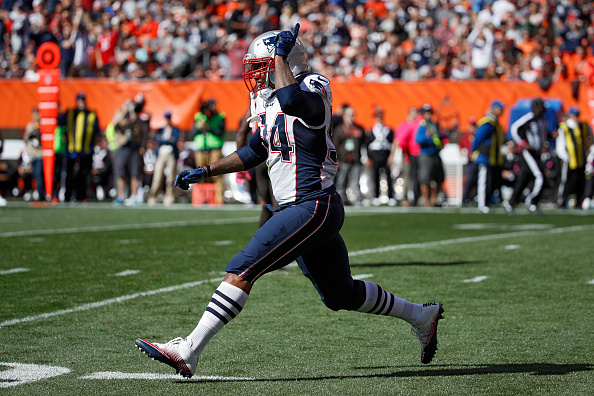 NFL free agency opens on March 9th and negotiations have already started between players and NFL franchises. This years crop of free agents possesses a lot of name and player value; meaning the league could change a lot over the next week. Signings are already starting to pour in so here is a look at a couple possible destinations for some of the impact players on the free agent market.
DISCLAIMER: these are signings that make sense for both the teams and players involved. Remember that cash rules everything around us and that will have a large effect on who goes where.
10 Free Agent Acquisitions That Need to Happen
Brandon Williams: Defensive Tackle —> Baltimore Ravens
Williams has been a main stay in the Ravens defence for the last three years and it would be a shame to see a true Raven leave. Currently, Baltimore is being held back by their lack of cap space. Even with the releases of secondary members Kendrick Lewis and Shareece Wright, the Ravens are still fairly pressed for space. A one man run stopper, Williams gives the Ravens strength at the line, something they might need with Lawrence Guy also hitting the open market. A mauler like Williams, paired up with Timmy Jernigan for years to come, could help Baltimore hold their dominate run defence from a year ago into the future. Williams loves the Ravens and the Ravens love Williams, but money will decide if he really wants to remain in Baltimore.
Review – The Ravens re-signed QB Ryan Mallett and are close to deal with S Tony Jefferson.They're still holding out hope on Brandon Williams

— Jeff Zrebiec (@jeffzrebiec) March 9, 2017
Alshon Jeffery: Wide Receiver —> Tennessee Titans
The Titan's had a great offence in 2016, considering that their number one receiver was Rishard Matthews. Matthews is no slouch but he does not have the speed or range that Alshon has. The addition of Jeffery would give quarterback Marcus Mariota a lethal target and a true number one receiver. Tennessee has the cap space and the fit makes perfect sense. The Titans have over 60 million in cap room and can afford to over pay for Jeffery if they really want. At 27, Jeffery still has some great years in front of him and if he pairs up with Mariota and Demarco Murray, they would become an offence that could beat you everywhere and anywhere on the field.
Buccaneers. Rams. Titans.

Where will Alshon Jeffery land? pic.twitter.com/940pVgQvro

— Bleacher Report (@BleacherReport) March 6, 2017
This offseason, the Giants are not losing much of what made them great last season. Their defence is intact and even with the acquisition of Brandon Marshall, they are looking for another playmaker in the middle of the field. Bennett could be just what they need. The tight end position was weak for big blue last year and Bennett would give Eli Manning the ability to utilize every aspect of the field. New York already has their outsides covered with OBJ, Sterling Shepard and Marshall, so why not pick up an elite player who caught the most TDs of his career last season? The Giants appear to be all in this season and if Bennett returns to New York, the Giants will have one of the scariest aerial attacks in the entire league.
Adrian Peterson: Running Back – Green Bay Packers
This needs to happen because this would give the Packers revenge for Brett Favre. A division rival's most recognizable player (maybe ever) switching sides to play for the enemy. Not only would this be fire to the Packers vs. Vikings rivalry but the fit in Green Bay is perfect. Green Bay have a lot of cap space and Peterson's price tag is projected far lower than his potential. This could also create one of the best QB-RB duos of all time between Peterson and Aaron Rodgers. That is if AP is able to regain his form from a few seasons ago. The Packers have an offensive line to keep Peterson clean and would be a huge upgrade in comparison to what he had in Minnesota last year.
Adrian Peterson's best chance to win a Super Bowl is with the Green Bay Packers.

RT if you agree pic.twitter.com/zoeAvi7QKf

— UNDISPUTED (@undisputed) March 3, 2017
DeSean Jackson: Wide Receiver – Tampa Bay Buccaneers
I believe that one of the two key Redskins wide receiver free agents (Pierre Garçon the other) will sign in Tampa. However, I believe the more likely one is Jackson. Teaming up with elite receiver, Mike Evans, the two could make a wide receiver duo capable of doing everything. Jackson showed at the end of last year that he still has blazing speed and Evans has incredible height and athletic ability. The two would give opposing DBs nightmares. Tampa Bay has a lot of money to spend and will definitely contend for Jackson.
Tony Romo: Quarterback – Denver Bronocos
Tony Romo is finally going to be released, meaning that the Romo watch will finally come to an end and everyone can stop talking about it. Romo thinks he has a a couple years left in tank and the Broncos have an all-time great defence that should not be wasted. If the Broncos want to win now, they will chase Romo. Trevor Siemian and Paxton Lynch have potential to become starting quarterbacks but they need time to develop and learn at the NFL level. Neither will be ready until the core of their defence has either aged or moved elsewhere. If Romo can come into Denver and stay healthy, the Broncos make the leap from good team, to elite team over night.
DeMarcus Ware: Defensive End – Dallas Cowboys
This is more than just a nice reunion story. Ware has shown that even at age 34, when he is healthy, he still has great pass rushing ability. The Cowboys could use a bit of help in their front seven when it comes to rushing the passer too. Dallas's pass rush had decent year in sacks, finishing 13th but did not get enough pressure on the quarterback. They finished 26th in the league in quarterback hurries. Ware also knows the system in Dallas, having worked with defensive coordinator Rod Marinelli in 2013 as a member of the Cowboys. Dallas is lead by mostly young players and Ware brings with him leadership and a Super Bowl ring. The Cowboys need an impact weapon off the edge and Ware could be the answer.
DeMarcus Ware reportedly eyeing return to Cowboys in free agency. https://t.co/JlVZRuB78N pic.twitter.com/XtT86REUqn

— theScore (@theScore) March 3, 2017
Dont'a Hightower: Inside Linebacker – Oakland Raiders
There is a good chance Hightower stays in New England considering he knows he can win there. New England also has the cap to keep him. However, The Patriots do not over pay for players. This is where Oakland comes in. The Raiders have a great young offence but need a bit more from their defence if they hope to become a championship team. Through four weeks in 2016, Oaklands defence looked awful. They would slightly improve as the season progressed, but still finished the year giving up an average of 375 yards per game. A player like Hightower is just what they need. Hightower can play every down, stuff the run and blitz the quarterback when needed. The defence is already anchored by Khalil Mack so Hightower will not have to worry about filling every hole. Instead, Hightower can come in and stick to what he knows; controlling the middle of the field.
@zeus30hightower my dawg what's good u know it's better to be needed thAn wanted! #facts

— Bruce Irvin (@BIrvin_WVU11) March 4, 2017
The Broncos have two young quarterbacks (at least for now) and it is not easy for them to grow in the NFL if they always have opponents hands in their faces. Both a quality run and pass blocker, Zeitler should fill at least one of the holes on Denver's offensive line. The former Bengal was a quality piece of a not-so-quality line last season but finished the year only giving up a single sack. Like the Bengals, the Broncos line is shaky too. However, they have some sneaky good players. Centre Matt Paradis was ranked Pro Football Focus's second best offensive lineman in 2016 and Russell Okung has not ruled out a move back to Denver. If The Broncos can land Zeitler and hold on Okung, they are a right tackle away from having a good, solid, impact o-line in 2017.
Mike Glennon: Quarterback – Chicago Bears
Rumours surfaced on Tuesday about the Bears potentially giving Mike Glennon 14 million dollars a year to start for them in 2017. To most people, that sounds like a lot of money for a QB who has not started a game in two years. Thats because it is. To put it in perspective, Brian Hoyer just signed with the Niners for a reported six million (potentially nine million with bonuses). To be fair, Glennon's first two seasons with Tampa Bay were fairly average; posting an 83.9 QBR in 2013 and a 83.3 in 2014. Glennon could not possibly be a long term solution in Chicago…..could he? Anything more than two years at 14 million a year would be highly questionable. If Chicago is looking to upgrade on Jay Cutler, this would be a funny answer.
QB Mike Glennon might earn at least $14 million per year, per @MikeGarafolo.

Tom Brady is on the books for $1M in cash in 2017.

— Jeff Howe (@jeffphowe) March 7, 2017
Main image credit: