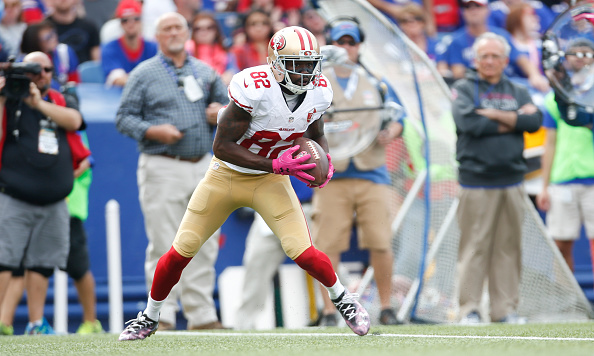 As soon as wide receiver Torrey Smith was officially released by the San Francisco 49ers on Tuesday, rumors immediately started swirling about Smith possibly returning to the Baltimore Ravens.
Smith, who was drafted by Baltimore in 2011 out of Maryland, played four seasons with the Ravens. In his time with Baltimore, he racked up 3,591 yards and 30 receiving touchdowns.
With Smith being a product out of Maryland, he was a fan favorite. He had many memorable games in his time with the Ravens. Perhaps the most memorable moment came in week 3 of the 2012 season. One night after his brother, Tevin Smith, died in a motorcycle accident, Smith played in primetime against the Patriots. In that game, he caught six passes for 127 yards and two touchdowns.
Even though Ravens fans have many fond memories of Smith, and while he may still have a positive relationship with the Ravens, a reunion is not what is best at this moment.
The Ravens tried to resign Smith after the 2014 season, but he decided to sign a five-year, $40 million contract with the 49ers, a figure Ravens General Manager Ozzie Newsome could not match. In his two seasons with San Fran, Smith was extremely disappointing. He failed to catch over 33 passes, and scored just seven touchdowns combined. 2016 was the worst statistical season of his career, as he caught just 20 passes for 267 yards and three touchdowns.
To be fair, Smith did not have a superstar quarterback throwing him the ball in San Francisco. That does not make up for his lack of production on the field, given what the 49ers were paying him.
Smith is a one-dimensional receiver. His specialty is catching the long ball. He is not a crisp route runner, and he does not go across the field often to make tough catches. While he is one of the fastest receivers in the NFL, he does not match up with what the Ravens need right now.
The Ravens already have multiple receivers who serve the same purpose as Smith. Mike Wallace, who is entering the second season of a two-year deal, is virtually the same receiver as Smith, only better. Breshad Perriman is arguably faster than Smith, and he is looking to develop in 2017 after battling injuries in the first two seasons of his career. With Perriman being a first round pick, Baltimore will not be looking to move him. Let's not forget about Chris Moore, who is another speedster.
With the departure of Steve Smith, and possibly Kamar Aiken, the Ravens need a procession receiver. Baltimore needs a wideout who makes tough catches, both on out-routes and in the slot. There are a number of free agents out of the market who can be just that, including Pierre Garcon and Brandon Marshall. The Ravens could also find a receiver in the early rounds of the draft that has those attributes.
There is one scenario in which a Smith reunion with the Ravens could work: cutting Wallace. It is no secret that the Ravens are tight against the cap, and Wallace has the fifth-highest cap hit on the team at $8 million. If the Ravens want to bring back Smith, they could cut Wallace and sign Smith at a cheaper price. Smith's value will not be that high, so in a sense it could be a possibility. However, Smith elected to not take a hometown discount two years ago, so he will ultimately take the most money that he is offered on the market.
Torrey Smith will always have a special place in the hearts of Ravens fans. The Maryland connection is there, and Smith won a Super Bowl with the team. All that is great, but Smith is a number two receiver at best. If a reunion with the Ravens is to happen, it must be at a cheap price, and a subsequent roster move at the receiver position will have to be made.