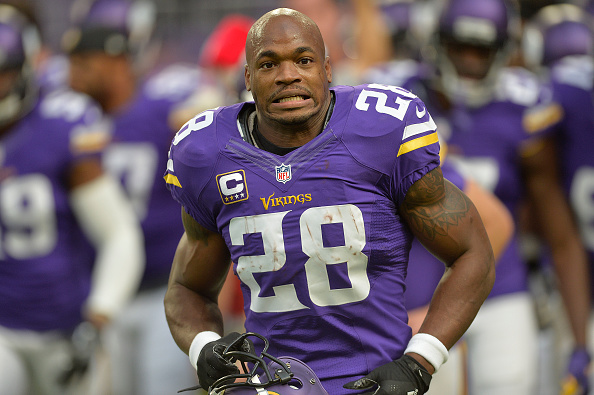 At 31 years old, Adrian Peterson is about to hit the open market for the first time. He may no longer be his former 2097-yard self from 2012, but will still be the most intriguing running back available when free agency opens on March 9th. Peterson is dripping in accolades but he is far from cheating Father Time. Even though he has aged, Peterson still has the potential to be an impacting every-down back or create a lethal 1-2 punch backfield.
Honorable Mention: New York Giants
The Giants might be the team that could benefit from Peterson the most considering their horrible rushing attack last year. They finished fourth last in total rushing yards in 2016 and no running back could be relied on in key situations. The problem is that the Giants just slapped the franchise tag on Jason Pierre-Paul. Even though they released slot receiver Victor Cruz earlier in the offseason, they are losing cap to spend.
The Giants been making some interesting moves.

— Adrian Peterson (@AdrianPeterson) February 16, 2017
The Giants offence has the ability to be great if they add Peterson. Already having a promising receiving duo of Odell Beckham Jr. and Sterling Sheppard, the accusation of Peterson would make Eli Manning's job a lot easier. Because of their non-existent backfield last year the Giants became one dimensional and teams took advantage. However, if the Giants are able to snatch up Peterson, the combination of their elite defence and versatile offence could make them an early NFC contender.
Top Three Destinations For Adrian Peterson
3. Houston Texans
The Houston Texans paid a running back 'feature back money' just one year ago when they signed Lamar Miller to a four-year, 26million dollar contract last March. Everyone knows that Peterson would be interested in playing in Texas where he grew up but Dallas seems like an unlikely location, even if Jerry Jones does want him there. The Texans are home and have the cap to make the move.
The Texans do not have an incredible offensive line, but a two-back system could make things a little easier. Miller would most likely handle third downs but Peterson would give them the option of a two-man backfield on their first two. Peterson also provides goal line reliability. A two back system would certainly help the fact that their 72 million dollar quarterback cannot throw the ball. Houston is the easy choice if Peterson wants to end his career near home but the Texans have bigger holes to fill than running back.
2. Green Bay Packers
REVENGE FOR BRETT FARVE! In all seriousness though, Peterson fits very well in Green Bay. Green Bay has been struggling to find a consistent running back since Ahman Green and their former rookie starter, Eddie Lacy, who is heading to free agency. Peterson may not be the long-term solution for The Pack but Aaron Rodgers is playing as well as ever. Rodgers may be the best quarterback in the NFL and he has never been given anyone like Peterson to take the pressure off of him.
Green Bay may be losing parts of their offensive line to free agency but the line still contains key players David Bakhtiari and Bryan Bulaga. Though the line is known for its pass blocking ability, Peterson would have a great time running between the tackles. Adding Peterson could also give Rodgers a chance to use his legs even more. The Packers play action has been invisible for the last two seasons and adding more PA to an already horrifying aerial attack, scares every team.
Adrian Peterson's best chance to win a Super Bowl is with the Green Bay Packers.

RT if you agree pic.twitter.com/zoeAvi7QKf

— UNDISPUTED (@undisputed) March 3, 2017
Oakland Raiders
The NFL's most improved team in 2016, the Raiders could could take the next step forward by adding Peterson. Mark Davis has a lot of space to boast too. Peterson's price value has dropped since 2014 and the Raiders will have more than enough space. The Raiders had a good running back committee of Latavius Murray, Jalen Richard and DeAndre Washington last year but Murray is the only one who looks ready to lead a unit. Oakland has thus far, opted to let Murray hit free agency in March.
Oakland also possesses one of the leagues best young offences. ACDC (Derek Carr & Amari Cooper) look like the next elite WR-RB duo and Peterson will help them progress even faster. The threat of Carr, Cooper, Peterson and Oaklands great offensive line would have every NFL defence shaking. Just the thought AP running through Kelechi Osemele, Rodney Hudson and Donald Penn makes Raiders fans smile. If Peterson moves to Oakland (or wherever the Raiders end up) Davis's team will have star power and no weaknesses on an already good offence.
Vikings GM Rick Spielman still wants Adrian Peterson back, but the Raiders might have caught the RB's attention. https://t.co/Yrj3fup90y

— SportsCenter (@SportsCenter) March 1, 2017
Main Photo: