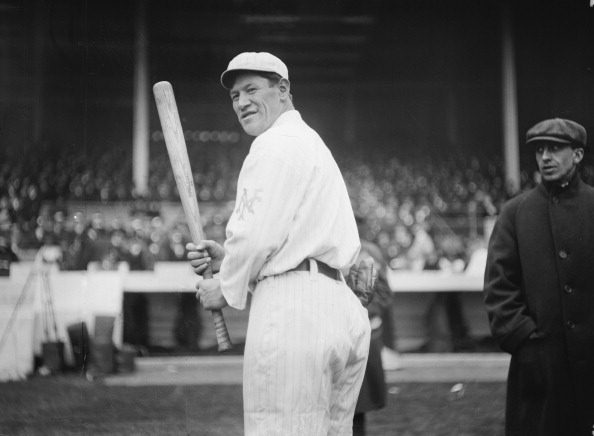 These days there are many multi-sport athletes. From Russell Wilson to Antonio Gates and Jimmy Graham, these guys have all excelled at more than one sport. Way back when, it was normal for athletes to play more than one sport professionally at the same time. Here are the top multi-sport athletes of all-time. 
Top Multi-Sport Athletes of All-Time
10. Bob Hayes
Known as "Bullet Bob," Hayes was real fast. He attended Florida A&M where he ran track and played football. In the 1964 Summer Olympics Hayes became a star. He won gold medals and set world records in both the 100 meter and the 4×100 meter dash. He was drafted by the Dallas Cowboys that year. In 132 games with the Cowboys, he had 371 catches for 7,414 yards and 71 touchdowns. He was named an All-Pro every year from 1965 through 1968. During his time, Hayes was the fastest runner in the world. He is the only person who has both a Super Bowl ring and an Olympic gold medal around his neck.  
9. Charlie Ward
Ward was an outstanding athlete at Florida State University. He played both basketball and football for the Seminoles. He led the basketball team to a Sweet 16 appearance. In football however, he excelled as a quarterback. He won the Heisman Trophy, Davey O'Brien Award, the Maxwell Award, and led the 'Noles to a National Championship. Scouts thought he was to small to play in the NFL, so he headed to the NBA. He was drafted by the New York Knicks and was a solid role player for them. He averaged 6 points and 4 assists for his career. Ward was so outstanding an athlete that even though he didn't play baseball in college the New York Yankees selected him in the MLB draft. 
8. John Elway
Elway is most known for being one of the best quarterbacks in NFL history. However, he wasn't always only just a football star. John Elway was drafted out of high school by the Kansas City Royals, but chose to attend Stanford University. As a Cardinal, he played both baseball and football. He spent a little bit of time in the New York Yankees farm system where he hit .324 with 24 home runs. However, football was where Elway really stood out. He was named Pac-10 Player of the Year twice. He was taken as the first overall pick in the 1983 NFL draft but was traded to the Denver Broncos. Elway went on to win two Super Bowls, a Super Bowl MVP, a league MVP, and he threw for over 50,000 yards and 300+ passing touchdowns.  
7. Lionel Conacher
Conacher was voted as Canada's top athlete of the first half of the 20th century. He was a part of the Toronto Argonauts 1921 CFL championship. In the NHL, he was a two time Stanley Cup champion and in juniors he won the Memorial Cup once. He was also the Ontario amateur wrestling champ in 1916. In 1920, he won the Canadian light heavyweight title and was offered a contract from the Detroit Tigers of the MLB. Conacher was recognized as the best all-around athlete in Toronto.  
6. Babe Didrikson Zaharias
BDZ is considered one of the greatest female athletes to ever walk this planet. She not only had a legendary golf career, but she was also a basketball player, tennis player, swimmer, boxer, diver, volleyball player, bowler, skater, and cyclist. Babe dominated all her peers in golf, winning every tournament at the time, including 10 LPGA majors and a total of 82 tournaments. She was the first woman to ever win the British Women's Amateur Golf Tournament. She also won two gold medals and a silver medal in track and field in the 1932 Olympics. In 1950, the Associated Press voted her Woman Athlete of the Century. 
5. Jackie Robinson
Most known for being the first African American to play major league baseball, Robinson wasn't always just a baseball player. He attended UCLA, and because the first athlete to play on four varsity sport teams: baseball, basketball, football, and track. He won the NCAA men's long jump title and played in college All-Star games for both football and basketball as a Bruin. Jackie was signed by the Brooklyn Dodgers, becoming the first African American in the MLB. Over ten seasons in the MLB, Robinson hit to a stellar average of .311 and stole 197 bases. In won the NL MVP award in 1949 and was named an All-Star for six straight years. 
4. Deion Sanders
Deion "PrimeTime" Sanders was a freak athlete. He is considered as one of the fastest players to ever play in the NFL. PrimeTime attended Florida State University, playing football, baseball, and competing in track and field. He was drafted by the Yankees and played in the majors for nine years for four different teams. Over that nine year span, he hit to an average .263 with 39 home runs, 168 RBI's, 43 triples, and 186 stolen bases. In the NFL, Sanders is considered one of the best defensive backs of all-time. He is the NFL career leader in interceptions returned for a touchdown, defensive touchdowns, fumbles recovered, career punt returns for a touchdown, and kick returns for a touchdown. He is the only pro athlete to play in both the Super Bowl and the World Series. 
3. Jim Brown
Jim Brown played just about every sport growing up. In high school he played football, basketball, ran track, and was the best lacrosse player in the nation. He went to Syracuse on a lacrosse scholarship, and eventually played football, ran track, and basketball. He was named an All-American in both football and lacrosse. Brown was drafted sixth overall by the Cleveland Browns. Over his nine year career he scored 126 touchdowns and averaged five yards/carry. When he retired he was the NFL's all-time leader in career rushing yards, single season rushing yards, rushing touchdowns, total touchdowns, and all-purpose yards. Jim Brown is a Hall of Fame inductee in thee different sports: NFL, College Football, and Lacrosse.  
2. Bo Jackson
At 6'1", 220 pounds, Bo Jackson was just a pure athlete. He attended Auburn University, playing both baseball and football.  In his senior year he was awarded the highest honor in college football, the Heisman Trophy. He was drafted 1st overall by the Tampa Bay Buccaneers in the NFL draft, but decided to go to the MLB instead, where he was drafted by the Kansas City Royals. In his MLB career, he had a .250 average with 141 home runs and 415 RBI's. On the diamond he showed outstanding power, terrific speed, and a cannon of an arm. He eventually joined the NFL, and in four seasons he ran for 2,782 yards with 16 touchdowns and averaged 5 yards/carry. He was the only player to ever be named to the NFL Pro Bowl and MLB All-Star game in the same season. 
1. Jim Thorpe
At one point in time, Thorpe was considered the greatest athlete in the world. He played football, baseball, basketball, and competed in track and field. He won back to back National Championships in football at Carlisle school. Thorpe went on to play professional baseball and football. In 289 games in the MLB, he had a career .252 average with 82 RBI's. In 13 years in the NFL, Thorpe was an All-Pro. He was eventually elected to the Pro Football Hall of Fame, and was named the president of the NFL. He also won Olympic gold medals in the pentathlon and decathlon. 
Main image credit: