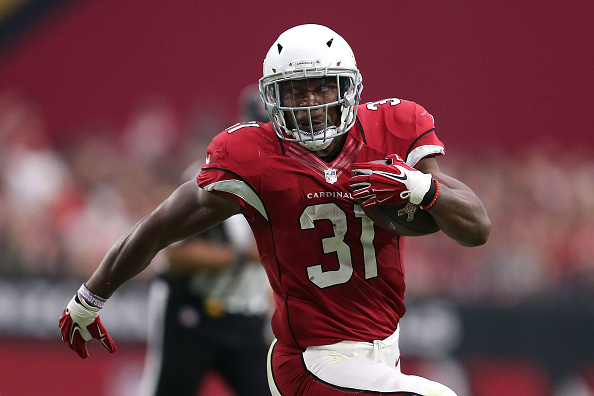 Running backs are some of the most talented and athletic players on the football field. They have tremendous amounts of speed, skill, and athletic ability. Here are the top running backs in the NFL this season.
Top 10 Running Backs in NFL
10. Melvin Gordon
After a disappointing rookie season, Gordon responded in a big way in 2016. In 2015, Gordon recorded 641 yards and not a single touchdown. In 2016, he had 997 yards and 10 touchdowns. Gordon played a much bigger role in the Chargers offense, recording 254 carries in 13 games. He should be the favorite for Comeback Player of the Year. He is a tall back with long strides, he's shifty in the open field, and can create opportunities for himself. 
9. Jay Ajayi
Ajayi took over for Arian Foster as the starter in Week 5 and he never looked back. He recorded three 200+ rushing yard games. Despite not being the starter all season, Ajayi finished 4th in the league in rushing yards with 1272. He scored eight rushing touchdowns. The former soccer player has some terrific speed and accelerates once he hits that second level.
8. Legarrette Blount
Blount was a god-sent to the New England Patriots run offense. A big back, Blount gets many of his yards fighting through contact. He finished 8th in the league with 1161 rushing yards and led the league with 18 rushing touchdowns.
7. Jordan Howard
Jordan Howard was amongst one of the biggest surprises of the 2016 season. He was one of the only bright spots for a miserable Chicago Bears offense. He only became the starter in Week 3 and finished 2nd in the league in rushing yards with 1,313, 4th in yards per attempt with 5.2 yards per carry, and 3rd in yards per game with 87.5. The rookie out of UAB finished the final five weeks of the season rushing the ball 103 times for 547 yards and 4 TD's, good enough to be named Offensive Rookie of the Month. Howard is one of the pieces the Bears will build around for the 2017 season.
6. LeSean McCoy
"Shady" McCoy had the most yards per attempt last season. He had a total of 1267 rushing yards and 13 touchdowns. McCoy is very fast, he finds the hole and strikes quickly. He is patient and elusive, making defenders miss in space.
5. Devonta Freeman
Freeman is a phenomenal combination of receiving and rushing out of the backfield. He is a vital part of one of the best offenses in the game. Freeman had 1079 rushing yards and 462 receiving yards. He scored 13 touchdowns, 11 rushing and 2 receiving. Freeman is tough and has some great power.
4. Demarco Murray
Murray had the benefit of running behind of the top offensive lines in the game in a system built perfectly for him. He carried the ball 293 times for 1287 yards and 9 touchdowns. Murray is explosive with some top end speed. He is strong and has some excellent hands and vision out of the backfield.
3. Ezekiel Elliot
"Zeke" is a freak athlete. As a rookie, he lived up to all expectations in Dallas. He was the league leader in rushing yards (1631) and had the most rushing yards/game (108.73). Elliot has the benefit of running behind the best offensive line in the game. Elliot has some unreal vision, speed, and athleticism. 
2. Le'Veon Bell
Bell is anther top all-around back. He has developed his own style of running, and it has worked wonders for him thus far. In 47 games over four seasons, Bell has 4045 rushing yards and 26 touchdowns. He also has 227 receptions for 2005 yards and five touchdowns. Bell shows tremendous patience and vision as a runner, finding and exploiting holes in the defense. 
1. David Johnson
Johnson has been the best all around back in the NFL the past two seasons. Taken in the third round of the 2015 Draft, Johnson was the biggest steal in the draft. In two seasons with the Cardinals, Johnson has 1820 rushing yards and 24 touchdowns. He also plays a huge role in the passing game as he has 116 receptions for 1336 yards and 8 touchdowns. Johnson is a big body back who has the ability to fight for extra yards, but also possess some excellent hands catching passes out of the backfield. 
Main image credit: