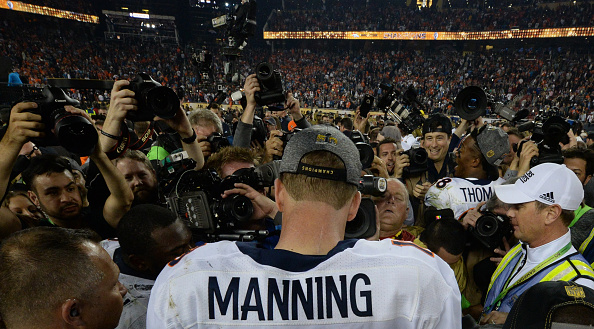 Many top athletes retired in 2016, each leaving their mark on their respective sport and its fans. We have compiled our list of the 15 notable retirements in 2016. Note: We only included athletes of team-based sports.
Interested in writing for LWOSports.com? Send a sample list you'd like published to [email protected]
The 15 Most Notable Retirements in 2016
Peyton Manning
Arguably the greatest quarterback of this generation and perhaps of all-time, Peyton Manning retired from the National Football League. Having just won the Superbowl with the Denver Broncos, he goes out on top after 14 seasons with the Indianapolis Colts and four with the Broncos. With records for passing yards (71,940), touchdowns (539), and 14 Pro Bowl appearances, Manning is an easy first ballot Hall of Fame inductee.
Kobe Bryant
One of the first in two decades to enter the NBA out of high school (see: Kevin Garnett), Kobe Bryant played all 20 seasons with the Los Angeles Lakers. He retires with the third most points in NBA history to go with five NBA Championships. With 18 All-Star appearances and 15 times named to the All-NBA team, Kobe Bryant has an easy trip to the Hall of Fame. He wasn't just offensively-minded, as he was named to the All-Defensive team a dozen times.
Tim Duncan
Similar to Bryant, Duncan spent his entire career for one team, the San Antonio Spurs. He entered the league as one half of the "Twin Towers" alongside the great David Robinson. He dominated early on his way to winning the Rookie of the Year award. A winner of five NBA Championships, also the same as Bryant, Duncan retired as arguably his generation's most dominant power forward. His personal accolades are many, including twice being named the NBA's MVP, and three times distinguished as the NBA Finals MVP.
Calvin Johnson
"Megatron", as he was widely known, was one of the greatest receivers in the NFL during his career. Renowned for his great speed despite his 6'5 and 240-pound frame, he played his entire career for the Detroit Lions. While the Lions couldn't surround him with the talent to compete for a Super Bowl, he has many personal accomplishments. He exceeded Jerry Rice's single season receiving yards record with almost 2000 yards (1964). He also holds records for most 100-yard games consecutively, as well as in a season (tied with Michael Irvin).
David Ortiz
David Ortiz played most of his illustrious career as a designated hitter, with occasional time spent at first base. Splitting time between Minnesota and Boston, he retires a beloved Red Sox by fans around baseball. With three World Series trophies, 10 All-Star Game appearances and seven Silver Slugger designations, Big Papi was the quintessential DH. He retires as the DH with the most home runs (485), RBIs (1,569), and hits (2,192), in MLB history.
Alex Rodriguez
Love him or hate him, Alex Rodriguez, or A-Rod, was one of the most dominant players throughout his career. He played his 22 seasons with Seattle, Texas, and the New York Yankees, winning countless personal accolades to go with his lone World Series Championship.
He left the game with over 3000 hits, .297 batting average, over 2000 runs and runs batted in, and is the record holder with 25 grand slams. He was named to the All Star Game 14 times to go with two Gold Gloves and three American League Most Valuable Player awards.
Kevin Garnett
Entering the NBA straight out of high school, Kevin Garnett was drafted by Minnesota, where he spent most of his 21 seasons. The dominant power forward/center helped Minnesota become legit, making it to the Western Conference Finals in 2004. He was named the NBA's Most Valuable Player that same year.
Garnett retires having played in 15 All Star Games, which is third in league history. He was named the NBA Defensive Player of the Year trophy in 2008, the same year he won his only NBA Championship with the Boston Celtics.
Steven Gerrard
For almost all of his fantastic career, Steven Gerrard patrolled Liverpool's midfield. As club captain for most of those years, he never managed to win the Premier League, but has an impressive list of club accomplishments.
Arguably his most iconic moment occurred in 2005 in the Champions League Final against AC Milan. He scored the first goal and won a penalty for the third in Liverpool's come-from-behind win. Liverpool also won two FA Cups, three League Cups, a UEFA Cup, and a UEFA Super Cup in his time at the club. In 2008, Gerrard was given the honour of captaining England for the European Championship qualifiers.
In 2005 he was named UEFA Club Football Player of the Year, and came third in the voting for the Ballon D'Or in 2005. He was named in FIFA's World XI three times.
Ray Allen
Ray Allen played for four teams during his 18-season career in the NBA, beginning with the Milwaukee Bucks. Known as an imperious three-point shooter, Allen didn't win a championship while with Milwaukee or Seattle, but had success in 2008 with Boston and again in 2013 with Miami. He retired with the most three-point field goals in NBA history with 2,973. He was a 10-time NBA All-Star.
Marshawn Lynch
Marshawn Lynch retired from the NFL with the Seattle Seahawks while still playing at a very high level. Originally drafted by Buffalo, he spent 2007-2010 with the Bills. It was a time marred by injuries and troubles with the law.
It wasn't until his move west to play with Pete Carroll's Seahawks that he realized his potential in the NFL. Later called "Beast Mode" for his very aggressive running style, Lynch managed a Super Bowl with the 'Hawks in the 2013 season, and almost repeated again in 2014. He was named to five Pro Bowl game and won and was a First-Team All Pro in 2012.
Tony Stewart
Tony Stewart retired in 2016 as one of the most decorated drivers in NASCAR history. A three-time Sprint Cup Series winner, he also won an IndyCar championship, making him the only driver to win both. Stewart split most of his NASCAR career with Joe Gibbs Racing and Stewart-Haas Racing, where he split ownership with Gene Haas. Throughout his career, Stewart remained loyal to Chevrolet, which is part of the reason he left Joe Gibbs Racing, who shifted to Toyota.
Nico Rosberg
Racing for both Williams and Mercedes, Nico Rosberg shocked everyone with his retirement in 2016. What makes his retirement particularly shocking is his age (31) and the fact that he had just won the Formula 1 World Championship. After two-straight seasons of finishing runner-up to fellow Mercedes driver Lewis Hamilton, Rosberg finally captured the title in December, 2016. Just five days later he announced he was leaving racing. He leaves the sport with 23 race wins and 57 podium finishes.
Charles Woodson
Woodson was drafted by the Oakland Raiders having won the Heisman with Michigan. While he didn't win a Super Bowl with the Raiders, he did in the 2010 season with the Green Bay Packers after he moved to Lambeau. During his career, he made nine Pro Bowl games, won the Defensive Rookie of the Year and Defensive Player of the Year awards, and was named a First Team All Pro four times. Woodson epitomized the safety position.
Brad Davis
Drafted in the 2002 MLS SuperDraft by MetroStars, Brad Davis was moved to Dallas after having been named a finalist for Rookie of the Year. He spent several seasons in Dallas before being moved to San Jose, and then Houston, where he called home for the majority of his career. Known for his playmaking, he finished 2011 as the league leader in assists, and was a finalist for the league MVP award. Davis also had a long career with the US Men's National Team, with 17 appearances.
Jared Allen
The former Minnesota Viking, Chicago Bear and Carolina Panther, Jared Allen was drafted in 2004 by the Kansas City Chiefs. Finding most of his personal acknowledgements during his time with Minnesota, he was named to the Pro Bowl five times and was a First-Team All-Pro four times. His most impressive award came in 2011 when he was named the NFL's Defensive Player of the Year. Jared Allen led the league in sacks twice (2007, 2011).
Honorable Mentions: Charles Tillman, Mark Texieira, Vincent Lecavalier, Heath Miller, Andre Johnson, Justin Tuck, Amar'e Stoudemire
Main image credit: