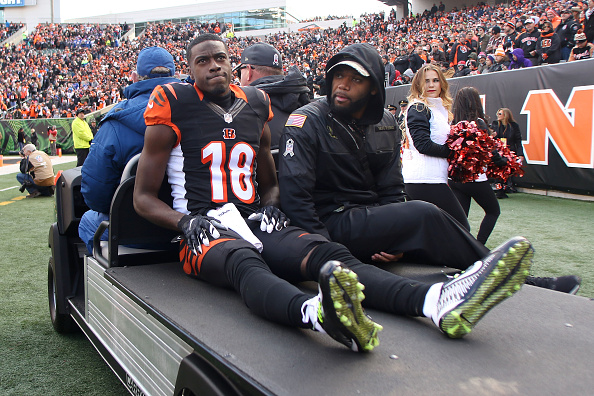 Cincinnati Bengals star wideout A.J. Green will miss tonight's clash with the Houston Texans. After meeting with team officials including head coach Marvin Lewis and the team's medical staff, it has been determined that it is unlikely for Green to return this season.
A.J. Green Season Comes to An End
Green injured his hamstring on November 20 against the Buffalo Bills on the second snap of the game. While he reportedly felt good, ESPN reported that he was removed from team drills late this week.
To further frustrate the Bengals' playmaker, he was only 36 yards short of tying Randy Moss' record as the only player to hit the 1000-yard mark in his first six seasons. Surely playing in either of the team's last two games would have put him well clear of the mark.
Earlier this week, Green was added to the Pro Bowl. His 964 yards and four touchdowns made him a standout on a very disappointing year for Cincinnati Bengals fans. Joining him is Geno Atkins, the only other Bengals player to make the Pro Bowl.
Thanks to all the fans who voted me into the Pro Bowl! I always appreciate the support! #ProBowl #WhoDey

— Aj Green (@ajgreen_18) December 21, 2016
Main image credit:
Main Photo Caption: CINCINNATI, OH – NOVEMBER 20: A.J. Green #18 of the Cincinnati Bengals gets carted off of the field after being injured during the first quarter of the game against the Buffalo Bills at Paul Brown Stadium on November 20, 2016 in Cincinnati, Ohio. (Photo by John Grieshop/Getty Images)