The NFL Draft has come and gone, and it is time to start planning to bet on the NFL. The NFL season is among the most-bet-on leagues in the world, and all the exciting matches make it even more fun to bet. Last season's Super Bowl was the second-most bet in the history of the NFL, could this season beat it?
Learn How You Can Bet on the NFL
NFL 22/23 season
The actual NFL season does not start until the 8th of September, but you luckily do not have to wait for the fall to bet on or watch NFL games. The draft was from the 28th of April till the 30th in Las Vegas, Nevada, and you will have been able to bet on the outcome.
Let's just hope your favorite team drafted well for the season! To make the actual season more interesting, you can do some online betting, and here, we are going to explain how. 
Find a betting site
The first step to starting online betting is to find a good site to do it at. Betting online is very easy and accessible, but there are a lot of sites out there to choose from. That is why you should always do thorough research on the site, to make sure it is safe, and the best to bet. You also need to look at what sports they offer to bet on.
In this example, we want a site where you can place wagers on the NFL draft, season, and the Super Bowl. Luckily, the NFL is a very popular league, and most sites offer this. To make the search for a betting platform easier, you can read guides and feedback from other users.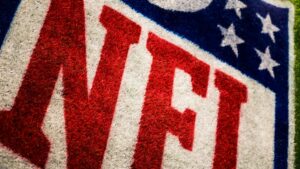 Learn the game 
To be able to bet well, you must know the game. This goes both for betting and for the sports you want to bet on. Learn what teams are doing well and what start players will appear on the field. History is key and learning about memorable times in the NFL is not only fun but it will also up your betting game.
It is also a good idea to know a lot about betting and the different things you can do. There are many categories to bet on and you can guess so much more than just the final results. To begin with, it might be smart to put smaller bets in just to learn the process. 
Create a profile and bet
When you feel you are ready to start betting, you can create an account, deposit money, and get started. Just search for a sport, league, or specific match, and have a look at all you can bet on. There are odds for each bet, which indicate the likeliness that the bet will succeed, and how much you can earn from each bet.
You can bet on almost anything, but it is usually the most fun to bet on big events such as the Super Bowl, which also hits incredible betting records often. Good luck betting!
Main Photo: