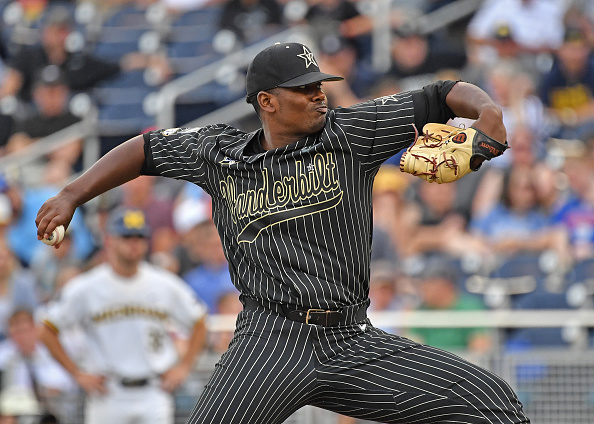 We're just under a month away from the 2021 MLB Draft and teams couldn't be happier to get closer to normal for the big event. Due to the pandemic, the 2020 MLB Draft was cut down from 40 rounds to five. This year, the number of rounds will go up to 20, the agreed-upon number earlier in the spring from the league. The draft will go from July 11th to July 14th, coinciding with the all-star events in Colorado. The Pittsburgh Pirates will have the first overall pick followed by the Texas Rangers, Detroit Tigers, Boston Red Sox, and rounding out the top five is the Baltimore Orioles.
Top Five 2021 MLB Draft Prospects
Marcelo Mayer (Shortstop)
Marcelo Mayer is projected to go number one overall to the Pirates in the 2021 MLB Draft. In a highly coveted position, Mayer possesses the skills both on offense and defense to do some damage in the big leagues. His great athleticism and arm allow him to make dazzling plays in the field while making his style look simple. Mayer has smooth features on the offensive side, one of them being his swing. His simple approach at the plate is exactly what teams are looking for. Combine that with the fact that his power is projected to grow and that he's a left-handed bat, that's a perfect recipe for success in this league.
Jordan Lawlar (Shortstop)
Another shortstop projected to go in the top three is Jordan Lawler. He's competition for Mayer in taking the top spot. Lawler has smooth athletic prowess that screams MLB shortstop. He has a smooth glove and soft hands to handle any ball hit his way. His soft hands help on the offensive side too along with his wide shoulders and long legs. On top of that, Lawlar has a great understanding and awareness of situational hitting. His knowledge of baseball has him on the rise faster than anyone in the 2021 MLB Draft.
Jack Leiter (Right-Handed Pitcher)
Being a top pitcher at a baseball school like Vanderbilt isn't easy, but top pitching prospect Jack Leiter makes it look like it is. He made his presence known in 2020 before Covid-19 put a stop to it. In four games, three of them starting, he went 2-0 with a 1.72 ERA and 22 strikeouts. That was just the beginning of what ultimately became a great 2021 season.
His fastball is electric and can top it at around 97-98 MPH. Leiter has a curveball that can get him a strike when needed and his slider is getting better as we speak. He is still working on improving his secondary pitches, which is scary for any opponent. Jack is the complete package and has all the potential to go number one overall if the Pirates decide to go the pitching route.
Henry Davis (Catcher)
There's a lot to say about the physical tools Henry Davis has behind the plate. He's got one heck of a cannon and that might not even be enough to describe it. Davis is also quick and flexible, which makes him a great threat. His work ethic is second to none as he studies the game inside and out. That allows him to use all parts of the field on offense. Davis is an exciting player that looks like a firm bet to be one of the faces in the new era of catchers when the time comes. 
Kumar Rocker (Right-Handed Pitcher)
Joining Leiter at pitching for Vanderbilt was Kumar Rocker, who has several pitches in his arsenal to rely on. He has electric stuff that made him one of the best pitchers in the country. Rocker also has great swing-and-miss stuff, which plays huge in today's game. He played a huge part in winning the National Championship in 2019 alongside Leiter at Vanderbilt as a great combo in the rotation. 
Other 2021 MLB Draft Prospects To Keep An Eye On
Brady House (Shortstop)
Jackson Jobe (Right-Handed Pitcher)
Kahlil Watson (Shortstop)
Ty Madden (Right-Handed Pitcher)
Matt McLain (Shortstop)
Harry Ford (Catcher)
Main Photo: