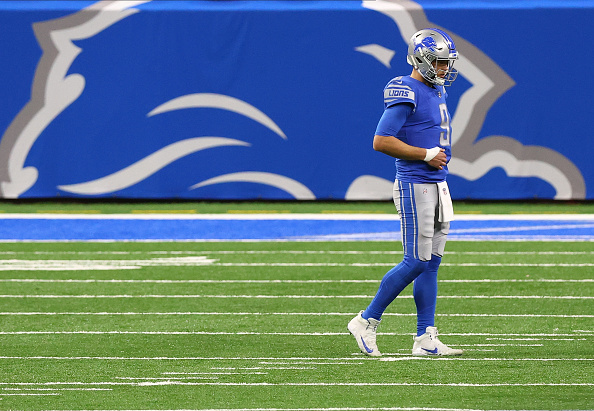 Matthew Stafford and the Detroit Lions are rumored to be parting ways this offseason, which means Detroit will be on the lookout for some possible landing spots for their franchise quarterback. There are certainly some dream trade destinations for Matthew Stafford, but which ones make the most sense? Here are five teams you may see land the Detroit favorite.
Five Trade Destinations for Matthew Stafford
New England Patriots
Since the departure of Tom Brady, the Patriots have been involved in nearly every quarterback trade rumor. This situation is no different.
Cam Newton's underwhelming season has now left the Pats with more questions than answers at the quarterback position. Newton is almost certainly on his way out, once again leaving a wide-open spot in the most important position on the field.
With some real cap space available this offseason, I think it's quite likely you see the Patriots make a real push for Stafford. You certainly expect Bill Belichick to push for the playoffs next season and there's no doubt Stafford probably gives them the best shot at making it there. If the Pats are truly looking to both rebuild and retool, it could start with a hard push for Stafford.
Washington Football Team
The notion with Washington was that they were just a decent quarterback away from jumping away from playoff pushover and into the playoff competitor category.
The rotating quarterback carousel that occurred this season in Washington was really the only negative to their squad. Terry McLaurin and Antonio Gibson both broke out to have phenomenal seasons. The defense finished among the top in the league in nearly every statistical category. The only thing truly holding this team back was their lack of talent at the quarterback position. Grabbing Stafford would push this team above that hump, further solidifying their playoff chances next season. Washington is a recovering franchise and this is who they need to bring in.
Those who are looking to trade for Stafford sit in the position of playoff hopefuls, somewhere the Football Team will likely be next year even with a below-average QB at the helm. Insert Stafford and I think it's safe to say that they instantly become the leaders in the NFC East. I think this is a move that Washington needs to make, rather than a move they could make.
New Orleans Saints
This is one of the trade destinations for Matthew Stafford that may spring some debate. But I think this is the perfect scenario for both Stafford and the Saints.
Drew Brees is seemingly going to call it quits following the Saints playoff loss to the Tampa Bay Buccaneers. If Brees follows through with his plan, and it's looking like he will, The Saints will have to fill a massive hole at quarterback. Look no further than Matthew Stafford.
Even without Brees, the Saints will have one of the most prolific and electric offenses in the game. With two of the best playmakers in the league in Alvin Kamara and Michael Thomas, the Saints will certainly be looking to come back next season with that same fight as this year. A rebuild doesn't need to occur in New Orleans, that's why I think a trade for a guy like Stafford would make a ton of sense.
Not only would Stafford be blessed with a top 10 defense, something he has rarely had in Detroit, but he'll also be blessed with two of the best offensive weapons in the game.
I think this is one of the most logical trade destinations for Matthew Stafford. The Saints should grab this veteran quarterback as quickly as possible.
Main Image: Embed from Getty Images