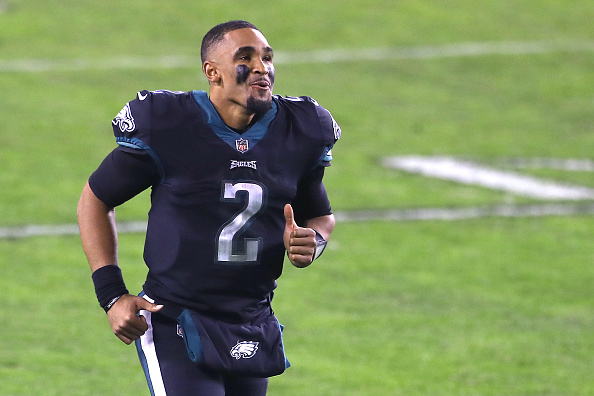 As the season has now dwindled down to just two weeks remaining, the playoff picture is still yet to be finalized. The one team that I can confidently say will remain the same seeding-wise is the Kansas City Chiefs. They currently hold the one seed in the AFC by a two-game margin. That's the beautiful thing about the NFL, the games are so unpredictable and it makes for great television. For bettors like myself, we must be on top of who is sitting out these last couple of weeks. No matter what the game is, this is the NFL, absolutely anything can happen. With that, I give you my three best bets for NFL Week 16.
Three Best Bets For NFL Week 16
Philadelphia Eagles @ Dallas Cowboys
Pick: Eagles (-1)
Coming into Week 16, every team in the NFC East is still in contention to win the division. As much as we like to make fun of all four teams, they are probably the most competitive division in football right now, even though not one team is above .500. Being a couple of games back from the Washington Football Team, the Philadelphia Eagles need a miracle to hoist the division crown. As for the Dallas Cowboys, they have a more realistic chance, but still not a great one. They need the Football Team to drop their final two games while they win out. A tall task for Big D, but not impossible.
Dallas may just be getting hot at the wrong time. Granted both games were against below-.500 teams, but the Cowboys have won two straight heading into this matchup. In both games, the offense looked as good as it has since the Dak Prescott injury.
Two weeks ago, they beat up on the Cincinnati Bengals 30-7. Last week, they beat the San Francisco 49ers in a shootout by the score of 41-33. Riding a two-game "win streak", the Dallas faithful are getting their hopes up with a chance of winning the division. Only to likely be let down once again.
If this season has shown the Cowboys anything, it's that there is an obvious need for Dak Prescott. He is the heart and soul of this team and without him, they won't be scaring anybody. For Prescott and the Cowboys' fanbase sake, I hope Jerry Jones brings out the Brinks trucks this offseason in an attempt to re-sign him long-term. Otherwise, the hope that is still remaining will be thrown out the window.
Wentz out the door?
For Philly, they may have struck gold in the second round of this past NFL Draft. With Carson Wentz playing like one of the worst quarterbacks in the league this season, head coach Doug Pederson realized it was time for a change. During their game against the Green Bay Packers, Pederson benched Wentz and brought in rookie Jalen Hurts.
Philly didn't end up winning the game, but you could clearly see there was a much-needed spark once Hurts came in. It seemed as if every player was waiting for that move and now that it happened, they had to show off. After Hurts came in and showed what he can do, Pederson decided to keep Hurts as their starter for their next game against the New Orleans Saints.
If Eagles fans were excited after the Packers game, they were overjoyed after watching the Saints game. Philly pulled off the improbable upset of the at-the-time one seed in the NFC and the league was buzzing for Hurts.
The following week, Philly traveled to the desert to take on the Arizona Cardinals. The Eagles did not win but Hurts played out of his mind. He threw for 338 yards along with four total touchdowns. Even though they came away with a loss, there is still excitement surrounding this young phenom. I truly hope for the city of Philadelphia that the Eagles front office does not mess this up. Jalen Hurts is the future of this franchise, not Carson Wentz.
With the spark I have seen from this team the moment that Hurts stepped onto the field, I cannot bet against them, especially against the Cowboys. I am taking the Eagles -1 in my three best bets for NFL Week 16.
Denver Broncos @ Los Angeles Chargers
Pick: Broncos (+3)
For the second time this season, the Denver Broncos will take on the Los Angeles Chargers. Only this time, it will take place in the newly built SoFi Stadium in LA. This divisional matchup came down to the very last play in the first game with Denver coming out on top 31-30.
With just 2:30 remaining, Drew Lock led the Broncos down the field to score the game-tying touchdown with no time left on the clock. Brandon McManus booted in the extra point and won the game. Both teams now sit at 5-9 and I fully expect to see some sort of craziness Sunday when these two meet again even without playoff implications.
The Chargers come in on their largest win streak of the season (two games) and look to keep it going. Two weeks ago, they beat the Atlanta Falcons in the battle of the "Who's gonna blow it this week" teams and they came out on top. Towards the end of the game, the two teams were trying to lose the game it seemed like. Before LA's game-winning field goal, there was an interception thrown on three straight possessions. Two by the Falcons, one by the Chargers.
That's a summary of both teams' season's for you right there. Last week, they got the best of another divisional rival in the Las Vegas Raiders. This game ended with a walk-off quarterback sneak from Justin Herbert in overtime. LA won 30-27.
I will give LA credit, they show toughness each and every week. If it weren't some blatant coaching errors by Anthony Lynn and his staff, this team could be in a much better position. I'm not saying it's entirely on the coaching staff, but it is a big chunk. The play-calling in late-game scenarios has been downright awful.
A Young Star in the Making
Aside from the coaching blunders that have occurred for the Chargers this season, they may have found the franchise quarterback they have been looking for. Justin Herbert has been unbelievable this season. Last game, he tied Baker Mayfield for most touchdown passes by a rookie.
With two games left, I would be in utter shock if he didn't throw one more to break the record. I have to be honest, I was not a huge fan of Herbert coming out of college. I didn't think he was ready for the NFL with the level of competition he had been facing at Oregon. Boy, was I wrong.
Denver is coming off of a beating from the now two seed in the AFC, Buffalo Bills. They got their rear ends handed to them and lost by a score of 48-19. Josh Allen got the better of Drew Lock and proved why he should be at the very least considered in the MVP race. Nonetheless, that game doesn't necessarily define the season for the Broncos. Although they are 5-9, Denver has put up some great fights with some top tier teams this season.
Most recently, it took a game-saving interception by Tyrann Mathieu to hold on to a 22-16 victory for Kansas City over Denver. The defense has the capability to keep this team in almost every game they play. The Broncos are the only team to hold Patrick Mahomes to just one passing touchdown. And they've done it both times they have played.
People are starting to question whether or not Drew Lock is the future of this franchise. There are times where he shows up and looks like one of the better quarterbacks in the league. And then there are other times where he looks as if he's in the bottom tier of quarterbacks. He's got two more divisional games this season to prove his worth. Let's see if he can light a spark heading into next season for this team.
This is a matchup where the quarterback comparison leans heavily towards one team while the coaching comparison leans towards the other. If you can't tell, LA has the quarterback, Denver has the coaching. I think this will be a very similar game as their week 8 matchup. I am leaning with the coaching in this matchup and I am taking Denver +3 in the second of my three best for NFL Week 16.
Tennessee Titans @ Green Bay Packers
Pick: Over (55.5)
For my final bet, we have an inter-conference Sunday night thriller as the Tennessee Titans travel to the Frozen Tundra to take on the NFC-leading Green Bay Packers. This star-studded matchup will likely give us a clearer idea of what the playoff picture will look like in both the AFC and NFC. For Tennessee, a win and an Indianapolis Colts loss earns them the AFC South crown. For Green Bay, a win and a Seattle Seahawks loss clinches the one seed meaning the NFC playoffs will go through Lambeau.
Currently the fourth seed in the AFC, the Titans, led by superstar running back Derrick Henry, has been a tough team to beat throughout the year. They are sitting atop the AFC South right now with a record of 10-4 and don't plan on moving. They control their own destiny with their path to both the playoffs and the division crown.
Tennessee has put themselves into this position with their high-potent offense that can strike at any given moment. Henry has been arguably the best running back in the league this year as he continues to stiff-arm defenders out of his way. This guy is a freak of nature. At 6'3″ and 247 lbs, he is looking more or less like a linebacker, not a running back. It almost seems unfair when he is on the field.
Surrounding Henry with the likes of Ryan Tannehill, A.J. Brown, Jonnu Smith, and more has pushed this team over the hump their fans have been dying to see. Mike Vrabel has his guys in prime position for a division championship but they won't stop there. Assuming they make the playoffs, Tennessee will be a very tough out in the postseason. Remember, they were the 6 seed in last year's playoffs and rattled off a couple of upsets before coming up short in the AFC Championship against the Kansas City Chiefs.
High-powered offenses on both sides
In Green Bay, the connection between Aaron Rodgers and Matt LaFleur just keeps growing. Their chemistry is off the charts. Between the play-calling (for the most part) and just overall knowledge of the game has propelled this team to the one seed and an already-clinched NFC North title. Rodgers, along with every other member of the organization will tell you that's not enough, however.
After last season's embarrassing NFC Championship game, this Packers team is hungry for revenge and they want to make sure the playoffs go through their place. With a chance to clinch that very scenario this week, you know Rodgers and co. will be prepared to take on this Titans defense.
On the other side of the ball, the Packers' defense hasn't been all that good against the run. With that, I am being nice. They have been horrible against the run. Dalvin Cook, among other running backs, has torn up this defense making it look like a high school team. Defensive coordinator Mike Pettine will have his work cut out for him and his guys when King Henry comes to town.
Both of these teams are more than capable of putting up points. With how bad Green Bay's run defense has been, there's no telling on how big of a day Henry could have. In order to keep up, Rodgers and his squad will be forced to pull out some tricks on offense. I think this will be a shootout that could turn into a Sunday night classic. That's why I am taking over 55.5 points for my three best bets for NFL Week 16.
Main Photo: