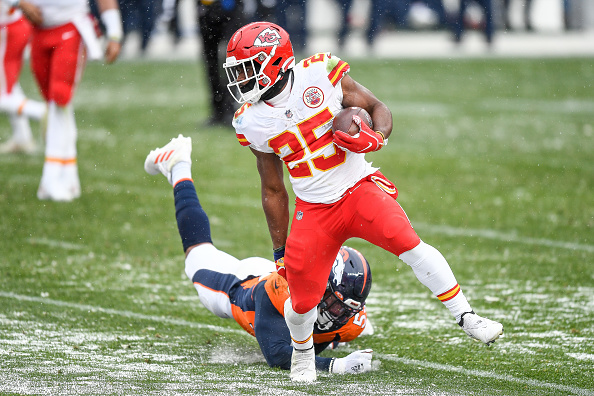 Heading into Week 8 of this very different NFL season, this league is what some would call "top-heavy". Now I am not saying this is a bad thing. Honestly, this might be a great thing for the league. In the NFC, every team currently in a playoff spot has 5 wins, except for the Philadelphia Eagles. In the AFC, the worst record of current playoff teams is 4-2 with the Indianapolis Colts. Outside of the Eagles, no one can really say any current playoff team is not worthy of their position. The level of play is very high this year and hopefully that leads to a very memorable postseason. But for now, we're focusing on this week with my three best bets for NFL Week 8.
Three Best Bets For NFL Week 8
New York Jets @ Kansas City Chiefs
Pick: Chiefs (-20)
For my first pick, it's a bit of a stretch but I'm still confident with this game. This is one of the very few spreads that are this large that I would actually touch. Vegas is going to try to make you overthink this game and they want you to take the underdog. I am here to tell you to do otherwise.
The New York Jets are one of the worst teams I have ever seen on an NFL field. Game in, game out, they have proven horrible in almost every aspect of the game. They are pretty close to being in contention to be one of the worst teams of all time, next to the 2008 Detroit Lions and the 2017 Cleveland Browns. If you don't know, those are the only two teams in NFL history to go 0-16. Looking at the Jets schedule for the rest of the way, that looks very possible.
They had their best chance to win a game thus far in last week's tough loss against the Buffalo Bills. They were up 10-6 at halftime and ended up losing the game 18-10. The Bills scored field goals only, no touchdowns. It's one thing to lose a game, but when the team scores strictly field goals and still finds a way to win, I don't know how the coach keeps his job. Nonetheless, head coach Adam Gase will still be on the Jets sideline on Sunday and I'm not quite sure why. Former Jet and current member of the Chiefs Le'Veon Bell has been trashing Gase all week regarding how he was used in New York. I expect a big week from Bell as head coach Andy Reid is trying to work him into his new offense.
On the other, and frankly better side of the ball, the Kansas City Chiefs have resembled their Super Bowl LIV-winning team from a year ago. There's no super bowl hangover from this team, at least not yet. For another year, the Chiefs will be hunting down the top seed while making their run at back-to-back super bowls. This Week 8 matchup against the Jets is the closest thing to a second bye week they can get. I've said it before and I'll say it again, do not overthink this game.
Both Andy Reid and Patrick Mahomes will be exciting to break in their new toy in Bell as he is hungry to get revenge against his former team. Last week, the Chiefs went into Mile High and beat the Denver Broncos in the snow 43-16. Obviously, the Broncos are not a very good team but they are much better than the Jets. If the Chiefs did that to Denver just last week, I can only imagine what will happen on Sunday when they host New York.
For a third time just so it sticks in your brain, do not overthink this game. I have the Chiefs winning and covering in these three best bets for NFL week 8.
Minnesota Vikings @ Green Bay Packers
Pick: Over (51)
For my next pick, we have the second round of a divisional battle between the Minnesota Vikings and the Green Bay Packers. The first game of this rivalry occurred in Week 1 when the Packers took the victory in a shootout by the score of 43-34. This time, the game will be at Lambeau Field in front of thousands of fans cheering them on (we all wish that was the case). I expect to see more of the same scoring-wise this week compared to the first matchup.
For the Vikings, they haven't even remotely lived up to their expectations for this year. They currently sit at 1-5 with their only win coming against the one-win Houston Texans. Losing a good chunk of their defense in the offseason will do the trick. However, they have had some bright spots this year. For example, rookie wide receiver Justin Jefferson has been an absolute stud this year and it looks like he's only going to get better. He is quickly asserting himself as one of the top young players in this league. Another key part of their offense has been running back Dalvin Cook, at least when he's on the field. The Vikings are expected to get Cook back this week as he was nursing an injury a couple of weeks prior. With these two stars and their horrendous defense, that only makes the over look better come Sunday.
In the opposing locker room, Packers are the complete opposite of the Vikings. They come in to this game at 5-1 after winning on the road at the Texans when they laid an egg the week prior. That game against the Tampa Bay Buccaneers seems to be a fluke that shouldn't happen again with this offense. Outside of that one butt-kicking, the Packers have scored at least 30 points in every other game. This offense is clicking and it exposes all the wrong parts of a defense. Since they are facing yet another mediocre-at-best defense, expect a lot of points out of Aaron Rodgers and co. this week. On the other side of the ball, the Packers defense hasn't been all too great, especially against the run. Fortunately for them, they don't need to be relied on as much with how much the offense is producing.
I expect this game to feel a lot like that Week 1 matchup where there was touchdown after touchdown scored. That's why I am taking over 51 points in my three best bets for NFL week 8.
Bonus Pick: Packers (-7) (I like this spread but was not confident enough to put it in my list)
Las Vegas Raiders @ Cleveland Browns.
Pick: Over (49)
For my final pick this week, I am going with another over. This pick is from the AFC as the Las Vegas Raiders take on the Cleveland Browns. A couple of years ago, this would be one of the worst games on the board. However, this is 2020 and the Browns are actually playing some good football with a 5-2 record. The Raiders are around the same area as their opponent but they have dropped a couple of tough games. They enter this game 3-3.
The Raiders' main reasoning for winning games this season has been their offense. They are currently averaging over 25 points a game including a 40-point victory over the Chiefs. That is still Kansas City's only loss on the year. There is a reason that the Raiders are only .500 at this point. That reason is their defense. Pretty much every game they have played this season has been a shootout except for last week when they lost to the Buccaneers 45-20. Their defense has been the reason they have let three games slip so far almost halfway through the season. Although I know this has little-to-no effect on this game, in every game the Raiders have played, the total score has added up to over 49 points, which is the over for this week.
So far this year, the Browns have done what they were expected to and won the games they should have. That's a big positive for Browns fans. On a tougher note, they have gotten blown out by their two toughest divisional opponents in the Baltimore Ravens and Pittsburgh Steelers. Cleveland had a combined 13 points between the two games. I know that may discourage you, but outside of those two games, the Browns offense has looked new and revived. It is starting to seem like this offense has the capability to score against mediocre defenses and not against the great ones. Well, lucky for us, the Raiders are a team with a mediocre-at-best defense. Even though Odell Beckham suffered a torn ACL in last week's win, I think Cleveland still finds multiple ways to score points on Sunday.
With both teams being offense-reliant, I am taking over 49 points in my three bets for NFL week 8.
Main Photo:
Embed from Getty Images