Questions To Ask Before Buying Cheer Flags
If you want to show how proud you feel when your team is going out on the field or when they get a great score, or when you want to cheer them up if luck isn't in their favor, you'll need to think about using some props. Nothing shows excitement better than cheer flags. Together with all the cheers and chants, such as the ones found on this website, these flags will add to the morale of the whole team.
When you start searching for these, you will see that there are a lot of different types you can buy. The trick is to choose the perfect type for you. Now, you cannot do that if you just randomly order the products, wait for them to arrive and hope that you will like what you see upon arrival. That's simply not a smart shopping decision.
As it usually goes, when shopping for anything, there are questions you need to ask in order to make sure that you are actually making a smart shopping decision. These products are definitely not an exception to that rule. So, let us take a look at the questions you should ask and get answers to before buying your very own cheer flags.
What Materials Are These Made Of?
Do I really need to explain why materials matter? It's not like you want to get a product that will become completely and utterly useless after a couple of waves. Imagine the frustration you would feel if the flag just got ripped or damaged in any other way during the first football game for example. I don't know about you, but that would really annoy me.
While we're on that topic, here's how to properly support your football team: https://entertainment.howstuffworks.com/5-tips-for-supporting-favorite-football-team.htm
So, to make things clear, materials are of crucial importance when shopping for these products. Most of these feature heavy-duty nylon, but the rest of the materials can vary. Make sure to check everything about materials before choosing your product, because, in addition to not wanting the flag to get damaged easily, the last thing you want is for the name of your team to fade or disappear after only a couple of games.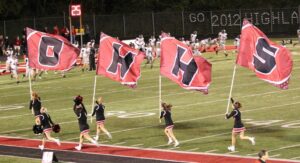 Can You Print On Both Sides?
Depending on your particular requirements, you might want to have something printed on both sides of the flag. This means that you will need to learn the difference between single-sided and double-sided options. While the difference is pretty straightforward, a lot of people tend to forget to ask their design team about these options.
This is the question that you definitely shouldn't forget, because you want to be sure that you and the designers are on the same page. Lack of clear and open communication will definitely lead to some dissatisfaction and you definitely don't want to be dissatisfied with the cheer flag that you get. That's why you should always keep the printing sides in mind and remember to ask this important question when choosing the place to design these products for you.
What's The Deal
With
The
Pole?
People are usually focused on the printing area and the overall design of cheer flags, which makes them completely neglect one important part of the whole product. I'm talking about the pole. Instead of putting emphasis solely on the upper part, the one that carries the message, you should take every single element into account, including the pole.
The most important question you will have to ask about the pole is, of course, related to the materials it is made of. As it usually goes, some are more durable and long-lasting, while others are of pretty low-quality. Naturally, you don't want the poor-quality ones, but you should also keep in mind that the price can vary in accordance with these.
Are Sizes And Other Design Elements Limited?
If you are looking to have your custom cheer flag designed according to your individual requirements, you will first check with the team creating it whether there are any limitations regarding sizes, colors and other important elements. You should expect certain limitations here. Still, if you find the perfect place to get your cheer flags from, there won't be too many limitations.