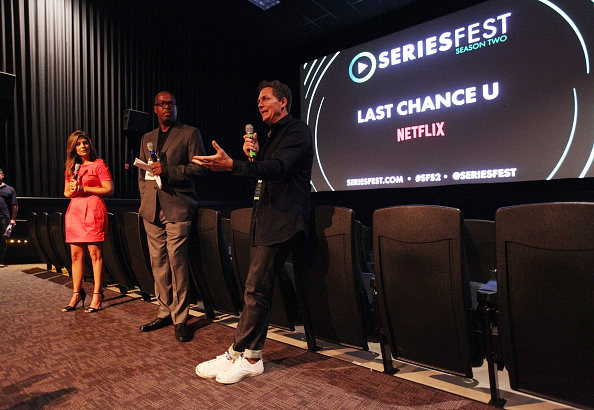 This past week has been exciting for
Netflix
and sports fans alike. The return of the hit series
"Last Chance U"
on Netflix. This five-part series had people buzzing last season with the controversial statements made by
Independence Community College
's head coach,
Jason Brown
. After topping the charts on Netflix, many awaited for the new release of part five of the hit series. This year WR,
RJ Stern
, becomes the fan-favorite.
RJ Stern Becomes Fan Favorite on "Last Chance U"
Part Five: Laney Eagles, Oakland, California
"Last Chance U: Part Five" follows the
Laney Eagles
in Oakland, California. Many of the hit characters from the show found D1 success, such as
Dior Walker-Scott
and
Nu'u Taugavau
. However, one player had viewers shocked when he was not given a chance to play at the D1 level.
RJ Stern was the Laney Eagles number one receiver through most of the 2019-2020 season.
After the injury of the 1st, 2nd, and 3rd string quarterback, head coach
John Beam
had to look to Dior Walker-Scott to fill the role of starting quarterback. This gave RJ Stern the chance to step up to the number one receiver spot. Stern had enormous shoes to fill when stepping into the number one role. Dior Walker-Scott was the biggest reason the Laney Eagles won the national championship in 2018. With Walker-Scott being the only candidate to fill the quarterback position, RJ Stern had to step up to the plate as the stud wide receiver. Stern had his fair share of ups and downs while in the spotlight.
Becoming the Fan Favorite
Head coach John Beam was shown multiple times chewing out RJ Stern during player meetings. Stern was the only member of the team that has been a three-year member, due to a redshirt. Stern showed to be very confident in his abilities, but his confidence did not always show on the field. Stern did struggle at times during the season. For Stern to receive a D1 offer, he would have to be nearly perfect. Stern expressed his wishes to play for big D1 schools such as the
University of Oregon
. Stern's on the field struggles did not stop him from becoming one of the fans favorite. Stern's football drive and personal struggles made him a beloved star with all fans of Last Chance U.
When Stern shared his struggles of being a kid from Oakland, everyone became an instant fan favorite. Stern put his personal struggles of an abusive family out of his mind when it was time to perform. When interviewed about his past, everyone could see the pain in the eyes of RJ Stern. The motivation of Stern to never give up and never to feel sorry for himself stole the hearts of many.
Stern Receives Recognition From Big Time Names
Fans became disappointed to hear that RJ Stern did not receive his dream offer to play D1 football. Instead, Stern received an offer to play football for
Tusculum University
. A Division 2 school in Greenville, Tennessee. Many
NFL
players believed Stern should've gone D1. This included
Chicago Bears
star running back,
Tarik Cohen
. Cohen took to Twitter saying:
"Coach Beam just told my boy RJ, he not D1…".
"RJ pretty good."
Although Stern has not yet gone D1, his dreams to play for a big-time college team, still remain open. Many will continue to follow RJ Stern and his journey to play football at the next level.
Main Image: Embed from Getty Images