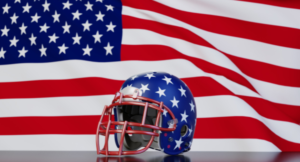 Who doesn't know NFL? I think that the only way you can call yourself a true-blooded American is when you know your football all too well. Aside from the head-to-head encounters of opposing teams from every state, there's also the ever-grand Super Bowl Half-time Show to look forward to where some of the nation's biggest stars perform live. Here are some of the best ones: https://www.vulture.com/2018/02/best-super-bowl-halftime-shows-ranked.html.
In order to forecast different game scenarios, NFL mock draft programs have been created. This program is a simulation of a sports league draft used by sports magazines and websites. Fans and sports enthusiasts find mock drafts helpful since they allow them to speculate on which members of the collegiate ranks will join their favorite team.
Mock drafts work well in projecting possible prospects since they are analyzed by sports experts. They base evaluations on careful research and tape study while others consider other factors to make precise scouting reports. These forecasts do not necessarily mirror the team manager's methods of selecting and evaluating possible drafts but they are helpful nonetheless.
Draft rules have changed over the years. Every team is represented at the NFL Draft with differing amounts of selections with which to work. Drafting also takes quite some time.
Guide To Using 2020 NFL Mock Draft
How do you find a good NFL Mock Draft Simulator?
Continuous data updates are important when looking for a good mock draft simulator. This is the first step of creating your own mock draft and 'predicting' the recruits for your favorite team. For this guide, we'll be using
FanSpeak's
On the Clock Draft Simulator
. Be sure to check it out
to
create your own
NFL
mock draft
!
Here's how you can create your own NFL Mock Draft:
Step 1:
Select the team you'd like to draft for.
Take your pick from the following teams:
Simply click on your preferred team's logo and hit the 'Next' button.
(In my case, I chose the New England Patriots.)
Step 2:
Carefully choose
how many rounds you'd like to draft.
(Since this is a simulator, you don't have to worry about choosing the right number)
To choose, click the drop-down button and select the number of rounds.
(For this tutorial, I'll choose ONE draft round.)
Step 3:
Select your big board.
NFL Big Boards contain the current rankings of the players. These are also updated by experts from time to time.
Check out the rankings when you click the corresponding link of your preferred big boards.
(I chose FanSpeak – Steve's big board for this tutorial.)
Step 4:
Select your set of Team Needs.
Team needs indicate the positions of the members for the draft. There are only two options for this step: FanSpeak – Steve or User-Voted. You may choose either of the two– one from an expert and the other from other users.
(I chose FanSpeak – Steve's Team Needs.)
Step 5:
Select your Pick Order.
You can choose from the three options: Fanspeak Power Rankings, Current Official Draft Order, or Draft Order based on Vegas Odds depending on your preference.
(I chose Current Official Draft Order.)
Step 6:
Select the Level of Difficulty.
Choose from either classic or difficult.
(We'll go with classic on this one.)
Step 7:
Take your best player pick and the simulator will take its best picks from the 31 other teams available.
You will be redirected to a review page. It should look something like this: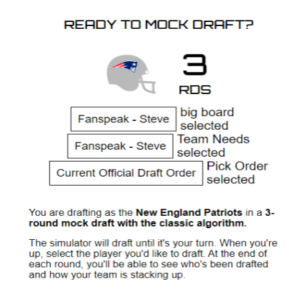 Click on 'LET'S DRAFT' to view your mock draft.
Step 8:
Share your mock draft online!
Here's the result of my NFL Mock Draft for ROUND ONE:
Joe Burrow – Cincinnati Bengals, QB
Chase Young – Washington Redskins, Edge
Jeffrey Okudah – Detroit Lions, CB
Tristan Wirfs – New York Giants, OT
Justin Herbert – Miami Dolphins, QB
Andrew Thomas – LA Chargers, OT
Derrick Brown – Carolina Panthers, DI
Jerry Jeudy – Arizona Cardinals, WR
Tua Tagovailoa – Jacksonville Jaguars, QB
Jedrick Wills – Cleveland Browns, OT
CeeDee Lamb – New York Jets, WR
Henry Ruggs III – Oakland Raiders, WR
A.J. Epenesa – Indianapolis Colts, Edge
Grant Delpit – Tampa Bay Buccaneers, S
Laviska Shenault Jr. – Denver Broncos, WR
Javon Kinlaw – Atlanta Falcons, DI
Isaiah Simmons – Dallas Cowboys, LB
Yetur Gross-Matos – Miami Dolphins, Edge
Kristian Fulton – Oakland Raiders, CB
Trevon Diggs – Jacksonville Jaguars, CB
C.J. Henderson – Philadelphia Eagles, CB
Tee Higgins – Buffalo Bills, WR
Austin Jackson – New England Patriots, OT
Justin Jefferson – New Orleans Saints, WR
Josh Jones – Minnesota Vikings, OT
Prince Tega Wanogho – Miami Dolphins, OT
K'Lavon Chaisson – Seattle Seahawks, Edge
Kenneth Murray – Baltimore Ravens, LB
Julian Okwara – Tennessee Titans, Edge
Mekhi Becton – Green Bay Packers, OT
Bryce Hall – Kansas City Chiefs, CB
A.J. Terrell – San Francisco 49ers, CB
The 2020 NFL season for this year is the 101st season of the National Football League (NFL). And fans are hoping that it'll be the most exciting one yet! The 2020 NFL Draft is dated for April 23–25, 2020 and will be held in Paradise, Nevada (read more). The season is forecasted to start on September 10, 2020, and reach its climactic conclusion on February 7, 2021. The championship games will take place in Raymond James Stadium in Tampa, Florida.