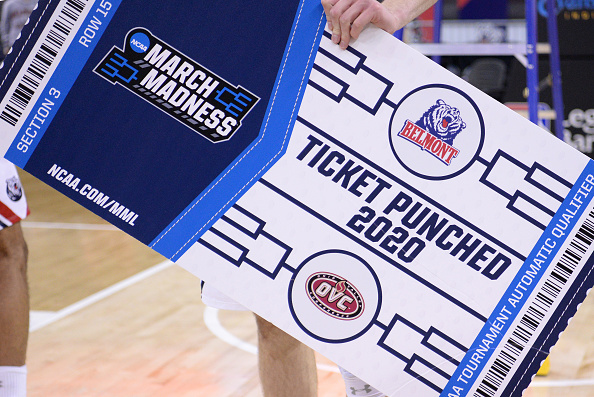 The road to the 2020 NCAA Tournament started earlier this week and Saturday marked the start of the conference championship games. Two champions were crowned on Saturday, one from the Ohio Valley Conference and the Mountain West Conference. Three more were crowned on Sunday: one each from the Big South, Atlantic Sun, and the Missouri Valley Conference. If any of these games are any indication of what we're in store for, we're in for a great March.
First Five Tickets Punched To The 2020 NCAA Tournament
Ohio Valley Conference (Murray State vs Belmont), Winner: Belmont
Number one seed Belmont and number two seed Murray State met for the third-straight year in the Ohio Valley Conference. Murray State got the best of Belmont in the first two meetings but not this year. The number two overall pick in the 2019 NBA draft Ja Morant played two seasons for Murray State in 2017-18 and 2018-19. He was very much the reason why they won two straight conference championship but this year, no Morant equals no championship. 
It was a very close game throughout the contest. The difference in this game was that Belmont had four starters in double figures that secured the 75-74 win as opposed to Murray State only having two starters in double figures. Belmont's Nick Muszynski went off for 25 points and eight rebounds while going 10-15 from the field. Murray State's leading scorer Tevin Brown had 17 points with four rebounds and six assists. A little more contribution from others would've helped them pull out their third straight conference tournament win. Belmont isn't as tough as last year but they can still give teams problems in the 2020 NCAA Tournament.
Mountain West Conference (Utah State vs San Diego State), Winner: Utah State
Another number one seed (San Diego State) takes on a number two seed (Utah State) in the conference tournament finals. This is the third year in a row that San Diego State has been in the finals. It's also the second year in a row that these two teams have faced off in the finals. In a very close game to the end, Utah State beat San Diego State 59-56 for their second straight conference championship win.
San Diego State has been known for getting off to slow starts in this tournament and they wanted to change that narrative in the finals. They got off to a quick start and led 29-21 at halftime. San Diego State couldn't keep up with Utah State's scoring and that's what ultimately led to the loss. Utah State had an outstanding performance by Sam Merrill, who had 27 points and six rebounds with six three-pointers made. Not only did he come up big but he came up clutch as he hit a three over the defender with seconds left to seal the deal. They overcame a double-double from San Diego State's Yanni Wetzell, who had 12 points and 13 rebounds. The Mountain West Conference will now be a 2-bid league with two of the teams being very good and can make a lot of noise in the NCAA Tournament.
Big South Conference (Hampton vs Winthrop), Winner: Winthrop
For the 11th time in team history, Winthrop secures a spot in the NCAA Tournament with a 76-68 win over Hampton. Winthrop rolled through the first two games of the Big South Conference Tournament with a 36 point win over SC Upstate and a 12 point win over Gardner-Webb. On Sunday, they had a tougher challenge as they were trailing 33-28 at the half.
All year, they've been able to slip the switch on offense and that's exactly what they did. They scored 48 in the second half and won by eight. They had two starters with ten points but they got production from the bench with Chase Claxton scoring ten points with seven rebounds and D.J. Burns scored 16 points. Hampton got 18 points from Jermaine Marrow and 15 from Ben Stanley but no player from the bench had over five points. It was a very entertaining game and Winthrop once again gets to go dancing. With there scoring ability, Winthrop can give teams trouble and cause there to be a possible upset.
Atlantic Sun Conference (Lipscomb vs Liberty), Winner: Liberty
This wasn't a particularly close game. Liberty pounced on Lipscomb fast and early to a tune to a 73-57 loss. Lipscomb has no answers for Liberty's' Caleb Homesley, who scored 16 points and nine rebounds. Even with Lipscomb's' Ahsan Asadullah scoring 22 points and nine rebounds, he didn't have enough support around him. It was enough for Liberty to win back-to-back Atlantic Sun conference tournament championships. This team might be the most dangerous team to come out of a mid-major conference. 
Missouri Valley Conference (Valparaiso vs Bradley), Winner: Bradley
Valparaiso was a seven seed in the conference so not many thought they would make it this far. They gave Bradley all they had and they actually had a two-point lead heading into halftime but that's all they could muster. Bradley turned it on and won by 14. Valparaiso had a great performance from Javon Freeman-Liberty, who had 24 points and ten rebounds but Bradley countered with Darrell Brown, who had 21 points with nine assists. Bradley also had 17 points and eight rebounds from Elijah Childs. They spread the wealth and that's a recipe for success. This team had experience last year in the NCAA Tournament and now they are back.
Last Shot
These first few conference championships were spectacular. A lot of teams step up there game no matter what happened in the regular season. There's plenty more action to be played as conference championships continue on Monday for the right to earn a bid in the NCAA Tournament.
Main Photo:
Embed from Getty Images