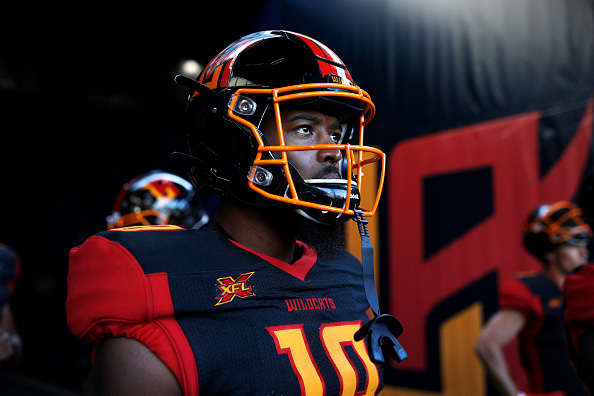 XFL week four is upon us and after the football we've been seeing and the in-depth looks inside the game, people can't wait for more. There are four interesting matchups this weekend and all of them have something on the line whether it's getting their first win or staying undefeated. People can't wait for more football so let's take a look at the XFL week four matchups.
XFL Week Four Matchups
Wildcats vs Guardians
A pair of 1-2 teams will go at it Saturday as the Los Angeles Wildcats face the New York Guardians at 2 pm Eastern on ABC.
The Wildcats were dominant in their first win against the Defenders last week, who were undefeated coming in. Not many fans had faith in this Wildcats team but that might've changed after what happened last week. They had a great performance from quarterback Josh Johnson, who threw for 278 yards and three touchdowns. 109 yards and two of them touchdowns went to receiver Tre McBride and running back Martez Carter also added three touchdowns with two of them being rushing. The defense carried their weight as they had four interceptions. They will be without a good receiving threat this game in Nelson Spruce, who added 75 yards last week but if others can step up like they did, they'll be fine.
The  Guardians won their first game but have dropped their last two in brutal fashion. They've scored a combined nine points over the past two weeks and all nine came last week against the BattleHawks. The Quarterback play has not been good, especially from Matt McGloin, who has thrown three interceptions during that span. It would be wise to leave him on the bench and play Marquise Williams and Luis Perez. If you go off of last week, the Wildcats should dominate once again but we don't know if they can sustain this level of play. With the Guardians playing at home, it should give them confidence and bring better play.
Dragons vs BattleHawks
The 1-2 Seattle Dragons travel to face the St. Louis BattleHawks on Saturday at 5 pm Eastern on Fox. 
The Dragons didn't have a great performance in their second home game of the season. They scored 12 against the Renegades on a day when the rushing game was nowhere to be found. Quarterback Brandon Silvers threw two touchdowns but also threw an interception. It was a good day at the office for wide receiver Austin Proehl as he had 81 yards and a touchdown but it wasn't enough. They have a solid team offensively but they just need to have some consistency.
The BattleHawks had their first home game yesterday and it didn't disappoint. They had the best attendance so far of any game with over 29,500 fans and they look to continue that this week. On top of all of that, they dominated the Guardians 29-9 last week. Quarterback Jordan Ta'amu didn't have the type of game he had the past two weeks but he protected the ball, which was important. Both running backs Matt Jones and Christine Michael had explosive runs. Jones had 95 yards and a touchdown and Michael had 44 yards, including a huge punishing run for a touchdown. They also had the first-ever kick return as Keith Mumphery caught it and threw a lateral to Joe Powell for 84 yards. The BattleHawks are a dangerous team on both sides of the ball and that's what the Dragons have to be aware of.
Roughnecks vs Renegades
Two of the best teams coming into the season will face off when the Houston Roughnecks go to face the Dallas Renegades on Sunday at 4 pm Eastern on FS1.
The battle of Texas is set up to be a great game. The Renegades look way better with quarterback Landry Jones, who missed week one in a loss. They scored 24 points and 25 points over the past two weeks and that's enough because the defense has stepped up, including only allowing 12 points last weeks against the Dragons. Jones has thrown for over 270 yards in his two games. He needs to cut down on the turnovers but the defense has played so well that the opposition isn't capitalizing. They will face a tough team on Sunday.
The Roughnecks are undefeated at 3-0 this season and in all three games, they've shown great skill all around. Despite giving up 27 points to the Vipers, they outscored them and put up 34. They have Quarterback P.J. Walker, who has great skill on the field as he threw for 306 yards with four total touchdowns. Cam Phillips broke out last week as he had an outstanding 194 receiving yards with three touchdowns. These two have a great connection and continue to torch teams with it. Home field might decide this game but the Roughnecks are so powerful. This will be the game of the week and maybe the whole year.
Defenders vs Vipers
The last game of the week on Sunday will be against the D.C. Defenders and the Tampa Bay Vipers at 7 pm Eastern on ESPN2.
The Defenders lost their first game of the season last week against the Wildcats in one of the worst performances of the year. They were undefeated coming in and were considered a top-two team until last week. Chandler Jones threw a whopping four interceptions with only 103 yards. A lot of people jumped off the bandwagon but you shouldn't. Expect them to come out on Sunday with a chip on their shoulder and ready to go. Jones is way better than he showed and the two weeks before last proved it. This defense played well until last week so we have no reason to believe the bad play will last. They have a favorable opponent next week as they look to get back on track.
The Vipers are the only team not to win a game. They showed promise on offense last week as they scored 27 on the Renegades. Both quarterbacks Taylor Cornelius and Quinton Flowers rushed for a touchdown and Taylor also threw one. Flowers has announced he has stepped away from the team for personal reasons so that's a hard loss but hopefully, Aaron Murray comes back and figured things out. This will be an interesting week at home as they try to get their first win.
The Final Drive
A lot of people are giving in to this league and they're liking what's happening on the field. There are only ten games on the season so each week is pivotal and this week is really important for a few teams. Get ready for another great week of football.
Main Photo:
Embed from Getty Images