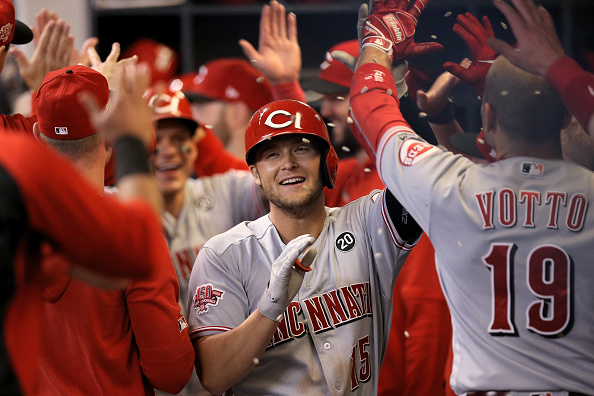 The 2020 Cincinnati Reds sure have the possibility to blow its previous editions out of the water. Despite a recent history of inaction during the free agency period, the past two years have been exciting for Reds fans. Last year, the Reds traded their way into contention. Or, they would have contended if not for their 1-8 start, considering they followed that start with a 74-79 mark.
There were exciting points like sweeping the Houston Astros or Yasiel Puig and Amir Garrett fighting the entirety of the Pittsburgh Pirates (on two separate occasions). The low points, however, included seven separate losing streaks of at least four games. The worst, of course, was the eight-game losing streak after the Opening Day victory. There is plenty of hype in Cincinnati, Ohio. Let's take a look at why this hype is well-founded and why it's going to be a fun year for the Redlegs.
2020 Cincinnati Reds: Is The Hype Real?
Finally Utilizing Free Agency
This off-season, the 2020 Cincinnati Reds front office actually utilized the free agency period and signed some playmakers. After the 2019 campaign ended, the positions that needed upgrading were in the outfield and middle infield. After allowing Jose Peraza and Jose Iglesias to walk, the Reds went out and signed former Milwaukee Brewer, Mike Moustakas. While his 2019 WAR (according to Baseball-Reference) was 3.2 and won't blow anyone away, Peraza (-0.9), Iglesias (1.5), and Freddie Galvis (-0.1) combined for 0.5 WAR.
Last season, "Moose" was an NL All-Star with his 35 home runs, 87 runs batted in, and .254 batting average. He did walk a career-best 53 times and torched the Reds on numerous occasions. For 2020, Moustakas should be an everyday starter for the Reds and is projected to hit 30 home runs and slash .255/.318/.492. Many pundits believe the 2020 Cincinnati Reds overpaid for the services of the Moose, but if he is able to have another All-Star season and Cincinnati makes the playoffs, it'll all be worth it.
The strength of the Reds in 2019 was their starting rotation. On 51 occasions, the Reds held their opponents to two runs or less (with ten shutouts). The one weakness is the fact that they only had one left-handed starter. Add in Wade Miley from the Astros, and the Reds have a World Series-level rotation. Miley posted a 14-6 record with a 3.98 ERA and 2.0 WAR in 2019, so he will be a valuable late-rotation starter. More on that later.
In 2019, Miley was a solid starter for the AL Champs. He gave up 23 home runs and 61 walks but struck out 140 batters. If he wants to really improve in 2020, he will want to work on his 1.345 WHIP (walks plus hits per inning), which shows that at least one batter gets on base per inning pitched. At Great American Ballpark, you don't want to give opposing sluggers any more chances than you have to.
In the 100 seasons of Cincinnati Reds baseball, there has never been a Japanese-born player to suit up…until now. The most sought-after Japanese free agent of this cycle, Shogo Akiyama will provide the Reds with a natural center fielder. Not to say last year's centerfielder was subpar, but he was out of position. 31-year-old Akiyama's addition to the lineup would give the Reds a bona fide leadoff hitter, one they have been missing for a few seasons now.
The 2020 Cincinnati Reds will not have a power-hitting center fielder, but they will have a reliable one. Unlike others in his position (like the greatest player in the game, Mike Trout), Akiyama is more of a contact hitter, rather than a long ball specialist. As of now, he is projected to slash .272/.331//433 with 18 home runs, 71 RBI, and only 48 walks. These numbers should certainly be taken with a grain of salt because of the difference between the MLB and Japanese leagues. Regardless, Akiyama will be an exciting addition to an already (potentially) explosive lineup to the 2020 Cincinnati Reds.
The largest splash in free agency for this team was its addition of former Chicago Cub, Nicholas (though he prefers Nick) Castellanos. Castellanos was a regular in the Detroit Tigers' lineup up until he was traded to the Cubs last season, so it's not like the Reds paid for a wild card outfielder. You can't have too much talent, but it is sure getting crowded in the Reds' outfield. Will they go with a set outfield or will they platoon a couple of positions based on matchups?
Castellanos signed a four year, $64 million contract with the Reds on January 28. The interesting thing about this contract is that there are opt-out clauses following the 2020 and 2021 seasons. You don't usually see contracts like this, but Reds fans, don't fret. Castellanos is currently projected to slash .285/.339/.507 with 24 long balls and 78 RBI. As of now, he is also projected to strike out 133 times, so hopefully, he can get that number down to a more reasonable one. If he can replicate or improve on his 2019 mark of 2.7 WAR, the 2020 Cincinnati Reds outfield will be fun to watch.
Maybe it may not be as flashy as the previous four signings, on January 30, the Reds signed former Cub Pedro Strop to a one year, $1.8 million contract. However, Strop can earn up to an additional $1.5 million in performance-based bonuses. Strop will be a solid addition to a hot-and-cold Reds bullpen that cost the team a few wins in 2019.
Strop is good at getting swings and misses as well as forcing ground balls. This is a good thing in a hitter-friendly park, but what he struggles with is allowing walks. When he's on, he is a shutdown reliever, but when he's off, the train falls way off the rails. It'll be up to David Bell to manage to minimize those disastrous outings.
Pitching
The best part of this team is its starting rotation. From top to bottom, the Reds staff will be difficult to muster any offense against. It is considered to be Championship-level by many in the game, so let's look at these pitchers who will lead the Reds to greatness.
The best pitcher to suit up for the Reds in a long while is Luis Castillo. In his first full season in 2018, there were flashes of what could be. Once 2019 rolled around, the Reds gave Castillo the keys to the car and let him go off. The ace posted a 3.40 ERA with 226 strikeouts, a 1.143 WHIP, 10.7 K//9IP (strikeouts per nine innings pitched, it's like ERA, but for strikeouts), and a 4.4 WAR.
Castillo's bread and butter is his changeup. It is nearly unhittable and when it's on, he could only throw changeups and would still manage 10 strikeouts. All of the projections have Castillo taking a step back in 2020 with a 3.82 ERA and 3.6 WAR, but I am not so sure. Last season, Castillo went into the season with the rotation in flux, so there was a sense of urgency when he pitched. Reds fans felt like they had to win Castillo-started games if they wanted to compete. This year is different. Castillo has a supporting cast and a better lineup behind him, so look for the 2020 Cincinnati Reds ace to have his name all over the Cy Young conversation.
The two-slot is going to be a competition, but regardless of who pitches when, the Reds win. "It's always Sonny in Cincinnati," as the Twitter fandom love to proclaim, but what was it that changed? When the Reds traded for Gray and subsequently signed to an extension, the franchise let the league know they were for real. In 2019, the MLB Comeback Player of the Year candidate put up an 11-8 record with a studly 2.87 ERA and 5.6 WAR (team-best). The future of this lineup is certainly "Sonny."
Keeping up with a campaign like this will be difficult. As with Castillo, it is projected that Gray will take a step back. As of right now, Gray is supposed to earn an 11-8 record with a 3.82 ERA and 2.9 WAR. Again, I'm not so sure about those numbers, but it must be noted that even with this, the Reds rotation will continue to be formidable.
Last season, the Reds sent Puig to the Cleveland Indians in a three-way trade that yielded Trevor Bauer. Aside from the total number of strikeouts, 2019 was a step back statistically for the right-hander. An 11-13 (2-5 in Cincinnati) record, 4.48 ERA (6.39), and a 1.5 WAR (-0.5) were not anywhere close to career-bests, but Bauer has the tools to improve and truly take a step forward under the Reds tutelage.
Honestly, Bauer is going to benefit from a stronger rotation and lineup behind him. Unlike Castillo and Gray, Bauer is set to take a step forward in 2020. As of now, he is projected to post a 13-9 mark with a 3.74 ERA and 3.6 WAR. The best thing about Bauer is a double-edged sword. The passion and fire of the pitcher can provide Bauer with the motivation to be great, but it can result in tantrums or a lack of control (I should know). If pitching coach Derek Johnson can continue to work his magic, look for the three-headed monster of Castillo-Gray-Bauer to be legitimately lethal.
With the first three spots of the rotation decided and the signing of Miley, there is only room for one more pitcher. It's going to come down to two right-handers in Tyler Mahle and Anthony DeSclafani. Lucas Sims would also be in this discussion, but it was recently decided that the Reds are going to use him out of the bullpen. Mahle and "Disco" have had flashed of brilliance. Unfortunately, those flashes also come with dismal outings. I imagine that this competition will light a fire under these two. Whoever "loses" will probably end up in the bullpen, so it's going to be an interesting battle to watch during Spring Training.
Bullpen
The 2020 Cincinnati Reds bullpen will be what makes or breaks whether or not they will succeed. On some instances, the 2019 bullpen was lights-out. During others, they squandered leads and lost games that were started by elite pitching from a starter. The main contributors will be Strop, Raisel Iglesias, Sims, Michael Lorenzen, and Garrett.
Each brings a different thing to the game. Simms was a legitimate starter in 2019 while filling in for an injured pitcher or two, so the Reds will want to keep him ready. Lorenzen is probably one of the more fun pitchers in the organization. Unfortunately for him, his days as a utility outfielder/pitcher may have ended with the acquisition of Castellanos and Akiyama, but he will still contribute via pinch-hitting and running. Garrett has elite-level stuff and probably should have gotten a bid for the All-Star game. No matter what happens in the next few years, Garrett will forever be a Reds legend for fighting for his teammates. Finally, Iglesias is the closer. When the Reds enter the ninth inning with a one-run lead, Iglesias is lights-out. If it's tied or they have a lead of a few runs, Iglesias forgets how to pitch.
It will be interesting to see how Johnson and the Reds pitching staff will improve from 2019. The starters are elite and the batting lineup is potentially exciting, so the bullpen will be the difference between another disappointing season and one that will result in fireworks.
(Potentially) Electrifying Lineup
Last season, the hype was surrounding the potential of the Reds lineup. It didn't quite live up to the hype, though Cincinnati did treat us with some exciting games. The core of the lineup is still the same, so expect these guys to lead the way.
The most consistently exciting batter for the Reds is Eugenio Suarez. The sheer fact that the Reds were able to get Suarez in a trade for Alfredo Simon is enough to make Tigers fans upset. At 4.5 WAR in 2019, Suarez was second on the team to Gray and was head and shoulders above any position player. Needless to say, Suarez is the best hitter in this lineup.
The leader of the 2020 Cincinnati Reds lineup is currently projected to slash .262/.349/.515 with 37 round-trippers, 107 RBI, and 3.8 WAR. This season will be Suarez's fifth season as an everyday player. If he continues on his trend of getting better each year, the Reds' third baseman could find himself in the MVP conversation.
On a relatively young team like Cincinnati, there is always a place for seasoned veterans. For the Reds, that role is filled by six-time All-Star, 2010 NL MVP Joey Votto. While he should have won the award in 2017 as well, Votto has yet to get back to his best numbers. 2019 was, statistically, a down year for RBI, walks, batting average, and on-base percentage. His 1.6 WAR was his career-worst as an everyday player.
Votto is entering his age-36 season with the 2020 Cincinnati Reds and his 13th as a starter. Naturally, decline is bound to happen, but Votto is determined to be a part of the next Cincinnati Reds NL Central Division championship. If that is to happen, he may not have to blow away his projections. As of now, Votto is slated to slash .273/.384/.434 with 16 home runs, 59 RBI, and 2.5 WAR. Help has arrived to take the load off of Votto, but you would not find a single Reds fan who would oppose another MVP-worthy Votto season.
The highly-anticipated appearance of Nick Senzel in 2019 was well-founded. Even as a rookie, Senzel provided the Reds with solid center fielding as well as a lead-off hitter. With the acquisition of Akiyama and Castellanos, who will man that third outfield spot? Will it be Senzel or will Cincinnati move him back to the infield? As of now, Cincinnati still needs a shortstop, so that could be Senzel or Suarez.
Even if he should have been the Opening Day starter over Scott Schebler, Senzel made the most of his 104 appearances. Batting .256 with 12 home runs and 0.6 WAR will not excite the common person, but it's enough for the Reds. Due to the uncertainty regarding his role within the club, his projections remain consistent with his 2019 numbers. At a projected WAR of 1.4, Senzel could be the odd man out in the Reds outfield in favor of Jesse Winker.
Other Notable Reds
Jesse Winker has been a formidable outfielder and his 2019 will be remembered for making himself an enemy of the New York Mets fans. The battle between Senzel and Winker for the third outfield spot will be intense. Another name in that competition will be "The Punisher," Aristides Aquino. While Aquino's career with the Reds got off to a white-hot start, his final month was sub-par. With an option remaining, perhaps the Reds send Aquino back to Louisville. Another option would be to package him in a trade to get another pitcher or a certain sought-after shortstop.
Catchers Tucker Barnhart and Curt Casali have the targets of many Reds' fans' ire. If you could take Barnhart's defense with Casali's hitting, you might have a solid catcher. Unfortunately, that technology is not ethical, let alone existent. Freddie Galvis was a guy that they Reds brought in off waivers in 2019. He certainly provided Cincinnati with some excitement, but is he the answer at shortstop? Is he better than Senzel? If not, he could be retained for depth on the bench.
Is The Hype Warranted?
The 2020 Cincinnati Reds have a little bit of everything. They have fresh, new faces to go with a core. That core has underperformed in the past, but it is still solid. It is a new day in Cincinnati. Many fans and pundits actually believe the team is poised for a playoff run. With the free agency activity, they could easily be considered a favorite to win the NL Central. In the two months that remain until Opening Day, could the team make a move to land Francisco Lindor, Corey Seager, or even Trevor Story? Only time will tell. One thing is for sure, this team is going to be fun to watch. Tune in!
Main Photo:
Embed from Getty Images