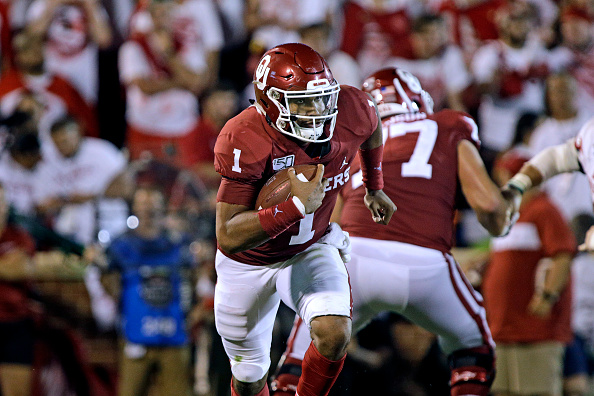 As week one of the 2019 college football season has come to an end there were some astounding performances from across the country. These are college football's top performers from week one.
College Football's Top Performers From Week One
The highly anticipated debut of the Alabama transfer lived up to the hype. Jalen Hurts was unstoppable Sunday night, as he threw for 332 yards and three touchdowns. Hurts also carried the ball 16 times for 176 yards and three touchdowns. He finished the game 20-23, averaging 14.4 yards per throw. He also finished with a QBR of 98.7.
Hurts looked like he's primed for a Heisman season.
Travis Etienne showed everyone why he's the best running back in the country in week one. He finished the game with 12 carries, 205 rushing yards, and three touchdowns. Etienne showed flashes of speed, explosiveness, and vision. Once he reaches the second level of the defense you can kiss him goodbye. If he continues to have monster-like performances we will see his name featured on this list a lot more.
Maybe one of the best route runners we've seen at the college level in quite some time—Jeudy is a complete receiver. His speed, athleticism, and explosiveness are off the charts. He showed why he is a top player on 2020 big boards and the best receiver in college football. Duke had no answer for Jeudy as he racked up 10 catches for 137 yards and one touchdown. It'll be easy to expect these types of performances on a weekly basis from Jeudy.
We've seen how explosive and powerful Taylor has been in his first two seasons in college and that trend continued in week one of this season. Taylor carried the ball 16 times for 135 yards and two rushing touchdowns. USF's defense looked like a deer in headlights for the most part of this game.
What stood out was the versatility we seen from Taylor. He also caught two passes for 48 yards and two touchdowns. Taylor had zero receiving touchdowns in his career before this game so it's good to see him getting more involved in the passing game.
Coming into this season there was a lot of questions about Jacob Eason. It's been two seasons since we've seen Eason play football. There was worry about his health and what type of player he would be after sitting out two seasons. Yes, he played against lesser competition in Eastern Washington but it appeared as if Eason hasn't lost a step. He was 27-36, 349 yards, and four touchdowns. His arm strength and accuracy were two things that excited me the most. It will be interesting to see how his 2019 season unfolds.
Most people label Simmons as a versatile athlete without a true position but he makes a ton of plays on the field. That was the case Thursday night as he finished the game with 10 tackles. He showed flashes of versatility, speed, and coverage skills. Clemson loves to put him in the slot to cover tight ends and receivers. Simmons has a rare skill set that allows him to play multiple positions on the field and he showed up big time in week one.
Willekes could not be stopped in his first game to start the 2019 season. He posted seven tackles, one sack, two tackles for loss, one forced fumble, one fumble recovery, and a touchdown. His quickness and explosiveness of the line of scrimmage were evident in this game. Tulsa is not the hardest opponent in the world but we must give credit where credit is due.
Diggs looked awesome in coverage against Duke to start out the season. He showed the ability to play different techniques in coverage. He made an interception that showed his good ball skills as he went up and snatched the ball out of the air. Health has been the biggest concern for Diggs but if he can stay healthy and show his great coverage skills throughout the season he'll do just fine.
Final Analysis
These eight players looked great to start out the first week of the 2019 college football season. It was good to see these talents showcase their potential for the respective teams. It will be exciting to see how all of their seasons unfold throughout the year.
Main Photo:
Embed from Getty Images