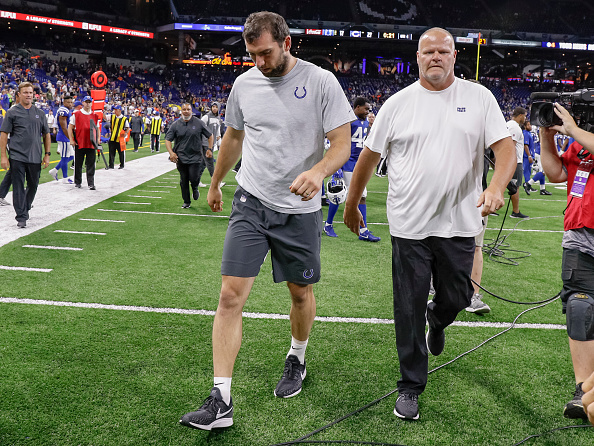 Indianapolis Colts quarterback Andrew Luck has announced his retirement, coming as a complete shock to the NFL community. He's battled numerous injuries over his career and decided to move on with his life. While it's a surprise to see him retire, it brings up an interesting question of what his legacy is. Andrew Luck's legacy will be one of the most interesting in recent memory, so let's take a closer look at it.
Unmatched Talent and Potential
Coming out of Stanford, he was considered one of the best quarterback prospects of all time. His NFL draft profile said that "one would be hard-pressed to find negatives to Luck's game. There are no glaring weaknesses in his play." There has not been a quarterback who has been considered a can't-miss player since Luck, and there hadn't been one since Peyton Manning. It was only fitting he was replacing Manning in 2012, and despite insurmountable expectations has had an incredible career. It's one thing to have the expectations he did as a player, but another to also replace Manning immediately. Colts fans were expecting Peyton 2.0, and even though they didn't get it they got an incredible player for seven seasons.
Lived Up To Expectations, Somewhat
He didn't put up numbers like many expected him to, but his numbers are impressive. In four of five seasons playing 15 games, he threw for over 4,200 yards. In the last three seasons with 15 games, he threw 30 touchdowns including a 40 touchdown performance in 2014. When healthy, he was among the best quarterbacks in the league. Unfortunately, he wasn't healthy often. Luck battled injuries for the past few seasons, missing 25 games since 2015. A four-time Pro Bowler, he earned the respect of his peers. Luck was on four of the five NFL top 100 players list from 2014-2019. If this is it for Luck, he did as well as he could have and should be respected for it.
Colts Didn't Help Him
Luck didn't get much help until recently; Indianapolis has been criticized for failing to address their offensive line for years. In 2014 and 2016, he was sacked the second most times in the NFL. What's interesting about this is the following seasons he missed significant time from injuries. Last season was the best offensive line he has had. Unfortunately, it was too little, too late. The Colts defense has also let him down, finishing around 20th in points allowed the past few seasons. He has had T.Y. Hilton and Eric Ebron as of late to throw to, however only one running back has rushed for 1,000 yards in the Luck era. That one back was a 34-year-old Frank Gore in 2017. Indianapolis hasn't done a great job in surrounding him with pieces, and because of it affected his chances of becoming an all-time great.
The Final Chapter
If this is it for Andrew Luck's legacy, its unfortunate his career was cut short from battling injuries. He has not only been a great player but a great teammate and leader. As a person, he is who you want in a locker room and who should be the face of a franchise. I'm going to miss seeing him, but hopefully, he can use this time off to get his body right. While he seems content with his decision, you have to consider a comeback once he gets healthy. Jason Witten took a year off and came back, maybe a year away will refresh and reenergize Luck enough to return. He had massive expectations in Indianapolis and Colts fans appreciate what he did for seven seasons. While he likely doesn't have the resume for a Hall of Fame career, Indianapolis should strongly consider inducting him into their ring of honor.
Main Photo:
Embed from Getty Images