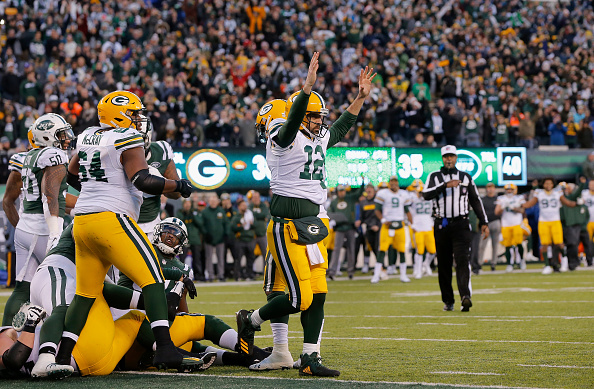 A lot of teams got bigger and better this off-season and in particular, the teams who didn't make the playoffs last season. The Green Bay Packers are one of those teams that didn't make the playoffs that got bigger and better.
The Packers are not used to missing the playoffs at all. They missed the playoffs for the second year in a row and only the second time in over ten years. The team and its fans can't bear the thought of any other post-season without the Packers in it. Well, they don't have to think about that as they will be the team who will make the playoffs this year that didn't last season.
The Green Bay Packers Will Make the Playoffs This Season
Over the past couple of years, Aaron Rodgers has dealt with multiple injuries, whether it's the collarbone or the knee. In 2018, Rodgers played through a sprained MCL and a fractured Tibia. He wasn't 100 percent but he could still fling it.
The defense wasn't that great either. They couldn't stop the big play and it seems like over the past few years they couldn't stop a crucial third down. That is all about to change.
The Offense
The Packers offense looks set up for the upcoming season. They added Matt LaFleur as the new head coach who has a good, young offensive mind that can help players breakthrough. They have a healthy Aaron Rodgers who has a huge chip on his shoulder from doubters. He didn't play his best ball last season but still put up great numbers.
Rodgers has needed a running back for years to get this team over the top and they might've finally found one. Aaron Jones looks like he will have a breakout season for the Packers in 2019. Jones, who is a very explosive player, led the league last season with 5.5 yards per carry. Jamaal Williams is also a very capable backup who can come in on short yardage situations.
The offensive weapons for Rodgers haven't changed but they believe if they have Rodgers then it doesn't matter. Davante Adams is one of the best receivers in the league who is one of the best, if not the best, route runner in all of football. Geronimo Allison is also primed for a great season. He has been there for a couple of years and he knows Rodgers well. He is finally healthy and will look to have a breakout year.
Their second-year receivers have a lot of potential. Marquez Valdes-Scantling played an important role last season when called upon. He looks like he will be a great number three receiver. Equanimeous St. Brown hasn't quite hit the level that Scantling has but he has potential too. He has shown some flashes last season and he can carry that into this season.
The tight end group looks promising as well. Jimmy Graham had a down season last year and wasn't the player they expected. He and Rodgers have a lot of time to build chemistry and that will propel Graham to have a pretty good season. They also drafted tight end Jace Sternberger out of Texas A&M who has the perfect size that the Packers need. Marcedes Lewis wasn't involved much last season but with the new offense, he will be more impactful.
The Defense
The Packers added a few good pieces in the off-season, particularly on the defense. They added linebacker Preston Smith, linebacker Za'Darius Smith, and safety Adrian Amos. The Packers also added some pretty talented players in the draft led by first-round pick Darnell Savage Jr. They add these players to a team who already had some good pieces on defense.
Blake Martinez led the Packers in tackles yet again last season and he has added some strength this off-season. This is a prove it year, so he will be even better than he has been for this team. Kyler Fackrell had 10.5 sacks for this team. His role on this team might decrease a little but he can still be a threat if he is close to what he was last year.
Cornerback Jaire Alexander had a monster year last season as a rookie. He is projected to do that again and even might take a bigger leap. Darnell Savage Jr. was drafted in the first round by the Packers in this past draft and they believe he is the best safety in his class. He is explosive, he can tackle, and he can find the ball in crucial situations. He will likely play across from newly added safety Adrian Amos. Amos recorded 305 tackles, three forced fumbles, two fumble recoveries, and three interceptions in four years with the Chicago Bears. He was the first Bears rookie to lead his team in defensive tackles since Brian Urlacher in 2000. He's shown he can be an important part of a team.
The Packers added two great pass rushers in Za'Darius Smith and Preston Smith. This will give the Packers a great pass rush on top of what they already have. They both are big and strong linebackers who put a lot of pressure on the opponent. Both can drop back in coverage when needed. Za'Darius Smith can help this team in third-down coverage and get the big stop that they have needed for a while.
Defensive coordinator Mike Pettine will have a huge impact on this defense. His schemes fit what this team wants to do and fit the player's style. He also is coming up with new ideas and new plays that will give the Packers a lethal pass rush. A lot of people are sleeping on the defense but don't be surprised if this defense is top ten in the NFL.
The Pack Is Back
With all of the moves they have made and the big change in the offense and defense, they are poised to be one of the most improved teams in 2019. Head coach Matt LaFleur will bring immediate impact to this offense. There are signs of defensive coordinator Mike Pettine getting this defense in the right direction and he will go all out for the 2019 season. Because of all the moves and the improved players, the Green Bay Packers will make the playoffs for the first time since 2016.
Main Photo:
Embed from Getty Images