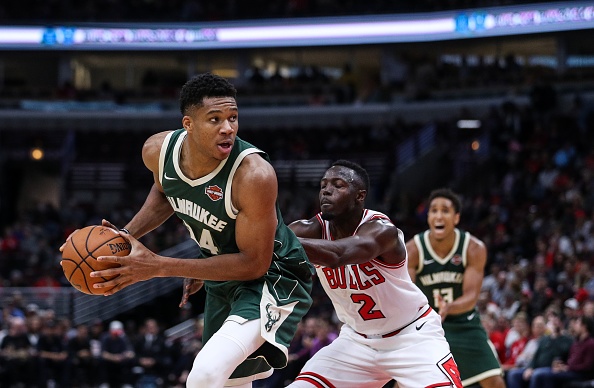 The Milwaukee Bucks cleaned up nicely at the 2019 NBA Awards show by winning three of the top awards. They brought home plenty of hardware. It was a very satisfying evening for Bucks fans. This night hopefully eases the pain and bitterness of losing the Eastern Conference Finals to the world champion Toronto Raptors.
Bucks Deservedly Clean Up at 2019 NBA Awards Show
It was overall a banner evening for the Bucks organization. Emotions were running high. It started with head coach Mike Budenholzer fighting back tears while thanking his family.  His self deprecating sense of humor was on full display when he referred to himself as the most boring interview of any coach in the league. I took away after his speech that not only is he an excellent coach, but more importantly he is a family man first and foremost and an all-around class individual.
Budenholzer went on to thank everybody from the front office to his coaching staff to his players. I feel like we all saw a human side to coach Budenholzer that perhaps we have not witnessed before.
Second-year General Manager Jon Horst brought home NBA Executive of the Year.  He has done a brilliant job in his first two seasons with his trades and free agent signings.
The biggest and most prestigious award of the night was Giannis Antetokounmpo winning MVP. The 24-year old led the Bucks to the leagues best regular season record at 60-22.
Just the Beginning
Giannis Antetokounmpo stated that this is just the beginning upon acceptance of his well-deserved award. There is plenty of unfinished business for these three. All are looking forward to many more accomplishments with this organization. It will be a very busy offseason with plenty of roster decisions to be made, free agent signings to be had and trades to be consummated.
It will be and should be a very exciting off-season. The Bucks have to get creative with the salary cap and keep the team intact. It won't be easy, but it can be done. I am convinced this front office and coaching staff will find a way to do it. The sour taste left in our mouths from the Eastern Conference loss to the Toronto Raptors will only benefit this team moving forward. It must be looked at as a positive learning experience. The players will use this to their advantage.
Years in the Making
Just a few short years ago, things were looking bleak for the Milwaukee Bucks. Last night was evidence that the team is on top of the NBA world. The only thing missing is the elusive Larry O'Brien trophy. This small market team is now respected and acknowledged as a major contender. This is after many years of futility.
Overall, this was the most successful season this franchise has had since 1980. The Bucks have so much to be proud of with their accomplishments this season. There should be no sorrow with their Eastern Conference Finals exit. This franchise is back on the map. There is still work to be done, as the ultimate goal is to bring another championship back to the city. Let's hope last night's cleanup at the awards show is just the beginning.
Main Photo:
Embed from Getty Images