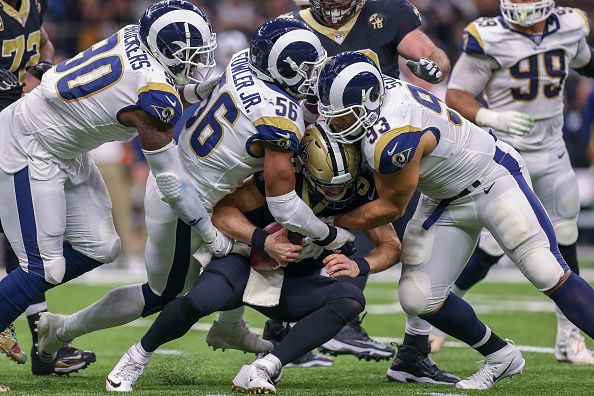 Ratings and revenue show that the NFL is the most consumed sports league in America.  The one knock though is that we are dealt a long off-season that leaves us in anticipation, along with what seems to be a short regular season. So let's take a look at 10 key NFL games in 2019 that we can look forward to this year just to keep us in suspense for a few more months.
Looking Forward to 10 Key NFL Games in 2019
It's a good thing this early season rematch of last year's NFC Championship game isn't in New Orleans, who were clearly robbed of a Super Bowl Appearance. An attempt at revenge is an understatement here.
Sam Darnold vs. Baker Mayfield, year two, round two. It was an ugly go for both in their contest one year ago. With new weapons on each side, expect this one to be fun.
It's a tall task for the undersized Kyler Murray to live up the hype of Russell Wilson comparisons. Couple that with having to face him twice each year and already in the third week and you have a plate that's quite full…
I don't think we have ever seen a quarterback battle that will have as much pure arm talent on the field. Aaron Rodgers has made every throw in the book from almost any angle. Patrick Mahomes has the blueprint to replicate that and possibly more.
Each year we wonder, will there be a team to truly rival New England in the AFC? Kansas City seems to be the closest. You also had Pittsburgh or L.A. in the mix recently, and watch out for Indianapolis as well. But Cleveland has the pieces on both sides of the ball to make things difficult for the Patriots. It was a great turnaround last season, but can this year be the real leap for a franchise that has suffered long enough?
21. That's the number of points scored, not by one team, but both combined in last year's contest between these two. You figured it could get defensive but man, 15-6 is as low scoring as a game can be in today's NFL. The Bears surprised many last year overall, and their early December win against the Rams was certainly a signature one.
Playoff Push Potential
A late-season division match-up of two teams that always seem to explode offensively against one another. This game can prove pivotal in NFC playoff positioning, and Atlanta is looking to get its first win against New Orleans since December 2017.
If we were ranking these games, this AFC Championship rematch just might have to go at the top. Everyone knew how big of a threat the Chiefs were to Tom Brady and company last season, and the difference in that game was essentially an offsides penalty. Oh, and their regular season showdown on Sunday night in 2018 was pretty entertaining as well, ending with a vintage Brady two minute drive that would set up the clock expiring game-winning field goal.
There isn't much evidence to suggest the Cowboys will be taking a step back this season.  They're committed to their quarterback Dak Prescott, and maybe, more importantly, a power rushing attack that could have their center-piece Travis Frederick back in the blocking mix. But what allows them to be successful in ways they haven't in a long time is a young and fueled-up defense that is only getting hungrier.
Disappointing seasons for these clubs in 2018. After signing a record-breaking contract, many will say Kirk Cousins under-performed despite great numbers. With Dalvin Cook returning to the backfield, and the one-two punch of Stefon Diggs and Adam Thielen still on the outside, I'll take my chances on saying Cousins takes this offense to a higher level in 2019. Meanwhile, the Packers have already missed the postseason two straight years, and with a new coach and scheme on the way, you have to believe they get back much closer to the form that had them as NFC favorites for multiple years. Expect this game to have playoff implications.
256 regular season games in total are on deck, and as you can imagine this is just a taste of some of the marquee match-ups to expect. September fifth can't come soon enough…
Main Photo:
Embed from Getty Images