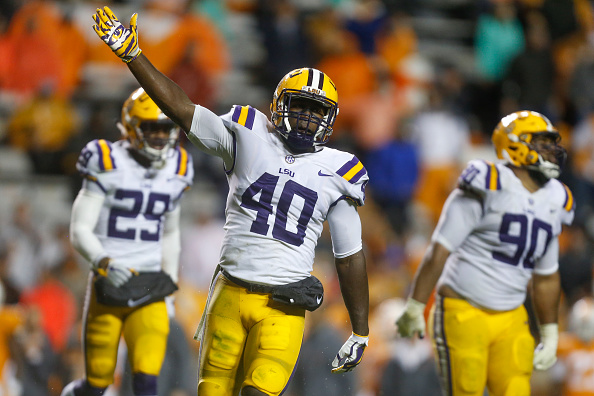 The New York Giants are one of the most intriguing teams heading into the 2019 NFL Draft. With rumors of who they will take, including Ohio State quarterback Dwayne Haskins and LSU linebacker Devin White, many fans eagerly anticipate which players will be selected with the two first round picks currently possessed by the Giants. The draft always has surprises such as a player falling or a player selected much earlier than anticipated so it can be difficult to predict who will be available. Instead, I wanted to focus on what positions need to be addressed on day one while also including some potential players who could be available.
What the New York Giants Need to Do in the NFL Draft
Offensive Line
If you have watched the Giants offense since 2012, you would know the offensive line has been a concern. While New York has made some improvements in the past few seasons by acquiring Nate Solder and Kevin Zeitler as well as drafting Will Hernandez, right tackle remains a question. Ever since David Diehl retired in 2014 no one has been able to consistently keep the starting job.
The Giants offensive line was ranked 21st in 2018 by Pro Football Focus, and it showed week after week. With three solid starters up front, adding a fourth would make our offense much better, and would finally give Eli Manning the time needed to find open receivers downfield. Saquon Barkley had a historic rookie season, imagine what he could do with a quality offensive line.
One of the top offensive linemen in the draft is Florida's Jawaan Taylor. Lance Zierlein of NFL.com said of Taylor that he is a "Throwback right tackle with adequate foot quickness for pass-protection duties and above-average size and nastiness to fit the "road grader" model." He is considered to be a right tackle, just what the Giants need so if he's available at the sixth pick it would be a great choice to solidify the offensive line.
Pass Rusher
In 2018 the Giants were tied for 30th in the NFL with 30 sacks with the Patriots and would have tied for last if the Raiders didn't put up an abysmal 13 last season. They tied for 29th in 2017 with Buffalo, ever since the 2016 playoff season the defense has completely collapsed. They have been in the bottom ten three of the last four years since 2014 where they finished 4th with 47 sacks including 12.5 from Jason Pierre-Paul and seven from Damontre Moore. Besides Pierre-Paul, the Giants have not had a player who consistently got to the quarterback for more than two seasons.
While it's unlikely that Kentucky's Josh Allen will fall outside the top five, he would be an amazing pick and would likely start and contribute day one. Even though I don't believe he should be taken in the top ten, one player the Giants should consider with the 17th pick is Michigan's Rashan Gary. Although he didn't develop as expected coming out of high school, he has some abilities that could produce at the next level. Zierlein said of Gary that he is a "face-up rusher who seems content to hit tackles with bull-rush attempts rather than working the edges. He's explosive out of the blocks and in closing to the quarterback and is just waiting for hand development and additional rush moves. His size, strength and motor could make him a plus run defender in short order." If Gary is given the right coaching, his potential and explosiveness could lead to a successful career in the NFL and a great pick in the middle of round one.
Linebacker
Not only has pass rushing been an issue but also stopping the run. Since 2014 the Giants have been no better than 24th in run defense every year except 2016, which should be considered an outlier because the defense failed to perform anywhere close to that level since. Playing in a division where Ezekiel Elliott is on the schedule twice a year requires you to defend against the run, and the Giants have not been able to do so.
If they draft a player such as LSU linebacker Devin White, along with second-year players Lorenzo Carter and B.J. Hill who showed promise last season the defense can be much improved. Zierlein said of White that he "continues to show rapid development as a high-impact linebacker in a physical conference. White's work ethic, competitiveness, and rare play speed are elements that can't be taught and should push him into an early starter's role and a successful NFL career." White appears to be available in the top ten, so if he's available selecting him could finally bring back the Giants defense this franchise is known for.
The Last Word
Right now, the Giants have more holes than strengths. With question marks on both sides of the field, Dave Gettleman has a lot of pressure heading into Thursday's draft. After trading superstar, wide receiver Odell Beckham Jr. the pressure to nail these first-round picks trails only the Raiders. The winner of the Beckham trade will be determined by these picks.
If we draft busts and give away a generational talent our franchise will be set back another decade. I did not include a quarterback in this, which may shock some fans since it appears to be the biggest need. I wouldn't be surprised if we take one early, however, I do not believe in any of the prospects enough to draft them early. Most of them either are prospects or have more weaknesses than I want in my next franchise quarterback. Next year's class looks deeper with names such as Oregon's Justin Herbert and Alabama's Tua Tagovailoa. The worst thing the Giants could do is take a QB just to take a QB. Unless you believe 100% that this quarterback can become a franchise star for 10-15 years, I do not believe this is the year to reach for a signal caller. This draft is one of the most intriguing in years, and I look forward to seeing what happens.
Main Photo:
Embed from Getty Images