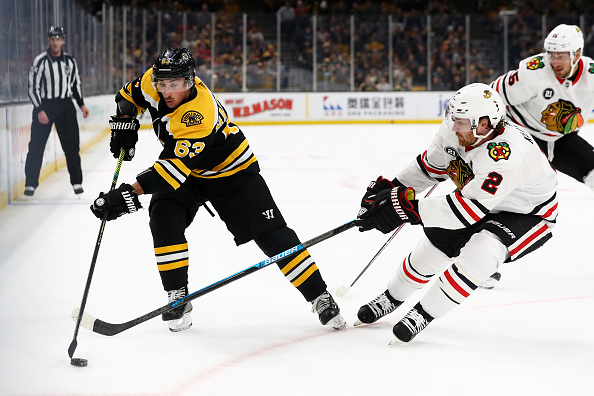 This article will go through the grades for the Eastern Conference teams in the NHL up to this point. This piece is pretty deep with a paragraph for each team with a rating based on performance versus expectations for a particular team.
Method for the rating is an A+ through F system.
NHL Eastern Conference Team Grades
Eastern Conference
Atlantic Division
Boston Bruins (32-17-8): Despite being in good position at the time of this writing, the Bruins could be facing an uphill battle to make the playoffs. There are two major factors in play, the David Pastrnak injury which will keep him out for at least two weeks. And the schedule to end the season is going to be a major challenge. The Bruins sit seventh in the NHL in points but they only clear the wild card floor by eight points, which is too close for comfort for a team that lacks consistent secondary scoring and they'll be without their top scorer for a while.
Grade: B+
(NOTE: This is a harsh grade because I am factoring what has happened already and what they have to potentially absorb moving forward with a tough schedule and the Pastrnak injury. The reality is that the Bruins should probably be an A- to an A with what they have done so far.)
Buffalo Sabres (28-21-7): The Sabres are a young team and they are lacking the experience to really make a deep run this season and possibly next season. But the future is bright for the Sabres with their influx of young talent.
Grade: B+
Detroit Red Wings (22-28-7): As part of a rebuild the Red Wings are playing about as good as one can expect. The thing that worries me for them is I don't see a bright enough future to make it worth this issue. I can see issues for a couple more seasons for Detroit.
Grade: C-
Florida Panthers (23-24-8): I still can't figure out what the deal is with Florida. They should be a good team this season. Especially after they made great strides last season. This season has been a huge disappointment for Florida especially given the expectations.
Grade: F
Montreal Canadiens (31-18-7): Montreal continues to be a nice surprise in the Eastern Conference. No one saw Montreal being as good as they are right now. At least I didn't. Sure they have some talent but I do not see them as one of the better teams in the East but they're getting contributions from all of their lines and that has been a big reason for their success.
Grade: A
Ottawa Senators (21-30-5): The Senators are the worst defense in the NHL and it shows with their goals allowed number. The Senators offense is not good enough to make up for the mess that they call a defense.
Grade: D
Tampa Bay Lightning (42-11-4): The Lightning are once again a juggernaut in the regular season. The real question is, can it carry over to the playoffs? Is Tampa willing to work for it? That will ultimately decide if they can get over the hump. They have the talent to get over the hump, just seemingly not the will to work for the reward.
Grade: A+
Toronto Maple Leafs (35-18-3): A great offense mixed with a solid defense with the addition of Jake Muzzin, the Maple Leafs look like a team that could get over the first round slump. Especially if they play the Bruins and the Bruins don't add to their team.
Grade: A
Metropolitan Division
Carolina Hurricanes (29-22-6): Solid team, I am not sure they can make much noise should they make the playoffs. However, if they make it they could give their opponents a hard time. They do have a decent offense and defense. They won't likely be a pushover.
Grade: B+
Columbus Blue Jackets (32-20-3): I can't think of another team in the position Columbus is in now. Do they trade Artemi Panarin or keep him? Panarin has stated that he wants to test free agency and that would seemingly hurt his trade value and ultimately hurt the Blue Jackets. The Blue Jackets just may be better off hanging onto him at this point unless they are blown away.
Grade: B
New Jersey Devils (21-27-8): The Devils are another team that made strong progress last season and have greatly regressed this season. I can't for the life of me figure out why but they really aren't the team everyone expected them to be. They haven't done much right this season and they are in line for a top ten draft pick because of it.
Grade: F
New York Islanders (33-17-6): The Islanders are a team that has overcome the odds despite losing John Tavares to the Maple Leafs in free agency last summer. They are exceeding all expectations and they deserve a lot of credit. And I will give it to them.
Grade: A
New York Rangers (24-24-8): The Rangers are average, and for a rebuilding team that is just fine. They don't have to be overly impressive because that is not expected. They are really just meeting their expectations and not much else. Which is just fine.
Grade: C+
Philadelphia Flyers (26-24-7): Carter Hart has been a Godsend for the Flyers. He has been a bright spot to a season that has been pretty underwhelming to the Flyers. And he is one reason as to why the Flyers are still in the race. But the defense still remains a major concern of theirs for me.
Grade: C+
Pittsburgh Penguins (29-20-7): The Penguins are turning into a very scary team and that is bad news for the rest of the NHL because the Penguins have experience on top of skill and we all know how much that matters in the playoffs.
Grade: A-
Washington Capitals (31-19-7): Last years Stanley Cup Champion is finally starting to come around at the right time. But they are not where I think they need to be. It would not shock me if they swung a significant move to bolster their lineup for another cup run. But most teams towards the top of the stands will be doing that. So there is nothing special here.
Grade: B+
Check out the NHL western grades piece here.
Main Photo:
Embed from Getty Images