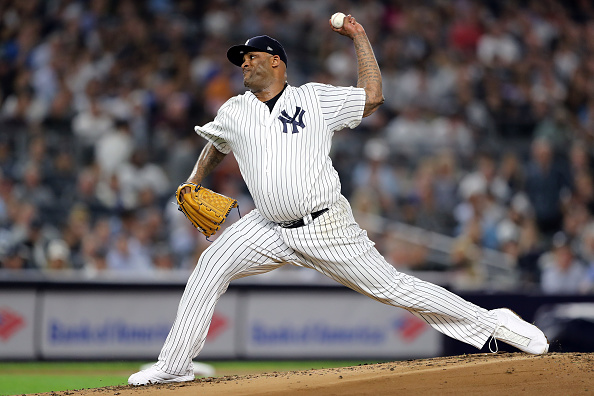 CC Sabathia is returning to the Yankees' rotation in 2019. On Tuesday, Nov. 6, the veteran left-hander agreed to a one-year/$8 million contract. The 38-year-old lefty has played the past 10 seasons of his 18-season career with the Yankees.
In 29 starts last year, Sabathia went 9-7 with a 3.65 ERA in — his lowest since the 2012 season when he posted a 3.38. He struck out 140 batters in 153 innings using his assortment of cut fastballs, sliders and change-ups.
He took a cut in salary from $25 million in 2017 to $10 million in 2018. An ejection in his final start of the regular season cost Sabathia a $500,000 bonus that he would have earned for reaching 155 innings pitched.
CC Sabathia and the Yankees Agree To A One Year Deal
Why The Deal is Important to the Yankees
Strengthening the club's rotation is the stated No. 1 objective of general manager Brian Cashman, and the Yankees have much more work to do this winter. Sabathia is one of just three returning members of the Yankees' 2018 rotation, joining Luis Severino and Masahiro Tanaka. Diamondbacks free agent lefty Patrick Corbin has been identified as another primary Yankees target.
In their first two offseason moves, the Yankees have retained the two most important veteran clubhouse voices in Sabathia and outfielder Brett Gardner. Last week, the Yankees and Gardner reached an agreement on a one-year/$7.5 million contract, keeping the current longest-tenured Yankees in pinstripes and out of the free agent market.
Last Word
Since joining the Yankees in 2009, their last world championship season, Sabathia is 129-80 with a 3.74 ERA. With a lifetime record of 246-153, and ranked third all-time among left-handers in strikeouts (he's 14 shy of reaching 3,000), his career achievements will undoubtedly get him on a Hall of Fame ballot five years after his career ends. Re-signing CC Sabathia to a one-year/$8 million deal is a win-win for the Yankees and Sabathia.
image Credit:
Embed from Getty Imageswindow.gie=window.gie||function(c){(gie.q=gie.q||[]).push(c)};gie(function(){gie.widgets.load({id:'lxQc36DqS1VYIIfiuuDwyg',sig:'slNCkvjqs5jNPbYaMn1fPu84s5aQLUM6w-b-smcbIkM=',w:'594px',h:'396px',items:'1052705280′,caption: true ,tld:'ca',is360: false })});