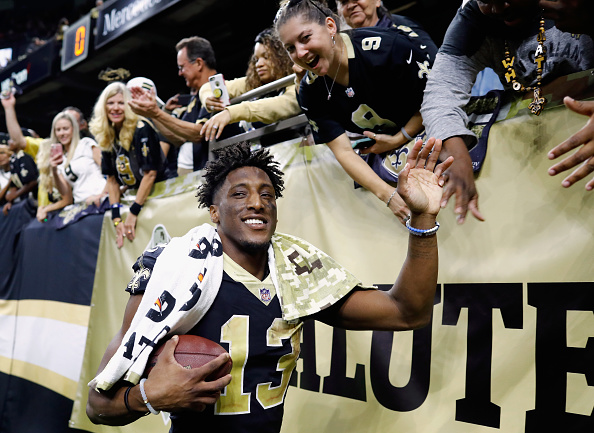 Hello NFL fans, just another week of spectacular performances. Here are my top NFL week 9 performances and remember you have to win to get in.
Tadi Abedje's Top NFL Week 9 Performances
Patrick Mahomes II (Quarterback) – Kansas City Chiefs
Week Nine Stats: 23/32 passing, 375 yards, three touchdowns, one INT
Just another Sunday of seeing the greatness of Patrick Mahomes. The last time he played against Baker Mayfield was in the 2016 shootout between Mayfield's Oklahoma Sooners and Mahomes' Texas Tech Red Raiders. Mahomes would have an NCAA record 734 passing yards and five touchdowns but Mayfield had 545 yards and seven touchdowns as his team prevailed 66-59. But Kansas City Chief's star quarterback would have the last laugh as he led his team to a 37-21 victory over the struggling Cleveland Browns. He would have his eighth consecutive game with over 300 yards passing. Two of his three touchdown passes went to his Pro Bowl tight end Travis Kelce. The Chiefs have scored the most points (327) at this point of the season in team history. This guy and his team are hard to stop offensively.
Drew Brees (Quarterback) – New Orleans Saints
Week Nine Stats: 25/36 passing, 346 yards, four touchdowns
As the greatest quarterback in New Orleans Saints history, Drew Brees had another impressive game taking on the Los Angeles Rams. He had his 120th 300-yard passing game as his team ended LA's undefeated season. Three of his four touchdown passes came in the first half against Aaron Donald and the Rams stout defense. It was his first three-touchdown first half game since New Orleans won in a 51-48 shootout with the Giants in 2015. His last touchdown pass went to Michael Thomas for 72 yards with 4:02 left to put the game on ice. New Orleans outgained the LA in total yardage 487-483. Brees improves to 10-2 since 2016 when he plays against a Top 10 total defense. Currently, he has a 76 percent completion percentage and a 120.6 passer rating this season. This could be a preview of a potential NFC Championship Game between the NFC heavyweights.
Matt Ryan (Quarterback) – Atlanta Falcons
Week Nine Stats: 26/38 passing, 350 yards, four touchdowns, one interception
Matt Ryan had 53rd career 300-yard game that came against a much improved Washington Redskins defense. He is the second quarterback outside of Drew Brees to have 50 300-yard passing games in his first 11 years in the league. His touchdown throws went to Tevin Coleman twice, Calvin Ridley and Julio Jones. With his four touchdown game, he is 15th all-time in touchdown passes. Ryan is only 221 touchdown strikes away from joining Tom Brady, Peyton Manning, Brett Favre and Brees of joining the 500 club. He's having a great year with being tied for third in passing yards, 19 touchdowns, and only three interceptions. The Atlanta Falcons are on the rise again as they won three games in a row after a 1-4 start.
Michael Thomas (Wide Receiver) – New Orleans Saints
Week Nine Stats: 12 receptions, 211 yards, one touchdown
Michael Thomas in his three years in the league has developed into one of the most premier receivers in the game. Currently, as the Saints number one option, he had over 1,000 yards receiving in his first two seasons. He had a then Saints single-game record with 16 catches for 180 yards in Week 1. Then, he would continue to make more history as he had a franchise record 211 receiving yards against the Rams. The big highlight of the game came with 4:02 left in the game. Thomas caught a deep pass from Drew Brees and went 72 yards to the house burning Marcus Peters on the play. After the score, he would go Joe Horn by taking a flip phone from the pads covering the goalpost and made a fake call. Anyways what a day for Michael Thomas.
Julio Jones (Wide Receiver) – Atlanta Falcons
Week Nine Stats: seven receptions, 121 yards, one touchdown
For the first seven games of the season, Julio Jones had 898 receiving yards without a touchdown which was the fourth most in NFL history. That would change on Sunday against the Redskins as he finally scored his first touchdown of the year. It came with 3:55 left in the game as Matt Ryan threw a bubble screen on third-and-two. There, Jones caught it ran 35 yards upfield to the end zone. It was a reward for his hard work and selflessness. In addition, it was his fifth 100 yard game of the season and 10th straight game of at least five catches. Jones is on track to have close to 2,000 yards receiving. Hopefully, for the last half of the season, the Falcons can find a way to utilize the five-time Pro Bowler in the red zone.
Main Photo:
Embed from Getty Images