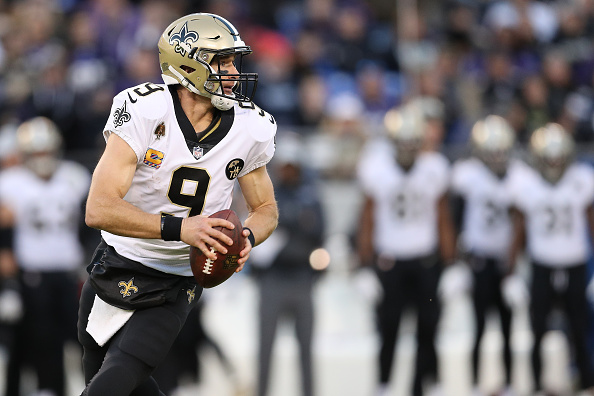 Just another week of exciting and high yardage games and player standouts. Here are my top NFL week 7 performances.
Tadi Abedje's Top NFL Week 7 Performances
Patrick Mahomes II (Quarterback) – Kansas City Chiefs
Week Seven Stats: 28/39 passing, 358 yards, four touchdowns, one INT
The Chiefs young franchise quarterback, Patrick Mahomes, had another great performance in his first full season as the starter. He continues to shine and put the league on notice that he's for real. The young standout only another 300-yard performance as he was just carving up the awful Bengals defense who had no answer for him. He was toying around them as the Chiefs crushed 45-10 on Sunday Night Football. His four touchdowns put at 22 for the year, which is the most in a player's first eight games of a career. Mahomes is clearly helping a lot of fantasy owners out big.
Drew Brees (Quarterback) – New Orleans Saints
Week Seven Stats: 22/30 passing, 212 yards, two touchdowns
A week before the Saints bye week, Drew Brees surpassed Peyton Manning as the all-time leader in passing yards. Against the Baltimore Ravens, the greatest player in New Orleans history picked up where he left off. With 1:57 left in the first half, he threw the 500th touchdown pass of his illustrious career. He joins Tom Brady, Peyton Manning, and Brett Favre as part of the 500 touchdown club. Then he threw the game-winning touchdown pass to Michael Thomas with five minutes left to put the team ahead for good. Additionally, it was his first victory versus the Ravens as he beat all 32 teams at least once in his career. It wasn't easy as the tough Ravens defense held him in check for most of the contest but he got the job done.
Kareem Hunt (Running Back) – Kansas City Chiefs
Week Seven Stats: 15 carries for 86 yards five receptions for 55 yards and three total touchdowns 
With Mahomes having his great performance, Kansas City had another one in Kareem Hunt who also broke in a big way. First off, he had one big highlight as he spun away from a tackle and hurdled over a Bengals defender. Eventually, it set up the second game of his career with three touchdowns in a game. Hunt is a dual threat that can do it on the ground and in the receiving game. With his ability and Mahomes' play, it makes the Chiefs offense hard to stop. He will have a chance to go up against the Broncos defense again which gave up 200-yard performances to Isaiah Crowell and Todd Gurley in back to back weeks.
Marlon Mack (Running Back) – Indianapolis Colts
Week Seven Stats: 19 carries for 126 yards and two total touchdowns
Marlon Mack made a statement to the Colts that he's their starting running back for good with his career performance. He broke out by running for a career-high 126 yards and a multi-touchdown game. His 159 yards from scrimmage is most by a Colts running back since 2011. Ironically, it happened on a day that Andrew Luck had four touchdown passes despite throwing for only 156 yards. It's good for the Colts to run the football with Mack leading way because it takes pressure off of Luck to do everything on his own.
Adam Thielen (Wide Receiver) – Minnesota Vikings
Week Seven Stats: nine receptions, 110 yards, one touchdown
Adam Thielen's remarkable start of the season continued as he had another good performance. He began with a 34-yard touchdown catch on the right side of the end zone. That would lead to a seventh straight game of at least 100 yards receiving in a game. If he does it again next week against the Saints, he will join Calvin Johnson as the only players in league history with eight consecutive 100 yards contests. Thielen is the leading receiver in yardage right now with 822 and could be on his way to 2,000 yards.
Main Photo:
Embed from Getty Images