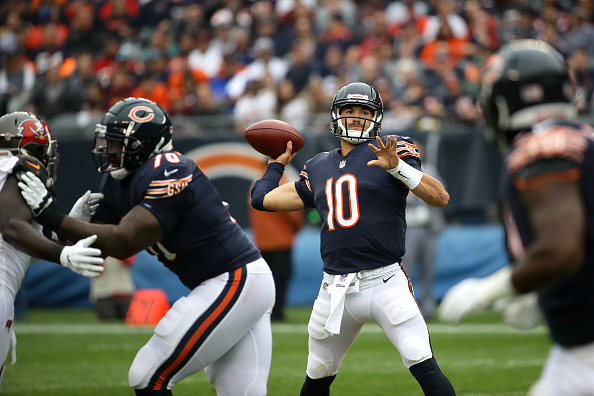 The NFL season is already through four weeks. I'll continue my series as this week we take a look at the Top Week Four Performances. Remember, playing well and winning is a requirement to make this list.
Jared Goff (QB) – Los Angeles Rams
Week Four stats: 26/33 passing, 465 yards, five touchdowns, 158.3 QB rating

The former number one pick of the 2016 draft certainly played like one on Thursday Night. Goff arguably had the best game of his young career and is playing like a Top 10 Quarterback in this league. He got into a throwing shootout with Vikings QB Kirk Cousins and he won the battle of offenses. Oh boy, the Rams QB was just throwing darts against a Minnesota defense that was the best last season. Also, he had his top three wideouts go for 100 yards receiving (Cooper Kupp: nine balls for 162 yards; Brandin Cooks: seven balls for 116 yards and Robert Woods: five balls for 101). In addition, star running back Todd Gurley had 156 yards from scrimmage (83 rushing and 73 receiving). Goff became the first Ram since Kurt Warner to throw for five TD's since Kurt Warner in 1999 and 400 yards since Marc Bulger in 2005.
His first TD went to Gurley as he was covered by Anthony Barr. Goff would hit Cooper Kupp deep off a play action for a 70 yard touchdown as he had a mismatch from Barr. He found Kupp again in the back of the end zone against two Vikings defensive backs. With 1:33 until halftime, he threw for the home run strike to newly acquired Brandin Cooks from 47 yards out. Then, his last touchdown went Robert Woods up the seam for 31 yards to the house with Barr covering him. So, he has gotten much better since his forgettable rookie year. With head coach Sean McVay being the offensive mastermind, the sky is the limit for Goff and the Rams offense. It could be the Greatest Show on Turf part two for the 4-0 Rams.
Mitchell Trubisky (QB) – Chicago Bears
Week Four stats: 19/26 passing, 354 yards, six touchdowns
The 2017 number two overall pick made his 16th career start and this is his first full season as the starter. In his rookie year, he threw only seven touchdowns and seven interceptions. The Bears hired former Chiefs offensive coordinator Matt Nagy because of his creativity on offense. This was the breakout game for the young QB as he shredded the Bucs awful defense. He threw for a Bears record five TD's in the first half. Trubisky would finish one touchdown pass of being in a tie for most TD throws in a single game.
His first touchdown pass went to a wide open Trey Burton as he ran an out and up on the right sideline for 39 yards. The second TD went to Allen Robinson at the back of the end zone. On his third TD, it went to Tarik Cohen who would line up in the backfield and get matched up against linebacker Lavonte David. His fourth TD came when he did a fake inside handoff, pump faked and throws it to a wide open Joshua Bellamy. Then with 5:01 left in the first half, the Bears had a special formation with backup QB Chase Daniel lined up next to Trubisky. He took the snap and forward pitched it to Taylor Gabriel as ran for six. Gabriel again would catch Trubisky's six TD pass. The crazy thing is he almost had as much TD's as his entire rookie season.
Week Four stats: 30/43 passing, 344 yards, three total touchdowns, 46 rush yards
For Marcus Mariota, this was one of the best games of his young career. The former Heisman Trophy winner had a rough start to the season after injuring his elbow in Week One versus the Dolphins. But against the defending Super Bowl champion Eagles, it would take his passing and running abilities that would go into extra game. Tennessee would trail 17-3 before the comeback started.
First off he would throw his first TD pass of the season to Tajae Sharpe with 5:01 left in regulation. The Eagles would tie the game on a field goal that put the game into overtime. There on fourth and 15, Mariota threw and completed a 19 yard out route to Taywan Taylor for the first down. The Titans would have another fourth down after bypassing a game tying FG. They would convert another one as Mariota threw it to Dion Lewis for 17 yards. Few plays later, Mariota would throw the game winning TD pass to second year wideout Corey Davis to complete the comeback.
Week Four stats: 25 carries for 152 rush yards, four catches, 88 receiving yards, one touchdown
The All-Pro running back for America's Team is literally their whole offense. He's the guy that defenses can put eight in the box to take him out of the game. Elliott attracts all the attention because he's a superb talent and the Cowboys don't have any good weapons on the perimeter.
The top five running back in the game finished the game with 240 total yards on 29 touches from scrimmage against the Lions. His only TD came on a screen pass that he took 38 yards to the house. His best highlight came when the Cowboys were trailing Detroit 24-23 with 1:23 left. Then, Dak Prescott throws a deep pass on the right sideline and Elliott caught it for 34 yards as he was covered by middle linebacker Jarrad Davis for to set up the game winning FG by Brett Maher.
Alvin Kamara (RB) – New Orleans Saints
Week Four stats: 19 carries for 134 yards and three touchdowns
The five foot 10 scat back had the best game of his young career. It came when Drew Brees didn't have huge passing numbers and Giants secondary shutting down leading receiver Michael Thomas. So with them getting the attention and held in check, Kamara was the one that benefited greatly.
The 2017 AP Offensive Rookie of the Year gashed the entire Giants with a his second career 100 yard rushing game and three touchdowns. The final TD was when he went 49 yards to the house as he literally ran out of MetLife Stadium as he couldn't be stopped all day. It was the first time this season New Orleans got their running game going as Mark Ingram will be back from his four game suspension. They improve to 8-0 when Kamara has 10 or more carries in a game.
Main Photo: