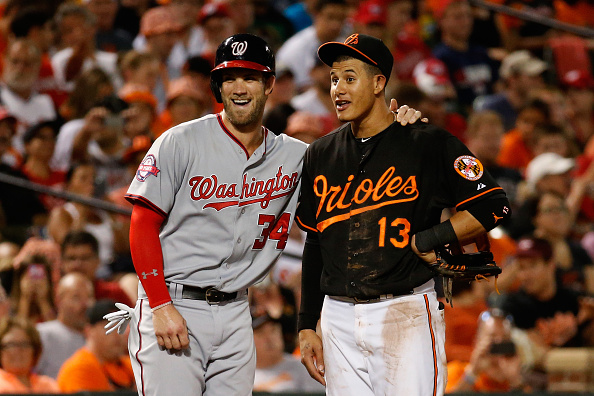 As the MLB season winds down, Hot Stove rumors are sure to pick up as each day brings Bryce Harper and Manny Machado one day closer to perhaps the richest contract in MLB history. But who deserves it more? Let's let the numbers decide.
There is no doubt both players are heading toward contracts that will make them more money than they could ever spend, but which one has shown they are most deserving of a $300 or $400 million contract? Perhaps they will each end up in that range.
But first, let's take a look at the numbers as of September 13.
For both players, the season has become a tale of two halves.
For Bryce Harper, his first half of the season was costing him millions of free agent dollars every day. Harper was not playing like an All-Star before the break. He hit .214, with 23 homers and 54 runs batted in, which might not look bad, but when you look at his 102 strikeouts, it basically came down to Harper either hitting it out, or heading back to the bench (23 of his 57 first half hits were homers).
But something happened after Harper won the Home Run Derby in dramatic fashion. Sometimes the derby has caused sluggers to go into prolonged slumps (Aaron Judge last year who hit .228 with 20 homers after the All-Star break as opposed to .329 with 30 homers before), but for Harper, who plays with emotions that run as high as his energy, it was just what he needed.
Since the break, Harper is hitting .319 with an OPS of 1.023.
Even though his homers are down in the second half with ten, his higher average shows he is getting more base hits and helping his team (40 RBIs in half as many at-bats). This is the Harper the Nationals hope sticks around and hopefully gives the team a hometown discount.
Machado, on the other hand, has seen his second half turn the other way. Before the All-Star break, when he was with Baltimore, Machado was on a tear. He hit 24 homers, with a .315 average, and 65 RBIs. He also had just 51 strikeouts to go with 45 walks in 365 at bats. But apparently the excitement of going to a contender, which may not be the case because right now the Dodgers would find themselves at home when the playoffs start, didn't help Machado's game.
In the second half, Machado is hitting just .268, with just nine homers and 25 RBIs.
In 200 at-bats, he already has 43 strikeouts and only 22 walks, which means he is not as selective, or is simply being overpowered for the first time in his career.
While the Nationals can start planning for the off-season and trying to find a way to keep their superstar, the Dodgers need theirs to pick up his game if they are going to make a late season playoff push (which may help their sales pitch to keep him). The Dodgers aren't out of it, but time is running out.
Either way, as soon as the season ends, the clock will start ticking for both teams to make a pitch to keep their star players, and for Machado and Harper to see which teams make the best pitch. You can bet, neither player is going to miss out on a big payday.
The question is, who will bring the most value to a long term deal? Coming up, the teams most likely to have Harper or Machado in their lineup next season.
Main Image: Embed from Getty Images