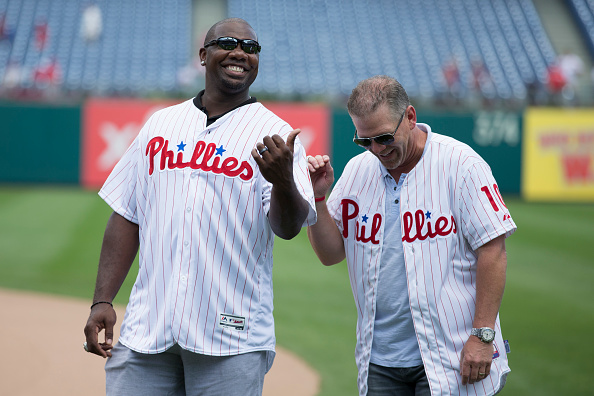 Ryan Howard officially announced his retirement from baseball yesterday through the Players Tribune after 13 seasons with the Phillies. Howard floated around different organization's minor league systems, but never made it back to the bigs. His last major league game he played came against the Mets on Oct. 2nd, 2016, in front of a large at Citizens Bank Park that came to see him off, where he went 0 for 4 in the game.
Howard broke into the league in 2004 and proceeded to win the National League Rookie of the Year Award a year later stepping in for Jim Thome with a .288 average with 22 home runs, 63 RBI's, and a  .924 OPS in only 88 games. Howard followed up the Rookie of the Year by being named the National League MVP after a monster season where he hit a franchise best 58 home runs in a single season and knocked in 149 runs, leading the league in both of those categories, just barely missing out on the Triple Crown.
Howard's accolades
Howard had seven seasons with at least 25 home runs with the Phillies and he is tied at 67th on the all-time home runs list with 382 along with Frank Howard and Hall of Famer Jim Rice. Howard is just one of three players in MLB history to have four straight seasons with at least 45 home runs and 135 RBI's, sharing the feat with Babe Ruth and Sammy Sosa.
Howard's first and last home run with the Phillies came against the Mets, who he destroyed with 48 all-time home runs against them, which tied for the fourth most home runs hit against the Mets all-time.
Howard will finish his Phillies career ranked second in home runs (382), second in RBI's (1,192), fourth in slugging (.515), first in grand slams (15), seventh in games played (1,569), tenth in doubles (270), fifth in total bases (2,940), and seventh in walks (709). He is by far the best first baseman the franchise has ever had and many fans know Phillies baseball will not be the same without him.
"Ryan, on countless occasions, put us on his back and carried us to the finish line," Chase Utley said. "He was such an important part of our success, and I hope Philadelphia recognizes that."
Howard had six straight seasons with 30+ home runs and 100 RBI's, helping propel the Phillies to five National League East titles from 2007 to 2011 and two World Series appearances, with the Phillies winning it in 2008.
Later career
Howard's career took a turn for the worst in game five of the 2011 NLDS against the Cardinals, the last time the Phillies made the playoffs, tearing his achilles after making the final out in the game and he was never fully able to get back to his old form.
From 2012 to 2013, Howard played in a total of 151 games, combining for 25 home runs and 99 RBI's, but it seems the achilles injury got the best of him because in the next three seasons after that, Howard never reached 30 home runs and 100 RBI's in a season ever again.
"He loved the pressure and wanted to be the man at the plate when the game mattered most," Jimmy Rollins said. "During our run, we leaned on him many times for big hits and clutch home runs and he found ways to deliver."
It's no coincidence the Phillies started to decline as Ryan Howard did because without Howard, the Phillies had no one else in their lineup whose presence alone could change the game like he did. In the end, Howard was able to go out as a Phillie and that's how it should be.
Main Image: Embed from Getty Images