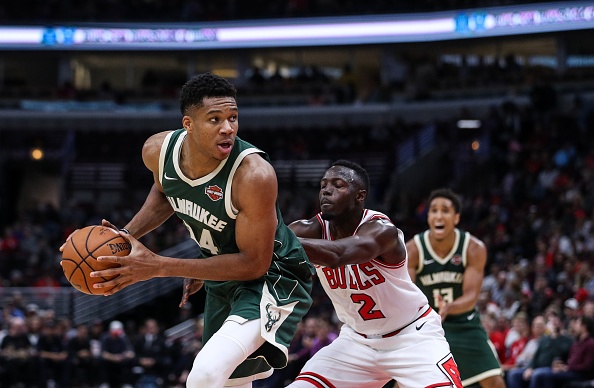 Last week I started breaking down the Eastern Conference, starting with the Atlantic Division. Today I will break down the Central Division. I will show the teams in the order I expect them to finish. The top two teams should be Indiana and Milwaukee but after that it should be a right race for final three spots.
NBA Eastern Conference Preview: Central Division
Indiana Pacers
Projected starting lineup: PG Darren Collison, SG Victor Oladipo, SF Bojan Bogdanovic, PF Thaddeus Young, C Myles Turner
Projected bench: PG Cory Joseph, SG Tyreke Evans, SF Doug McDermott, PF Domatas Sabonis, C Kyle O'Quinn
The Pacers had a breakthrough season last year and saw the rise of Victor Oladipo into a star. They pushed the LeBron led Cavaliers to 7 games and hope to build on the success of that series. On paper, they improved the bench greatly and with James now in the West, the Central could be there for the taking. I also think we could see more improvement from center Myles Turner as well. I'm not sold on the point guard position, but Collison and Joseph work well off of Oladipo. I would not be surprised to see the Pacers groom rookie Aaron Holiday to take over down the line.
Milwaukee Bucks
Projected starting lineup:  PG Eric Bledsoe, SG Malcolm Brogden, SF Khris Middleton, PF Giannis Antetokoumnpo, C Brook Lopez
Projected bench: PG Matthew Dellevedova, SG Pat Connaughton, SF Tony Snell, PF Ersan Ilyasova, C Thon Maker
The Bucks feel this is their year to claim the Central Division. I contemplated hard about possibly moving Milwaukee to the top, but I am not sure they are better than Indiana. They finally added a legit center in Lopez, who can score down low as well as face up. Obviously, they go as far as the "Greek Freak" can take them. They added shooting with Ilyasova and Comnaughton joining the bench unit. They are more versatile and should be able to use all kinds of different lineups and rotations during the season. If they can get better point guard play from Eric Bledsoe, taking pressure off Giannis, this team could take a big step forward. With James now in Los Angeles, the Central should be a two-team chase for the top spot.
Chicago Bulls
Projected starting lineup: PG Kris Dunn, SG Zach LaVine, SF Jabari Parker, PF Lauri Markannen, C Robin Lopez
Projected bench: PG Cameron Payne, SG Justin Holiday, SF Chandler Hutchinson, PF Bobby Portis, Wendell Carter Jr
This may be a stretch, but the Bulls I think are finally heading in a positive direction. They drafted well with Carter and Hutchinson, who should both be rotation players immediately. They signed Parker from Milwaukee, who they think will help offensively right away. If Parker gives them anything on the defensive end, that would help. Also, Markannen should take another step in his second season. His rebounding and three-point shooting need to continue to improve for Chicago to try and get to the playoffs. The Bulls spent big money on LaVine and a fully healthy season could propel the Bulls.
Cleveland Cavaliers
Projected starting lineup: PG George Hill, SG JR Smith, SF Rodney Hood, PF Kevin Love, C Tristan Thompson
Projected bench: PG Collin Sexton, SG Jordan Clarkson, SF Kyle Korver, PF Channing Frye, C Larry Nance Jr
After four straight Finals appearances and the departure of LeBron James, the Cavs find themselves not ready to blow it up but also trying to compete. They locked up Love long-term and drafted their point guard of the future in Sexton. I still think they can compete to try and make a playoff run in the East but it's going to be tough. If things start out rough, Cleveland may panic and start trading away. As of right now, they are a fringe playoff team.
Detroit Pistons
Projected  starting lineup: PG Reggie Jackson, SG Luke Kennard, SF Stanley Johnson, PF Blake Griffin, C Andre Drummond
Projected bench: PG Ish Smith, SG Reggie Bullock, SF Glenn Robinson III, PF Henry Ellenson, C Zaza Pachulia
On paper, this team should be ahead of Chicago and Cleveland. However, they seem to underachieve every year. A frontline of Blake Griffin and Andre Drummond should get you into the playoffs in this weak Eastern Conference. Neither player has shown the ability to lead a team and it takes necessary to move into superstardom. Also having a selfish point guard doesn't help. If Jackson doesn't become a better distributor, he could be dealt or even moved to the bench. Another reason I have them this low is their wing play. Second-year player Kennard and big-time disappointment Stanley Johnson are going to have to step up their play if the Pistons want to get to the playoffs. Maybe all that changes with new coach Dwayne Casey and he can get them into the playoffs. I am just not convinced with this roster to make the jump up they need.
Main Image: Embed from Getty Images