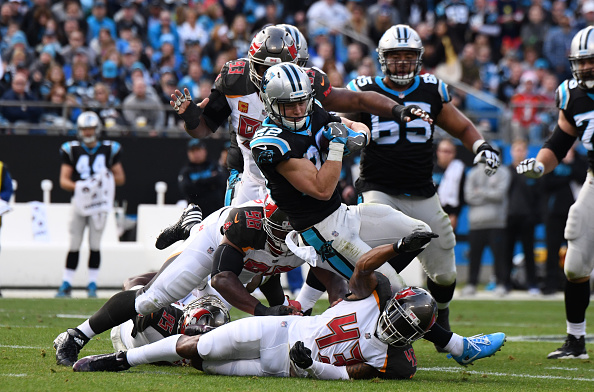 Carolina Panthers to Watch During Training Camp
Everything matters when it comes to how a team's performance for next season will go. From the offseason to the draft matters. The Carolina Panthers have done a lot to change their roster and only time will tell if it's for the better, or not. In the meantime, let's take a look at some of the players to watch during training camp.
5. Cam Newton
For the first time since he had shoulder surgery, Newton goes to training camp healthy. Training camp will be a time for him to bond with his receivers. Not only that but Norv Turner will be the next offensive coordinator to take a crack at the run-heavy quarterback.
Looking at the weapons Newton has this season, provides us with another reason to watch him. Along with that new shoulder, comes the responsibility of throwing to his new man toys. Having more guys to throw to, opens up so many possibilities.
4. DJ Moore and Torrey Smith
The Panthers have never been ranked high when it came to the receiving corps and yet it is still a surprise that they're near the bottom of the list. Even with the addition of Torrey Smith and drafting DJ Moore the Cats have a ton to prove if they want to be ranked higher.
Smith has proven that he can be a solid  number two guy in both Baltimore with the Ravens and in Philadelphia with this year's Super Bowl champions. However, Smith is getting up in age which begs the question of how much longer can he be effective. The Panthers are still without a solid number two so they'll be looking to fill that spot with Smith.
Moore has a ton of potential in terms of what he can do for the Panthers but the problem is no one knows how quickly he'll get there. Training camp is the first time we get to see him up against a defense so let's see how he handles that pressure.
3. Linebackers
Andre Smith was the only linebacker drafted by the Panthers back in April. It doesn't seem like there's an immediate need for linebackers, they have three of the best in the league right now. But they need to start preparing for the future. Carolina is facing a four game suspension and possible retirement from Thomas Davis and although Luke Kuechly is just 25 no one knows how much longer he can take the hits he's been taking.
Linebacker is an important part of a great defense, something the Panthers have had the luxury of having the last five seasons at least. Whoever comes after those guys will have some big shoes to fill.
2. Julius Peppers 
Another Carolina Panther to watch during training camp is Julius Peppers. Now is the time for Peppers to embrace his role as a leader. He can teach the young guys how to do things the Panther way while maybe learning a thing or two himself.
Don't let his age fool you though. 37 may be old in football years but Peppers had 11 sacks last year tying Mario Addison for most on the team. He may have one or two good years left in him.
1. O Line
Perhaps the most important and simultaneously the most underrated position on Carolina's team is the offensive line. They've had lemons like Michael Oher who spent two years going back and forth between starting and second string.
But they also have players like Trai Turner who was a pro bowler two years straight including the year he helped lead the Panthers to Super Bowl 50. Turner's physicality and force earned him an extension a year ago. Let's see how he's grown since last year. This season may depend on it.
Training camp is the time to choose who will represent the team in the 2018-19 season. In order for the Panthers to be successful, they must look at these areas.
Main Image: Embed from Getty Images