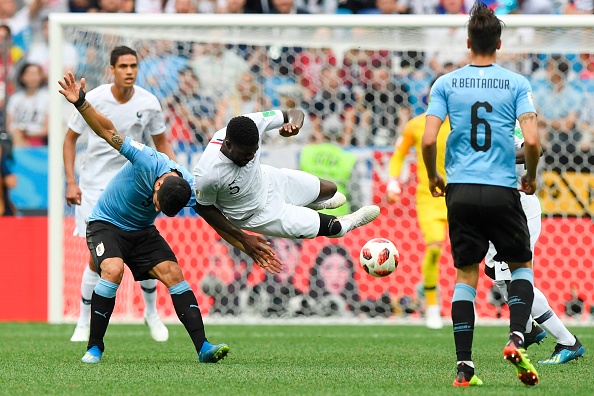 World Cup Quarterfinal Preview
In this World CupQuarterfinal preview, I will preview each of the 4 games. I have the pleasure to go match by match, side by side and give you the "need to know" and "what to watch for" in this upcoming weekend of World Cup action. Should I throw in score predictions? Let's do it just for the sake of entertainment. Here we go:
Uruguay v France Friday Game 1
Out of all 4 games this weekend, this is the one that intrigues me the most. I know most people want to watch the game that follows, but really give me a chance, and give this game a chance.
Uruguay:
 In this match, in particular, there are some things everyone needs to know and watch for. Uruguay can score and attack from either side of the field depending on the matchup they get. Luis Suarez from Barcelona and Edison Cavani from PSG are both very dangerous in the attacking third. There are some speculations that Cavani may be out this match based on his calf injury against Portugal, but if he is healthy this is a tough squad to stop. They are not only a great offensive team, they have a solid defense. Actually, it is one of the best of the tournament and is led by Diego Godin. Uruguay has only given up 1 goal in these 4 World Cup games, and that came against Portugal on a dangerously close free kick.
France:
 Let me mention a couple names: Paul Pogba from Manchester United, Olivier Giroud from Chelsea, Kylian Mbappe PSG, and Antoine Griezmann from Atletico Madrid. This is the front end of this strong French National Team. With names like these, you would expect this squad to dominate and score with little resistance, but this has not been the case. This squad is young, the second youngest of the 32 squads that qualified, and up to this point has not been a super cohesive unit. If not for Mbappe and his offensive gift I don't know if France would be here. The struggle they had against Argentina, the best offensive team they have faced, showed a weakness against teams that have organized attacks. If you look back to the Peru game in group play this same weakness showed. If France gets on the same page and Griezmann actually shows up this World Cup, France is a force to be reckoned with.
I predict that Uruguay wins this match just based on how consistent they have been as a unit. Now if Cavani can't go on Friday, that will put a lot more pressure on Suarez and hopefully, he can rise to the occasion. Uruguay wins 2-1
Brazil v Belgium Friday Game 2
Advertising this game is easy: The Favorites vs the Top Scorers. Very few people saw Belgium to be a Semi-finalist possibility going into this World Cup. Well, now they are going to go head to head against the favorite to win it all, and with a real chance to win.
Brazil:
 Alright let's get it out of the way, Neymar is the best player in this tournament, even though he flops around a lot. He had an excellent showing against Mexico, showing he and the rest of the attack are finding their rhythm. Now, this is not the team that got destroyed 7-1 against Germany 4 years ago. They have a solid defense starting in the mid-field, challenging the opponents attack before it reaches their back third. This unit also has only given up one goal in this tournament, a header off of a corner against Switzerland, and only 5 other shots on goal. For this match the thing to watch is the defensive strategy without Casemiro, who starts it all in the middle. The only thing I can say is this team knows how to win.
Belgium:
 To be the top goal scorers on the biggest stage that exists is a huge accomplishment. I don't want to disrespect this squad but 8 of their 12 goals came against Panama and Tunisia. Playing against a great squad in England they only put up 1. Let's talk about the Japan game. I noticed something special, the stamina they have is ridiculous. Japan played all out as long as they could and held on to their 2-0 lead until the 70th minute. Belgium then dominated for the last 20 minutes outpacing and playing harder than Japan, to eventually win. Belgium is vulnerable. Brazil will have to play a complete 90 minutes, and not commit errors because Belgium thrives on counter plays.
I fully expect Brazil to win this match even without Casemiro because the passing and technique that Brazil has will eventually find its way to the goal. Also, the defense will not even let Belgium breathe. Brazil wins 2-0.
Sweden v England Saturday Game 1
Entering the Saturday Matches, this is the better one to start with. Harry Kane, Golden boot leader (the player that scores the most in the world cup) and England vs Sweden's stellar defense.
England: 
England dominated in group play until they met Belgium and lost 1-0, but like I mentioned above not the greatest group. Harry Kane, makes this game interesting to watch. He can score from anywhere, and I anticipate that he will continue to score for the duration of the tournament. Here are my doubts about this game. First, the health of this squad. The team has announced that after the Colombia match they had 4 key injuries. Players to watch are Dele Alli, who has already missed some time, and Ashley Young. They are 2 key Mid-fielders that are important offensively as well as defensively for this unit. Second, is the continuity, or strength of the defense. England is the only squad to not have a clean sheet that is left here in the tournament. Sweden isn't the best offensive force, but neither were Panama and Tunisia, and Sweden is a lot better defensively.
Sweden: 
Now the opposite applies for Sweden when it comes to the team analysis. They have a defense that has led them to this part in the tournament. The only goals allowed by this squad were against 2014 Champions Germany in an excellent game, against a desperate squad, that actually looked like they were in World Champion form. Now my question for Sweden is, who is going to score? There is no obvious offensive gem available on the team that can take this game over if needed. Sweden is the underdog in this matchup, but they are used to that. Not even expected to get out of group play, being in a group with Germany and Mexico, and now passing the round of 16 and into the quarterfinals is a huge accomplishment. They are playing to surprise the world even more, and they can do so with a win over England.
I believe that England is the team that gets to the finals (SPOILER) on this side of the bracket. Furthermore, I take them to win despite the injuries. England wins 3-1.
Russia v Croatia Saturday Game 2
Saturday can be the day for underdogs. If you enjoy underdog stories and are not a fan of already underdog Sweden, then this is the match for you. Russia is the host country and based on initial FIFA world rankings the "worst" team in the tournament. Croatia, on the other hand, was expected to get this far in the tournament, and now wants to show the world that they can be champions.
Russia: 
To begin, and as mentioned above an underdog, but a smart one. Russia played excellent defense against one of the favorites in the tournament shutting down Spain to get to a penalty shoot-out (if you haven't seen that game maybe watch it). Spain could not make it through the back wall of Russia and it just took one counter for Russia to get the 1-1 equalizer. From then on they just dug in and would not let Spain score through an exhausting defensive effort. Talk about a confidence builder. Coming off an emotional win, making history, against Spain and having the home crowd behind you can give you hope.  Now Croatia is not as technical as Spain, and won't have almost 1000 passes in the match, but rather just go straight at you trying to score. If Russia can withstand the force of the attack and find counter opportunities they can maybe sneak into the Semi-Finals.
Croatia: 
One player can change this game. Luka Modric. He has shined in moments in this World Cup, but to beat Russia he will need more than 1 moment. Croatia struggled against a defensive-minded team in Denmark. Against teams that were more focused on attacking, opening them up more, they have done well (Argentina and Nigeria). As noted above Russia will do everything to not lose this game. Croatia will have to beat them using imagination in the attacking third as Russia will play very deep and defensive. Hence the need for Luka Modric. He is the creator, and he is the imagination. Yes, Croatia is the favorite but unless Modric comes to dominate, this game is by no means automatic.
A tough choice in this one because I love an underdog. Let's do it! There were 3 games in the round of 16 that went to penalties and this one goes the distance as well. Russia pulls a stunner in penalties twice in a row 1-1 R(4) D(3).
Thank you for reading this World Cup Quarterfinal Preview. After these matches, a semi-final preview will follow.
Main Image: Embed from Getty Images