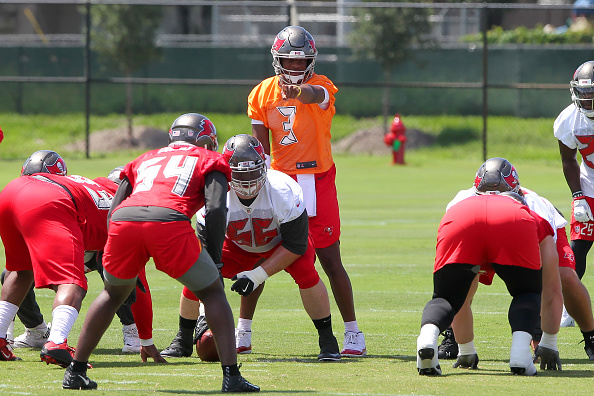 As many of us are anxiously awaiting the start of the 2018 football season, several LWOS writers including myself are going to be giving our predictions of the coming season. I will be covering the NFC south, I hope you enjoy, and feel more than free to debate or agree in the comments. Below is the Tampa Bay Buccaneers 2018 record prediction.
Tampa Bay Buccaneers 2018 record prediction: 6-10
Tampa Bay Buccaneers 2018 Record Prediction
Strengths
The Buccaneers have a healthy mixture of veterans and new players. Players with over ten years of experience with multiple coaching styles can be invaluable as teachers and leaders to less experienced but raw talented players.
They also have a decent schedule that could favor not exactly easy wins but games that should be containable if not won. The Cleveland Browns and New York Giants are playing nowhere near what they should, so they can be confidence builders for a team dealing with their own struggles.
Weaknesses
Well, let's start with the obvious. Their starting quarterback Jameis Winston is going to be on the sideline for the first three games of the season. As part of his self-healing and rehabilitation, he did not appeal his suspension and is still working to improve himself. As good as that is, he will have to watch and see what backup quarterback Ryan Fitzpatrick can do with a struggling team. The minimal play time he has gotten, combined with rookie running back Ronald Jones II, and wide receiver Justin Watson being so new, they may not be able to meld well enough to perform with the other veterans on the team to put up points.
It's possible that this puts them off to a 0-3 start. So far, head coach Dirk Koetter has had a debut 9-7 season and a disappointing 5-11 sophomore season. If Tampa Bay stays true to form and past patterns, Koetter should be nervous about losing his job. Depending on how much it gets to his head, it could affect how he plays his team. Tampa Bay fans can only hope the rush of emotions pushes him to make bold and winning moves.
MVP
If he was playing beginning in week one, I would say Jameis Winston. Instead, I am going to go with cornerback Brent Grimes. The strong veteran is entering his thirteenth-year thanks to signing a one year contract to stay with the team this off-season. With all of what the offense will be dealing with this season, the defense is going to need to step up and be a powerful force backing up whatever performance the offense does. Grimes's experience and strength can be a lead by example to the newer members of the team as well as his ability to seek the ball and stop the progress of the opposing team.
Ultimate Sleeper
My sleeper pick for the Bucs is rookie offensive tackle, Alex Cappa. I think the defense is going to be a big factor in how this team performs this season. Cappa can be a big force if he plays to his size and potential. With an established defense, hopefully, the offense can follow suit.
Reason Behind Prediction
If the Bucs had no suspension to deal with, I would have predicted 9-7. Because I think they have the raw talent to make the push for close games to end in their favor. Suspensions of key players sometimes not only affect the games that they are missing. Quite often they affect the mentality of the team as well. They haven't been playing with as much enthusiasm as they could. Therefore I believe the biggest test early on is going to be in week three when the Pittsburgh Steelers come to Tampa Bay in prime time. The Steelers are well known as a prime time team. If the Buccaneers want to be taken as a serious threat, they need to overcome this near impossible hurdle.
Main Photo:
Embed from Getty Images