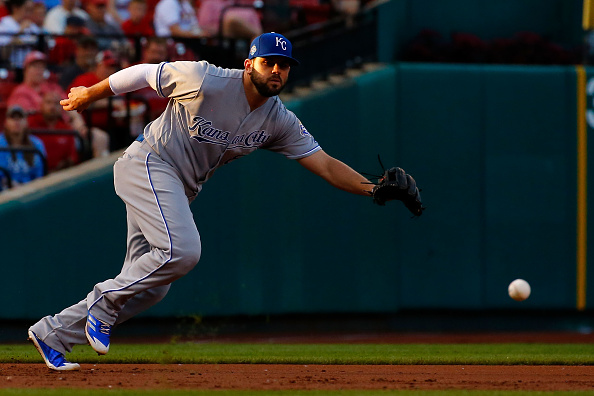 The Royals are in the midst of a complete rebuild. They are going to tear it completely down, and go young. RHP Kelvin Herrera was already dealt to the Nationals. Long-time fan favorite 3B Mike Moustakas is next. He resigned with KC this offseason, but he will not last there long. Here are some possible trade destinations for the Moose.
Philadelphia Phillies
The Phillies and Royals have had discussions about a possible Moustakas trade. Philadelphia is currently in second place in the NL East. They are a young team, and are just a couple pieces away. Moustakas would be a great pick up for them, he would have a field day in that bam-box. Thus far, Moose has hit 15 HR's with 49 RBI's with the Royals. Moose would also be a good veteran presence on the young Phillies team.
With this trade, the Phillies would be moving on from Maikel Franco for good. This makes me think he may be a part of a deal. Moustakas won't cost nearly as much as Orioles 3B Manny Machado. RHP Franklyn Kilome, 2B Daniel Brito, OF Roman Quinn, and LHP Kyle Young are some names to watch.
St. Louis Cardinals
The Cardinals showed interest in Moustakas during free agency. Ken Rosenthal of the Athletic recently said the team has renewed interest in the slugger. This doesn't really seem like the best fit for both. The Cardinals current 3B Matt Carpenter would move to first, forcing the hot bat of 1B Jose Martinez to the bench. St. Louis could also make a couple of moves to create some holes if they really want Moose.
Kansas City could look for a replacement to Lorenzo Cain in speedy CF Oscar Mercado. His game is very much like Cain, as he is a tremendous defender and has speed. Mercado has turned himself into a very nice prospect, and would certainly earn playing time in Kansas City.
Los Angeles Angels
The Angels will now be without 3B Zack Cozart for the rest of the 2018 season. If they want to go all in this year, they should acquire a new slugging third baseman. Luis Valbuena and his .217 batting average is not going to get the job done. Mike Trout needs some help around him in that lineup, he can only do so much by himself.
Cam Bedrosian could be an interesting piece for the Royals bullpen. 3B Taylor Ward could also be an immediate fill-in for Moustakas at the hot corner. Though the Angels system in rather weak, they have some interesting pieces that could catch the attention of the rebuilding Royals.
Main Photo: