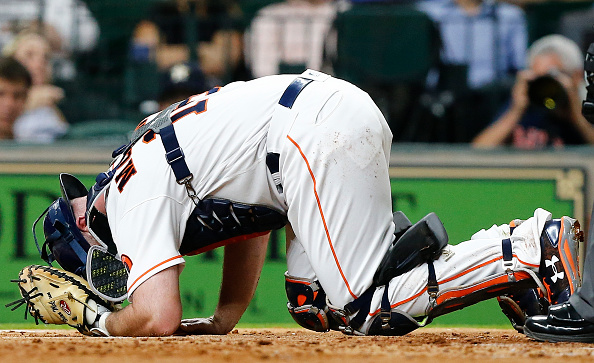 The Houston Astros placed catcher Brian McCann with right knee soreness. This is the second time in two months, and the third time since August 2017 the veteran is sidelined due to his knees. Ken Rosenthal of the Athletic says McCann will undergo surgery on that right knee, and will be sidelined at least 4-to-6 weeks.
The Current Solution
The Astros have recalled Tim Federowicz from Triple-A Fresno. Rosenthal says Federowicz will serve as the backup catcher for now. Federowicz has never stood out in the majors, but was enjoying a nice 2018 season in Fresno. In 38 games, he was hitting .328/.404/.560 with 6 home runs and 22 RBI's.
The club is high on Max Stassi, who for the time being will jump in as the regular back-stop. In 48 games this season, Stassi has a .255/.335/.482 slash line with 11 doubles, 7 home runs, and 22 RBI's. Last season in Fresno, he hit .266/.383/.473 with 12 home runs in 287 PA's. Stassi now has a clear path to playing time, so we will see if he stands out and can produce at the plate.
The Trade Route
Brian McCann is getting old, there is no denying that. As mentioned earlier, this is the third time since August 2017 that he is being placed on the disabled list. With a bum knee, McCann's days as a catcher may be behind him. With the trade deadline approaching, the Astros should consider adding a young and controllable catcher.
Realmuto the Astro
The perfect fit that comes to mind is Miami Marlins catcher J.T. Realmuto. Realmuto is just 27 years old and comes with a couple of years of control on his contract. The kid has very quickly developed himself into one of the top catchers in the game. Over 61 games, he is hitting .311/.366/.552 with 19 doubles, 11 home runs, and 36 RBI's. Behind the plate, he has thrown out base stealers at a clip of 41%.
The Marlins are obviously going to ask for an arm and a leg for such a young talent. Houston is going to have to at least consider giving up top prospects OF Kyle Tucker and RHP Forrest Whitley. For a young, controllable, and still developing talent like Realmuto I think it is certainly worth it.
Cheaper Trade Routes
Earlier in the season Houston said they would not be willing to trade Tucker or Whitley to the Marlins for Realmuto. Therefore, they may be looking at some cheaper trade routes. Some of the names to keep on eye on include Tampa Bay's Wilson Ramos, Oakland's Jonathan Lucroy, or Devin Mesoraco of the Mets amongst others.
Last Word
A catcher of Realmuto's caliber would obviously put the Astros over the top again. He would be a solid pickup both offensively and defensively behind the plate. I do think the Astros should wait and see what they have in Max Stassi over the next couple of weeks. Come July 31, if Stassi is not producing I think you need to pull the trigger. Realmuto is a team changing piece for the present, as well as the future.
Main Photo: