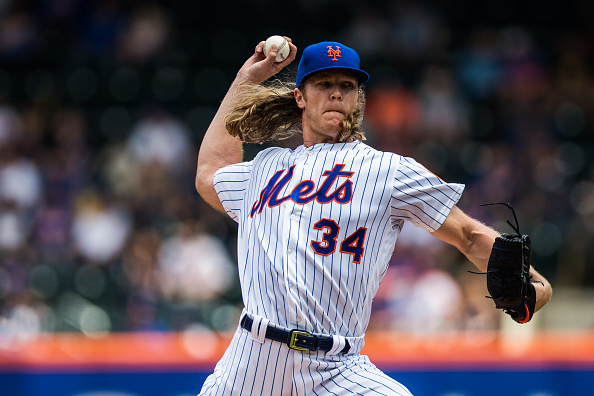 The Mets are in the midst of one of their worst stretches in franchise history. They have fallen completely from relevancy. A firesale at the trade deadline seems imminent. Upper management has mentioned that they make some BIG changes. These changes include selling SP Noah Syndergaard. When healthy, Syndergaard is one of the top pitchers in the game. Here are some possible trade destinations for the right-hander they call Thor.
San Diego Padres
The Padres are a team on the rise, but are in the midst of a rebuild. San Diego is a young and hungry team. This offseason they showed they were serious by going out and signing 1B Eric Hosmer. At the deadline, they should show that the aren't playing around by trading for Noah Syndergaard. Adding the big righty would add another young and controllable arm to their rotation.
San Diego has a ton of young talent in their farm system. In fact, they are ranked as the top system in baseball. A deal definitely could be had between the two parties. The Mets could look to acquire a pair of MLB ready middle infielders in SS Fernando Tatis Jr.and 2B/SS Luis Urias. Lastly New York could add a talented starter in RHP Anderson Espinoza or RHP Chris Paddack.
New York Yankees
The Mets and Yankees are perfect matches on a trade. The Mets need young and talented prospects, and the Yankees need starting pitching. Syndergaard would jump in as the ace ahead of Luis Severino in the Bronx. The big righty fills one big hold right i the middle of the Yankees rotation.
Although it may hurt for the Mets to hand the Yankees the young and controllable Syndergaard, the return will be worth it. The Mets should start negotiations at either 2B Gleybar Torres or 3B Miguel Andujar. Although, I do not think the Yankees would be willing to give up either. The Mets could expect a package including OF Estevan Florial, LHP Justus Sheffield, or RHP Chance Adams.
Chicago White Sox
The White Sox are in the midst of a rebuild themselves. They obviously are not going to make the playoffs this season. However, the ChiSox aren't that far off from being an exciting team. Picking up a controllable piece like Syndergaard isn't as crazy as it seems. Their rotation is young and developing, and Syndergaard would be a huge addition.
The White Sox have one of the best farm systems in baseball. As mentioned before, they have a ton of young talent. The Mets could look to add pitching such as RHP Dylan Cease or RHP Dande Dunning. Some bats the Mets could look at are C Zack Collins, 3B Jake Burger, or OF Luis Robert.
St. Louis Cardinals
Noah Syndergaard could go a long way in stabilizing the Cardinals rotation. Carlos Martinez has been shaky, and both Adam Wainwright and Michael Wacha are currently hurt. Adding Syndergaard would take a ton of pressure off of Martinez. Also Thor joining Martinez, Miles Mikolas, Jack Flaherty, and Luke Weaver would be strong.
Two names to keep an eye on are RHP Dakota Hudson and 2B Max Schrock. Obviously it would take a lot more than these two guys but that should be the starting point. Syndergaard is and ace, and is young and controllable. St. Louis may also look to spend more on offense as opposed to selling the farm on pitching.
Main Photo: