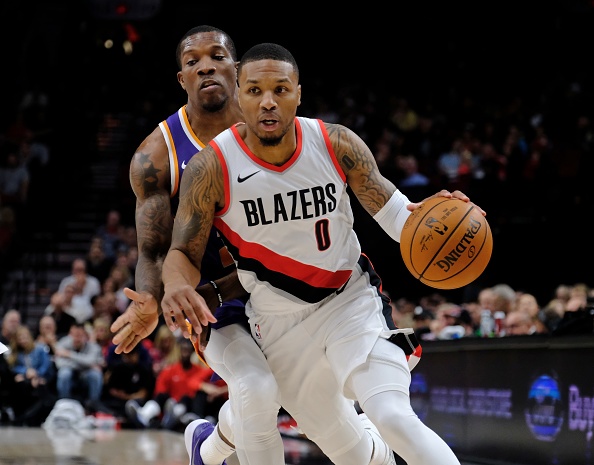 The 2017-18 NBA Northwestern Division gave us no shortage of storylines. Throughout the entire season, every team gave us an outstanding player that we at lwosports.com wants to recognize. Here are the 2017-18 Northwestern Division MVP's.
Northwestern Division MVP's
Portland Trail Blazers (49-33): PG Damien Lillard
The Portland Trail Blazers came out as the division winners, thanks to the play of point guard Damien Lillard. Lillard is one of the fastest, most complete point guards in the NBA and is a borderline tier one player at his position.
Lillard averaged almost 27 points per game, along with 4.5 assists, 6 rebounds and a steal. He hit 43.9% from the floor, including an impressive 36.1% from beyond the three point line. Lillard is the heart and soul of the Trail Blazers organization and will surely be for a long time to come.
The Thunder featured a "big three" on the floor in Russell Westbrook, Paul George and Carmelo Anthony that initially struggled but found its groove as the season went on. Russell Westbrook is the MVP on this squad. Westbrook is one of the best rebounding guards in the NBA as well as one of the best facilitators.
He averaged a triple double for the second consecutive season, averaging 25.4 points per game, 10.1 rebounds and 10.3 assists. He plays good defense too, almost getting two steals per game. Westbrook is a rare breed of NBA player, and we are blessed to witness him in our lifetimes.
Donovan Mitchell became a star player in the NBA almost overnight. A highly sought after player in the 2017 NBA Draft, Mitchell ended up falling to 13th overall where he was snagged by the Denver Nuggets. The Nuggets ended up trading him away that night to the Jazz for Tyler Lydon and Trey Lyles. I think Utah won that trade.
Mitchell is a speedster with a very large set of moves. He can attack the basket and still torch you from beyond the three point line. Mitchell averaged 20.5 points per game, along with 1.5 steals, 3.7 assists and 3.7 rebounds.
Its hard to turn a blind eye to a big fellow in this league, or anyone for that matter, that starts all 82 games during the regular season. Karl-Anthony Towns is one of those players. Towns is lethal near the bucket, but as a big man has a surprising ability to knock himself down some threes. He's a solid defender and was first team All-NBA.
KAT, as most people call him, finished second on the team in points per game. Collecting 21.3 points and 12.3 rebounds per game, Towns was very difficult to defend. He shot 54.5% from the floor including an impressive 42.1% from deep.
Denver Nuggets (46-36): C Nikola Jocic
Nikola Jocic came on as a budding star in the 2016-17 season. He started getting more minutes, scoring more points and people's heads started turning. He's a big man who has a very unique but deadly shot, and is more then effective from range.
Jocic averaged a double-double for the first time in his career, averaging 18.5 points per game and 10.7 rebounds. He shot 50% from the floor and a very impressive 85% at the free throw line. Jocic is a budding star who will be an all-star in the near future.
Main Image:Embed from Getty Images