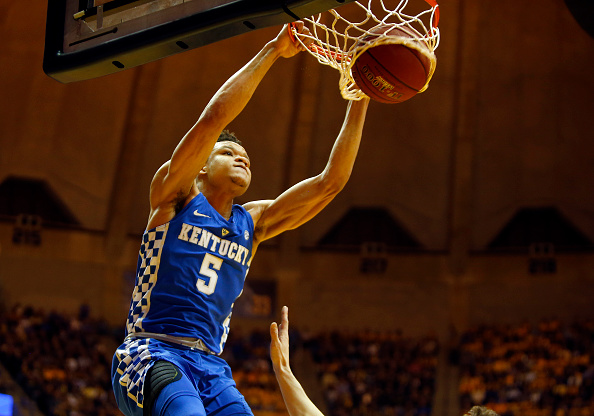 The New York Knicks are going through a rebuilding process with their young core and new front office. The Knicks hired a new head coach in David Fizdale who is highly respected around the league and is known as one of the best player development coaches. The New York Knicks have young core centered around Kristaps Porzingis and Frank Ntilikina. The first big step in their rebuild and for their future was the NBA Draft. I will be breaking down the Knicks selections and their undrafted free agent signings in this article.
New York Knicks Draft Review
#9 Overall Pick – SF Kevin Knox – Kentucky
Kevin Knox is one of the youngest players in this draft class at 18 years of age. Knox played his only college season at Kentucky University for head coach John Calipari. He is a dynamic offensive player for his age and lead Kentucky in scoring last season. Knox will have to improve on his defense but at the next level and with his growth will help him especially under David Fizdale and the coaching staff.
The Knicks will have a year to let their young guys adapt to the NBA and work on their games and their bodies. Knox has received high praise from scouts, head coaches, and front office officials in the NBA. David Fizdale has nothing but high praise for  Knox and will let him fight for the starting forward position in training camp. The only way you're going to get better is to play and fight through the ups and the downs in a season. Knox should get a ton of playing time in his first season with the Knicks which should help him out in the long run for himself and for the franchise.
Kevin Knox learned a whole lot from playing at Kentucky through practices, the SEC conference, and the NCAA tournament. Knox has huge upside and a ton of potential and has a chip on his shoulder coming to New York and being selected ninth overall and getting booed when he was selected.
Pro Player Comparison: Tobias Harris or Paul George
36th Overall Pick – C Mitchell Robinson – Western Kentucky
Mitchell Robinson is the biggest sleeper in this years draft class according to scouts. Robinson is a 7'0" 223 lb center with a 7'3" wingspan. Mitchell committed to playing for Western Kentucky last season but after two weeks of being in school he left WKU. Robinson ended up not playing college basketball at all last season but instead he worked on his body and his game all year long for the NBA Draft.
Coming out of high school Robinson was a top recruit and was on the same level as DeAndre Ayton, Marvin Bagley, and Mohamed Bamba. Robinson is going to need a lot of work and a ton of people in his ear and pushing him in the right direction. He hasn't played a high level of basketball in over a year due to sitting out last season.
Robinson does have a ton of upside and could be the steal of the draft if he is willing to put in the work and push himself everyday. I would imagine that Robinson will start the year in the G-league to get back into the basketball style and playing five on five. Robinson should see some NBA action late in the season to get a feel for things and to see where he is after a season. Mitchell is going to be a process and might take two to three years to reach his potential but at his age and with his upside it will be worth the wait.
Pro Player Comparison: Clint Capela
Undrafted Free Agent Signing – SG Allonzo Trier – Arizona
Allonzo Trier is a shooting guard out of Arizona University standing at 6'5". Trier was a dynamic offensive player in college for his 3 years at Arizona. He improved his points per game each of his 3 seasons at Arizona. Trier will have to work on his defense at the next level. Allonzo will most likely be a role player in the league and be a dynamic player of the bench for a team if he can work on his defense and play team ball.
Trier will get the chance to play on the Knicks summer league team and possibly with an invite to training camp. He should earn his way by competing at a high level and could be a very nice bench piece for the New York Knicks. Trier was projected to be a late first round to early second round pick in the draft but ended up going undrafted which could be a blessing in disguise for the New York Knicks.
Pro Player Comparison: Courtney Lee or Rodney Stuckey
Main Image: Embed from Getty Images