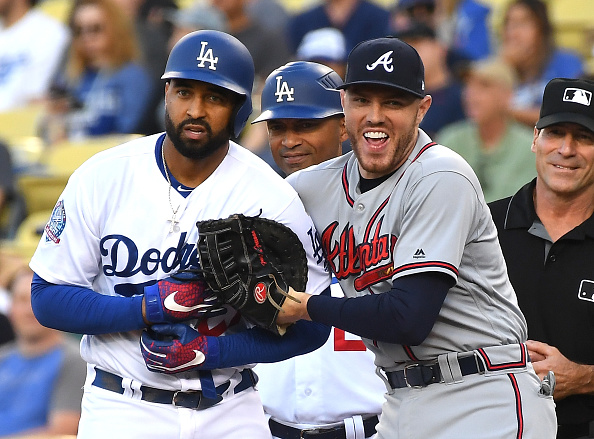 Major League Baseball released their first National League Ballot update for the 2018 All-Star game on Monday. Voting opened earlier this month, and this is how it looks through the first update.
The Hot-lanta Braves
The Braves are one of the best stories in baseball, and they have three of the eight potential starters thus far. Rookie second baseman Ozzie Albies is enjoying a tremendous season, and the fans have obviously taken notice. Freeman is putting up MVP-type numbers and is the highest vote getter in the National League. With his breakout 2018, veteran Nick Markakis has the second most votes amongst outfielders. Rookie Ronald Acuna Jr and defensive wizard Ender Inciarte are not far off from the top.
Bay Area Boys
Giants SS Brandon Crawford is enjoying a nice comfortable lead over Dansby Swanson. Crawford is hitting a stellar .338 and is slugging 536, which is the best among NL shortstops. Catcher Buster Posey is on his way to starting his fourth consecutive All-Star game for the NL, although Willson Contreras and Kurt Suzuki will keep it interesting. Despite injuries, Brandon Belt is third at 1B and Joe Panik is fifth at 2B.
Outfield Race
The race to the starting spots in the outfield will be interesting to watch. Bryce Harper and Markakis are up top comfortably, and rightfully so. The third spot is where it will be interesting. Matt Kemp currently has a slight lead over Charlie Blackmon. Not far behind the both of them, are two more Braves in Acuna and Inciarte. There are a ton of deserving All-Star starting outfielders in the NL. This will certainly be a position to keep an eye on in the voting.
Main Photo: