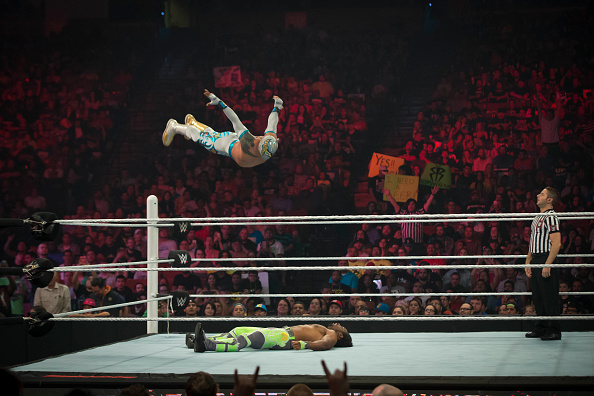 Just a couple of months ago, WWE RAW celebrated twenty-five years worth of shows. Every Monday these talented entertainers push their bodies to the limit to entertain us. And we watch for all these years, Monday Night Raw is the longest running weekly show on the air, ever, and is still going. What makes us keep tuning in? Let's take a look.
ELEMENTS OF SURPRISE
Non WWE fan friend. "Why do you bother watching, don't you know it's all fake."
WWE fan. "UGH." The word fake is not a word that describes the WWE. Do the shows go by a script? Yes, but that doesn't mean fake in the eyes of fans. The real factor is the blood, sweat and tears that these men and women put into their profession. Even though there is a storyline, in spite of all of the rumors on the internet, fans love surprises. Be they in the appearance of a wrestler who has returned from injury. A turn in loyalties helping or hindering someone unexpected. The element is there and it is a huge draw to see what happens next. Is the person you like going to win, or are you going to scream at your tv because your guy just got betrayed. Both are just as appealing and bring you back to see what happens next week.
VETERANS AS WELL AS NEW STARS
Logically, a career of doing weekly shows on RAW, plus pay per view shows as well as many other appearances is going to take a toll on ones body. That being said, a large number of veteran wrestlers are still actively wrestling. Others are behind the scenes helping train newer talent or guiding story lines. Some of these veterans make appearances and change a story line without ever competing.
Currently former Olympic gold medalist Kurt Angle is the RAW general manager. This means not only does he guide the show, narrating it along, but also when the story line calls for it, he will also suit up and compete. At Wrestlemania he tag team partnered with new comer to the WWE Rhonda Rousey, to great audience approval. Proving yet again, veterans not only can still cut it in the ring, but they are much loved by the audience still.
LIVE EVENTS
If you haven't, you really need to. Going to a live RAW event, much like any other sporting event is just special. There is a thrill that you can't get in front of the tv. There is an excitement you get from being in a huge crowd of like-minded people enjoying a night out after working hard on a Monday and wanting to release some energy. Also, few things bring out the little kid in all of us. I recently took my two adult children to an event and we had a blast. There are few things as enjoying as looking at your daughter and see her eyes light up like a three year olds because her favorite wrestler not only just entered the arena thirty feet in front of her. But also won the United States Championship, you can't put money on that kind of happiness.
BOTTOM LINE
Many of the bottom lines are said by Stone Cold Steve Austin, however all line stealing aside. This is a show that has endured slow ratings and scandals and wars with competitors to remain a staple every Monday night. It is like a huge group of big strong friends that come over once a week to hang out with you. Add in smackdown and all other shows and you have a plethora of entertainment to enjoy. Think of it as a big violent soap opera, with love interests, plot twists, betrayal. Everything that makes it fun and sometimes quite surprising. If you haven't watched lately, tune in, you will be pleasantly surprised.
Main Image Credit: Embed from Getty Images