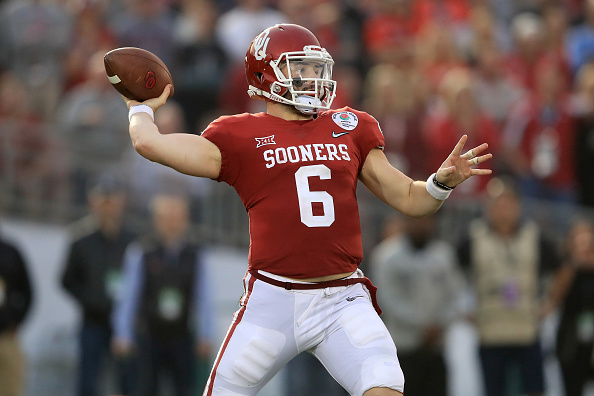 There are a lot of people who hate Baker Mayfield. Call him what you would like. Cocky, undisciplined, product of a system, infatuated with himself. Then, there are people like me who respect the hell out of him and want to see him succeed on the next level. Every turn in his career, people have tried to tear him down, yet still he rises. He pushes to the next level and makes something out of nothing.
Baker Mayfield is a polarizing figure entering the professional sports arena in 2018. You either love the guy or you hate him. There is no in between. In a rich class of quarterbacks, this could be problematic toward his draft stock.
Or so you would think. Here we are, on Draft Day, with rumors coming out about the possibility of Mayfield being selected first overall in the NFL Draft. First overall. Just five months ago, when he held the Heisman Trophy for the first time, analysts were saying his game wouldn't translate to the NFL.
The question must be answered. Is he worthy of the number one overall pick?
Is Baker Mayfield worthy of the first overall pick?
On the field skills
If you are comparing this class of quarterbacks to one another, one can argue that Baker Mayfield is the most talented out of all the quarterbacks. That's a class that includes Sam Darnold, Josh Rosen, and Josh Allen. On the field, there is no doubt that Baker is a special player. He was the most efficient passer in college football for the last two seasons and broke accuracy records for completion percentage. He threw 119 touchdowns and just 21 interceptions in his three years as an Oklahoma starter and placed top five in every Heisman voting list while at Oklahoma.
When it comes to alluding pressure, Mayfield is very elusive and crafty. He finds ways out of jams, and turns negatives into positive gains. He just may be craftier then most any quarterback in the NFL.
So he has pretty much everything that an NFL scout is looking for in a quarterback. Good, durable arm with decent athleticism and that special "it" factor. So, if he is the real deal on the field, then why don't people think that he should be the number one overall choice?
Police run in
Baker Mayfield has run into some issues off of the field, drawing himself some Johnny Manziel comparisons. In April of 2017, a police video surfaced of Mayfield attempting to run from the police, before being tackled and slammed into a brick wall. He was charged with public intoxication, disturbing the peace, disorderly conduct and resisting arrest. Mayfield pleaded guilty to the first three charges and the court dropped the resisting arrest.
Is this a "red-flag?" To some, it is clearly a red-flag and a reason to move from him. However, I believe there is a little more to this story. What college aged student hasn't left his room drunk and made some noise while he was outside? If this was a recurring incident, then I can personally understand the concern. However, it is a one time incident, in which he apologized for, and hasn't done any such thing since. Was it stupid? Yes. Did he own up to his mistake, take responsibility and make amends? I believe so.
Ohio State "incident"
The next "personality issue" that comes up on Baker Mayfield is when he posted the Oklahoma University flag on the 50 yard line at the Ohio State Buckeyes Memorial Stadium. The Sooners had just upset the second ranked team in the nation and were rejoicing and celebrating their big win.
Is this a personality issue? No. Why would it be? Perhaps people don't understand why he did it, and there is a reason for it. It wasn't him trying to be a stupid college kid. The year before, Ohio State visited Oklahoma and beat them pretty soundly. At the end of the game, Ohio State Buckeyes players lined up on the sideline facing the Oklahoma season ticket holders and sang the Ohio State fight song. Is that personality issues for the rest of the Ohio State squad? No, of course not. That event cause a little animosity towards the Buckeyes that Mayfield and his team reserved for the next season.
The Crotch Grab against Kansas
Against the Kansas Jayhawks in Oklahoma's tenth game of the season, Mayfield was seen on national television grabbing his crotch and screaming vulgarities at Kansas players about midway through the third quarter. This sparked national outrage, and Baker apologized. Again, this behavior isn't unwarranted.
At the coin toss, Mayfield extended his hand, in sportsmanship, to shake the Kansas captains hands. The refused to shake hands. Mayfield used it as motivation for the remainder of the game. Throughout the game, Kansas took dirty, cheap shots at him that on four or five different instances should have been called for penalties.
When Oklahoma went up 28-3, Baker got into it with some of the Kansas players after scoring his fourth touchdown of the day. Next thing we knew, he was grabbing his crotch.
Was what he did wrong? Yes. Baker has acknowledged that and taken responsibility for it. These incidents aren't reoccurring episodes. If they were, that would be a different story. That's why Manziel was universally hated when coming out of school.
What Baker does have
Baker isn't a problem child. He's a charismatic leader with the love of the game unlike most any other. He knows football. His football IQ is known to be the best in this class of quarterbacks. He's a grinder, a two time walk on at two different FBS schools. He work harder then almost any other player. So is he worthy of the number one spot?
Make that decision for yourself. After all, that's why this is a public event. We can make these decisions ourselves. In my opinion, yes, he is very worthy of this pick. Someday, I think we will look at Baker Mayfield as one of the best quarterbacks in this league. His teammates are going to love playing with him. Just you wait, it'll be exciting to see.
Main Image Credit: Embed from Getty Images