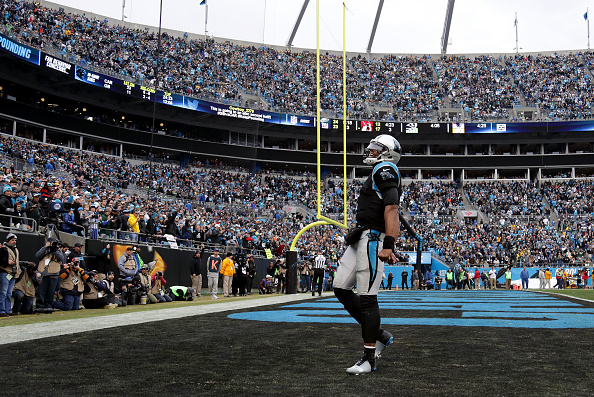 In need of a new owner
It's no secret that the Carolina Panthers have been searching for their new owner this off-season. A search of 33 from December of last year, is now down to Alan Kestenbaum and Ben Navarro. Although we're still over a month out from finding out who the new owner will be, let's grade the Carolina Panthers moves so far.
Carolina Panthers Pre-Draft Grade
Defense Grade: C-
On March 16, the Panthers signed defensive tackle Dontari Poe to a three-year contract. The former Kansas City Chief and Atlanta Falcon claimed 15.5 sacks over his career and is as quick as they come. He's a good addition to Carolina's line and helps to fill the void that Star Lotulelei left. Poe will fit in nicely with their defense.
Carolina reported that they signed cornerback Ross Cockrell and safety Da'Norris Searcy two-year deals, according to the team website. Both guys were originally drafted by the Buffalo Bills and both played college football in North Carolina (one at Duke, the other at UNC). The big question for both of them is can they be dominant in the Panthers' secondary? Although Carolina has been known for its top-10 defense over a few seasons, the secondary has been a weakness that they have yet to rectify.
Rest of the Defense
One of the positions the Panthers seemed to be set in was the linebacker. That was the case until the league came down with the punishment against Thomas Davis that will place him on suspension the first four games of the regular season. His apology, though sincere, doesn't stop him from being suspended or change his four-game suspension.
Trading Star Lotulelei wasn't the worst thing the Panthers did, considering they signed Poe, but now having lost Davis, the team needs "star" power up front which they don't have right now. Maybe they can get someone in the draft, like a Duke Ejiofor, someone who has a lot of potential and total sleeper that we can get for cheap. Sporting News said though Ejiofor lacks consistent play he has potential to play at a high level.
Offense Grade: B+
Arguably the biggest story to come out of Carolina so far this off-season is the signing of Torrey Smith. He was acquired by the Philadelphia Eagles for the 2017-18 season to be one of their go-to guys. His 430 yards were a lot for the team he was on, and he made crucial catches. Coming to a team like Carolina, he can make a case for being number two.
One could argue that Smith hasn't had the most lucrative career but that could all change in Carolina. With this new system, a new quarterback and no other potential number two receivers, this would be the perfect place for him.
If he doesn't pan out, the Panthers have signed Damiere Byrd to a restructured contract for the next year. Also, picking up Jarius Wright gives them another player to depend on at third downs. After all, he is known as Mr. Third Down.
Offensive Line
There is plenty for the Panthers to do on their offensive line. They got rid of Andrew Norwell who may not have been an elite offensive lineman but did a solid job his short career with Carolina. Now is definitely the time for them to get someone in the draft. There should still be plenty of guys left in the second round.
Last word
The Panthers have made plenty of moves without even naming their owner. There will be plenty more in the coming days. Let's see if they can improve.
Main Photo: