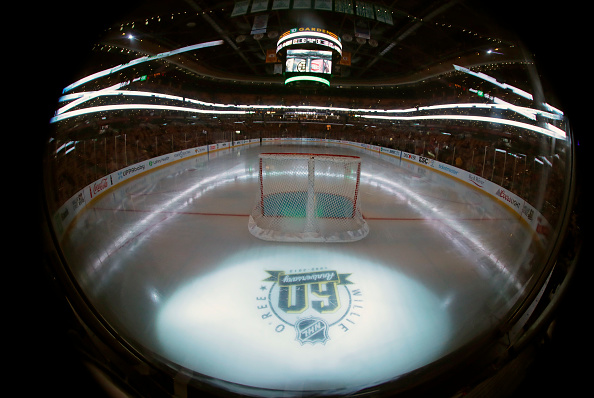 5 Reasons The Boston Bruins Should Stand Pat at the Trade Deadline
With the NHL trade deadline approaching – on February 26 – there are several reasons why Bruins fans, or Sweeney-wannabes, want a Bruins trade deadline splash. It has been 47 Days… YES, you are reading that correctly. In case you didn't, it's been FORTY SEVEN DAYS…since the Boston Bruins have lost in regulation. The last regulation loss they suffered was (of course..) to the Washington Capitals back on December 14, 2017.
Yes, again, you read that correctly…they haven't lost in regulation this year yet. In that span, the Bruins are 14-0-4. What's even more impressive is that before this run, they won 9 out of their last 11 games. Yes, that's a total of 23-2-4, the best record in that span. With all signs pointing in the right direction, would you really want to make a move at the deadline?
1. The (healthy) Bruins Are Much Better Than You Think…
Before this unbelievable run the Bruins are currently on, there was a lot of panic in Boston. The B's sported a mere 4-3-3 record in October and a 7-5-1 record in November. November's record looks a lot better than it seems with the 4-1-1 last half of the month (when Tuukka Rask and the team really stepped it up). In summary, the Bruins were an abysmal 7-7-3 at one point.
What a lot of people have failed to realize is that the Bruins didn't have a healthy lineup until halfway through November. Imagine how good their record would be with a healthy lineup and a hot Tuukka Rask? Scary thought. In all honesty, the Bruins don't necessarily need any help to contend for a cup. They are already there according to their success thus far. If they do run into the injury bug once again at some point, the rookies in the system (Danton Heinen, Anders Bjork, Jake Debrusk, Matt Grzelcyk, etc.) have proven that they can still put up a fight.
2. The Incredible Farm System…Brought to You by Donnie Sweenius
At the beginning of the Don Sweeney era, there were some questionable moves made. The Bruins missed the playoffs twice in a row. Last season, they ran into an unfortunate series of injuries to get eliminated by Ottawa in six games. If the Bruins were healthy against Ottawa for the entire series, considering Ottawa took the Penguins (2017 Stanley Cup Champions) to a Game 7, they could've contended for the Stanley Cup last year. With that being said, there is a method to the madness. We all know the saying "go big or go home" right? Well Don Sweeney did not choose to go big during the 2017 offseason, but rather decided to add a few depth players that could be available if said injury bug hit them again.
Fast-forward to the 2018 season, the same injury bug decided to present itself yet again. Bruins. Well, 'what do ya know!' the Bruins were ready for it this time. Sweeney added depth during the offseason (Kenny Agostino, Jordan Szwarz, and Paul Postma) and had rookies ready to get their feet wet in the bigs. All this time, Sweeney has been stock-piling prospects and now has arguably the deepest pool in the NHL. Take a look at how deep this list is:
Urho Vaakanainen

Alex Khoklachev

Oskar Steen

Trent Frederic

Ryan Lindgren

Ryan Donato

Dan Vladar

Ryan Fitzgerald

Jeremy Lauzon

Jakub Zboril

Emil Johansson

Zach Senyshyn

Jesse Gabrielle

Jack Studnicka

Victor Berglund

Joona Koppanen
As impressive as this list is, not all of these players will perform in the NHL. That being said, Don should NOT make any deals this deadline. Why would the Bruins want to incur more unnecessary cap when they already have a team that is contending for the President's Trophy AND a prospect pool this deep? Sweeney should let these players develop and eventually make a decision on them later, rather than dealing a few for a rental that won't be around long. The culture in the Boston Bruins organization is obviously working, there's no reason to add some other ego to the mix at this juncture.
3. If It Ain't Broke, Don't Fix It
As it stands, the Bruins have been doing quite well, so why would they even need to make a significant move at the deadline? There have been rumors that the Bruins are looking for a top-six winger or left-handed defenseman at the deadline. The obvious choices for the top-six wingers would be someone like Evander Kane, Wayne Simmonds, Matt Hoffman, or Thomas Vanek. In the left-handed defenseman department, there are Oliver Ekman-Larsson and Ryan McDonagh. If the Bruins were to inquire on any of these players, the asking price would be too substantial for the deals to even make sense. Why take 3 or 4 prospects mentioned above, and get rid of them for a rental player?
Obviously, the answer is "only an idiot or very desperate GM". The Bruins are already playing great with the lineup they have been putting on the ice. There is no need for extra help at this point. If Don Sweeney was to make a deal for a player who has some term left (like OEL or McDonagh), it takes away cap space for signing other important prospects such as Brandon Carlo or Charlie McAvoy down the road. Therefore, it doesn't make sense to add any other veterans on a rental or in general.
The only deal that would make sense in my mind is a Ryan Spooner for top-six winger deal, since he is on a contract year and is going to ask for much more money next year. With that being said, Spoons has been playing well alongside Debrusk and David Krejci, so again why mess with what is working?
Current Top Line
Speaking of already working, if you haven't been able to watch Boston's first line (Brad Marchand, Patrice Bergeron, and David Pastrnak) play yet, it should be made a priority. They have shown that they are a force to be reckoned with and one of the best lines, if not THE, in the NHL. All three players have over 20 goals and are all in the top 50 in points in the league. Also, they have only allowed TWO even strength goals this entire season. TWO. So not only are they producing offensively, they also defend their own end as well. Give Bergeron the Selke already.
4. Culture Shock
The Boston Bruins organization right now is at a perfect balance of veterans to younger players. If you look at both the NHL and AHL clubs, both are balanced throughout with both. For example, the top two lines of the NHL club consists of Bergeron (32 years old), Krejci (31), Marchand (29), Spooner (26), Pastrnak & DeBrusk (both 21). So as you can see, its a very spread out and balanced variety. This allows the younger guys to learn through experience as they play alongside the guidance of the veterans. In the AHL, you have players like Matt Beleskey (29) playing with younger guys like Jakob Forsbacka Karlsson (21) teaching them the ropes and getting them accustomed to the Boston Bruins Way.
If Sweeney were to add another veteran to the mix from outside of the organization, it would possibly throw off the chemistry just enough to spark a downward trend. This can show when guys with big egos such as Evander Kane come into town expecting to be the star of the show rather than buy into a system.
A guy like that can cost you games with dumb penalties, and unfortunately for Mr. Kane the Bruins have a player in that role already in Brad Marchand. The difference is that Marchand has bought into the system and this particular Boston Bruins team and has put his ego behind him for the most part. It is obvious that the culture in Boston in special though, especially when you have alumni such as Marc Savard still going strong and supporting the team after retirement. Check out his tweets if you get a chance, Savvy is a legend @msavvy91.
5. Playoff Experience for the Younglings
Finally, as already mentioned, the Bruins have all of these young guys ready for or already in the NHL. Doesn't it make sense for them to get playoff experience while they can? Playoff experience is something that doesn't just grow on trees. Young players with playoff experience are among some of the most valuable players in this league. They only way a young player will get playoff experience is by throwing them into the fire.
The Bruins are in a marvelous position where they have the ability to interchange young players in the lineup when they arrive at playoff time if they aren't playing well or showing too many nerves. Pastrnak was one of those players who showed nerves last year, but now that he has that experience under his belt he will be more than prepared for this year's postseason. Guys like Debrusk, Heinen, McAvoy, Carlo, etc. are going to be able to learn no matter what the outcome is this year, which is going to make the Bruins a force to be reckoned with for the foreseeable future.
That being said, why would Don Sweeney even think about making a move and making one of those opportunistic roster slots disappear in the postseason for a very deserving group of Bruin youngsters? It doesn't make a bit of sense. Sure, you want to win, and adding a piece at the deadline could help ensure further success on paper, but nothing is more valuable than having the ability to grow from within, which is what this organization is doing and will continue to do. It is going to be a wild postseason this year, and it looks like all signs point upward for this team.
Main Photo: