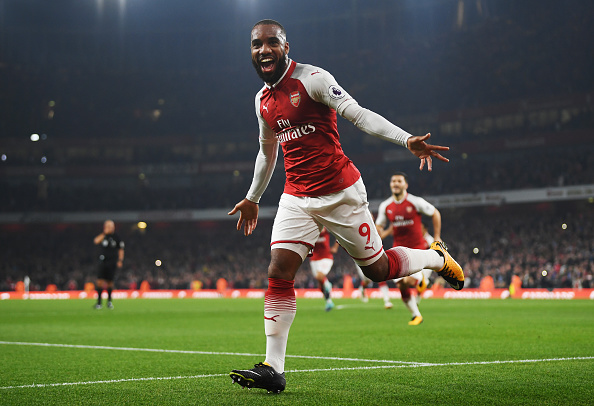 Now that the Transfer Deadline is four weeks in the rear-view mirror, and new signings have had some impact on their new clubs, we look at the best Premier League signings of the summer.
Top 5 Premier League Signings This Season
Alexandre Lacazette, one of Arsenal's costliest ever signings at £52 million, hit the ground running in the clubs' tumultuous 4-3 winning opener against Leicester.
Scoring just two minutes in with his first touch, he gave the delighted Emirates a glimpse of the quality befitting his price. Much to the relief of the beleaguered Arsenal Wenger, has shown no signs of slowing since his grand entrance.
Is Arsenals' new striker  'Henry the 2nd'?
With an impressive double in a crucial home tie with West Bromwich Albion, taking his tally to four goals in five games, he is so far looking more like the high calibre striker the North Londoners have been arguably vying for.
Not since the days of Robin Van Persie and Thierry Henry, have they had a killer striker. More importantly though, he has helped hoist them to 7th in the table and just one point behind their North London neighbours.
This has at least led to a ceasefire in the Wenger in/out battle, still rumbling amongst the title hungry fans. Fans, and probably owners, won't be content until their Champions League status at the very least, has been re-instated.
He has also perhaps served as a subliminal warning to controversial Alexis Sanchez. Unpopular in the dressing room following his failed move and attitude, that no player is irreplaceable. The same could be said for unhappy German international Mezut Ozil, rumoured first of a move to Fenerbache, and recently Barcelona.
The Man Who Would be King?
Davinson Sanchez signed to Spurs from Ajax for £42 million. He has landed on two very safe feet since his debut for the North London.
In his first game, at notoriously hostile Goodison Park, he helped guide them to a thrilling win over the Toffees. In his subsequent appearances, he has put strong fresh mortar between the bricks of a defensive wall. It was a wall that had shown signs of becoming unsteady, following the exit of Kyle Walker, and the demise of disgruntled and injured Danny Rose.
Daniel Levy is once again showing how deftly to handle a transfer window, and a late spend. No strangers to misfit signings, Spurs fans have marvelled at 21-year-old Sanchez, who looks like he's never played elsewhere. Effortlessly slotting in, with total confidence though whilst protected from either side, he aggressively played the ball, unperturbed by the newness of the Premier League.
In each performance has been faultless for the North London side. In this weeks Champions League 3-0 win over Cypriot team Apoel, without seven key players, he took charge and excelled. Spurs are now at the top of their group.
Following a debut so impressive and confident, perhaps a little prematurely, the ever critical fans are already hailing him the new 'Ledley King.' An honour bestowed on no one since the legend retired. Not since Toby Alderwierelds' similar faultless and solid integration into the side, have they felt such a confidence so quickly
Wherefore art thou been, Romelu?
Romelu Lukuaku also quickly justified his whopping £75 million transfer fee fitting seamlessly into the Manchester United side.
Since signing from Everton in July he is already looking like money well spent. Scoring twice in his debut in an impressive four-goal win over West Ham, and again on his first Champions League showing, he helped Mourinho's side get their campaign off to a flier.
Now with six goals in as many games, he will challenge for the golden boot, that was stolen from him last season by Spurs' Harry Kane. This was precisely the kind of fixture in which United laboured last season. Sometimes winning narrowly, more often drawing.
With Nemanja Matic, Paul Pogba and Zlatan Ibramovich at hand, United now have firepower. It could be a chance to return to their former dominance, non existent since the departure of Sir Alex Ferguson.
Jose Mourinho has of course hailed his new striker. He will no doubt relish in the fact that ex-employers Chelsea failed to secure the return of Lukaku, and United did. Even if it cost them £70 million plus multiple add ons.
Was signing Morata Costa-ffective?
Alvaro Morata has similarly impressed the demanding Chelsea fans. Scoring six goals in six games, since his £60 million move from Real Madrid, to the delight of excitable Antonio Conte. It also has helped put an end to any pining there may have been after the exit of brilliant, but bad boy Diego Costa. Arguably a very clever transfer.
He shone in his very first game in Chelseas' shock 3-2 defeat to Burnley.  Morata had a hand in both of the home sides' goals, winning him instant praise from his boss.
His goal and assist in his second game Stamford Bridge was a repeat of his first. Making Premier League history, he became the first player to score and assist in his first two home games.
His most recent hattrick in the 4-0 battering given to Stoke, showed the sort of calibre that has no doubt helped the titleholders keep one hand on their prize.
Spurs are showing similar form to last year. Manchester United rejuvenating, and Arsenal are improving. With City too giving a strong early showcase, Chelsea's road to he title would not be as traffic free as last season. Morata may just be the player that helps West Londoners to their second successsive title.
Bargain signing? Javi -yeah!
Javier Hernandez the 29-year-old Mexican international, is of the seasons' surprise signings. Despite interest from the bigger names, he chose the Hammers. So far he has been the shining light in a dark start again for the East London side, and is so far probably bargain of the season.
For a mere £16 million, the Hammers have bought a guarantee of goals. Despite currently languishing in the drop zones' 17th spot, they still have time to pull it back. That, at least, should give Slaven Bilic some comfort, with other new acquisitions including Pablo Zabaleta from Manchester City, whilst not failing, haven't excelled. With 13 shots already going past him, on loan England keeper Joe Hart, whilst not the sole cause, he is equal bottom of the goalkeeper league.
Somewhat creating his own pressure, Bilic boasted that he now has all the necessary tools needed to improve West Ham's position.
The damning evidence of the early 4-0 drubbing from United, and an embittered home 3-2 loss to arch enemy Spurs, has left little room for Bilic excuses.
Again Bilic and the Hammers are failing to challenge for at the very least, a Europa league place. Justification of their London Stadium 'gift' and transfer spend, may yet cause headaches for the East London Club.
Soild and strong, with expertise gained by successful terms with Real Madrid, and Man. Utd. ,Hernandez, or 'Chicarito' (meaning 'little pea') cannot alone save the West Ham side.
Main Photo:
Embed from Getty Images