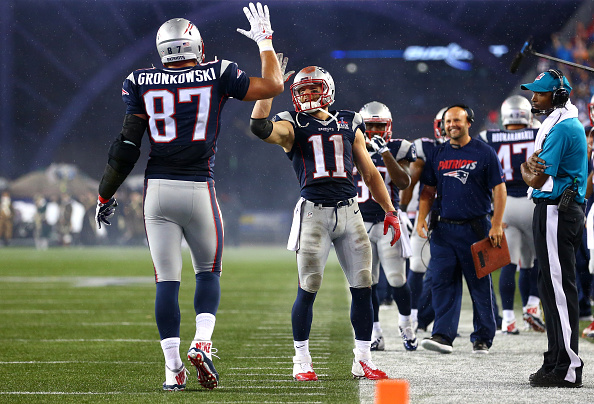 Top Four Receiving Corps in the NFL
4. Tampa Bay Buccaneers: Key contributors: Mike Evans, Desean Jackson, OJ Howard, Cameron Brate
The Bucs have been in the cellar of the league for a while now, a big part of that being contributed to their poor offensive play. Tampa's most productive wideouts in 2013 were Vincent Jackson, who was recently released by the team, and tight end Tim Wright, who is not currently on an NFL roster. With glaring needs on the perimeter, Tampa had to make this a priority, which they did.
They drafted Texas A&M product Mike Evans to be their next superstar receiver in 2014, and recently brought in Desean Jackson and O.J. Howard via free agency and the draft.
Evans was on his way to a productive career before really breaking out this past season. He led the league in targets and was top five in both touchdowns and yards and sixth in receptions.
Jackson is the ultimate wild card of receivers, a deep threat who will make defenders pay for lazy coverage.
Howard was a serious weapon with Nick Saban at Alabama and he brings his skill set to Florida after the Bucs selected him with 18th overall pick in this year's draft.
And then there is Brate. An undrafted free agent out of Harvard, Brate made Tampa Bay's roster before getting cut and spending one week of the 2015 season on the Saints' practice squad before Tampa picked him up again. This past season and he proved himself to be a big reliable target over the middle for Winston, finishing with 660 yards and eight touchdowns.
The combination of Brate and Howard is terrifying for opposing defenses and then they have to worry about speedy Jackson and Evans. The Bucs have created a great receiving corps that could lead the to the playoffs in the coming years.
3. Green Bay Packers: Key contributors: Jordy Nelson, Randall Cobb, Davante Adams, Martellus Bennett
While Green Bay benefits from one of the best quarterbacks in the game, their receiving corps is dangerously underrated by most.
Jordy Nelson, when healthy, is a game-changer. He is Rodgers' favorite target and finished 2016 with over 1200 yards and 14 touchdowns off of 97 catches. Nelson excels with little space around him, very efficient in the red zone.
Cobb had a down 2016 season, but he is still a great slot weapon to have. He is effective when he gets into space, having run a 4.46 40-yard-dash at the combine in 2011.
Adams really came up big in the absence of Nelson in 2015 when he was out of the season. Adams stepped up and was strong again this season, coming up just three yards short of the 1000-mark and scoring 12 touchdowns.
The one thing the Packers could not get out of their passing game was consistent tight end play. That changed when the went out and signed former Chicago Bear and New England Patriot Martellus Bennett to a three-year contract. Bennett is a big tight end, standing at 6'6. As a Bear, Bennett enjoyed his best season in 2014, going for over 900 yards and six scores. He was a very formidable replacement for Rob Gronkowski when he went out near the end of the regular season and should be in line for a lot of work in Green Bay as their primary pass catching tight end.
Add in Rodgers throwing these guys the ball, and the Packers have one of the best passing attacks in the league.
2. New York Giants- Key contributors: Odell Beckham Jr., Sterling Shepard, Brandon Marshall
Eli Manning was once the clear face of the New York Giants' franchise. He had won two Super Bowls and was one of the better quarterbacks in the league even with a weak receiving corps that was headlined by injury prone Victor Cruz.
Then, similar to Tampa, everything changed in 2014. New York selected Beckham with the 12th pick in the draft. The Louisiana State product was as explosive as explosive can get in college, being one of the nation's top receivers. He missed the first four games of the 2014 season with an injury and he still finished with 1300 yards and 12 touchdowns while leading the league in yards per game at over 108 per contest. He would only improve from there as Beckham would grow to become one of the most dangerous weapons in the NFL.
With doubts surrounding Cruz's future as an NFL player, the Giants went out and drafted former Sooner Sterling Shepard with the 40th pick in 2016. Shepard was one of the best rookie receivers in football this past season, finishing with nearly 700 yards and eight scores.
Finally, the Giants went out and signed one of the biggest names in free agency this offseason in Brandon Marshall. Marshall has bounced around the league in his career. He was drafted in 2006 by the Denver Broncos, then went to the Dolphins, Bears, and Jets before ending up with the Giants. Marshall has been a red zone stud in his career, catching 82 touchdowns and over 12000 yards. He brings a much needed big-bodied receiver and his veteran leadership to a Giants team that is fighting for relevance in a competitive NFC East.
With these weapons and their top ranked defense, the Giants could be a serious threat to make a super run very soon.
1. New England Patriots- Key contributors: Julian Edelman, Rob Gronkowski, Malcolm Mitchell, Brandin Cooks, James White.
The Patriots' offense is the enemy of all fantasy football players unless it is Tom Brady. They have so many weapons that it was hard to narrow it down to just six guys. Others that were considered were former Colts tight end and red zone threat Dwayne Allen, duel threat running back Dion Lewis, and playmaker Chris Hogan.
New England had one of the best passing attacks in the league in 2016, and that was without Allen and newly acquired Brandin Cooks. Cooks is possibly the most explosive receiver in football, being able to break past his defenders in a flash and catching 90-yard bombs with ease. At just 23 years old, Cooks as a long future ahead of him in New England as Brady's prime deep threat and speed demon. Cooks goes from catching passes from first ballot hall of famer Drew Brees to another first ballot nominee in Brady. With the Saints, Cooks racked up nearly 3000 yards and 20 touchdowns in three seasons.
Then there are the returning threats. There is Super Bowl hero James White who is a true running back with dual threat ability. There's the 23-year-old receiver from Texas, Malcolm Mitchell, who will be entering his second year with the Patriots. Mitchell is a big receiver with soft hands and should be in line for a large workload and target share behind Cooks, Edelman, and Gronk.
Julian Edelman is arguably Brady's most trusted target on the field. He plays with almost as much heart and passion as Brady does, constantly fighting for the extra yard. Standing at just 5'10, many thought that the former quarterback from Kent State would not translate well to the pros. These experts were wrong. Edelman continues to defy expectations. He has been with the Patriots since 2009 and has tallied up over 4500 yards and 24 touchdowns over that time, along with 425 receptions.
Finally, there is Rob Gronkowski. There isn't much to say about Gronk that has not been said before. His outgoing and flamboyant personality off the field is matched with intensity and fire on it. Since being drafted by New England in 2010, the 6'6, 265 pound Gronk has over 6000 yards and a staggering 68 touchdowns. While he has dealt with some serious injuries in the past, having to undergo two season ending surgeries, one on his leg and one on his back. Despite his injury past, Gronk is already discussed as one of the best tight ends ever. When healthy, he rounds out a passing attack that would be dangerous if it had a Junior Varsity quarterback at the head.
With Brady holding the reins? The NFL might just want to award the Patriots their ticket to the playoffs.
Main image credit: